Barite ultrafine vertical roller mill is an industrial vertical grinding mill that can grind non-metallic ore into fine powder. The mill has a high production capacity, high fine powder content, high degree of automation, convenient maintenance, long service life, environmental protection, and energy-saving, and is an ideal equipment for large-scale production of ultrafine powder.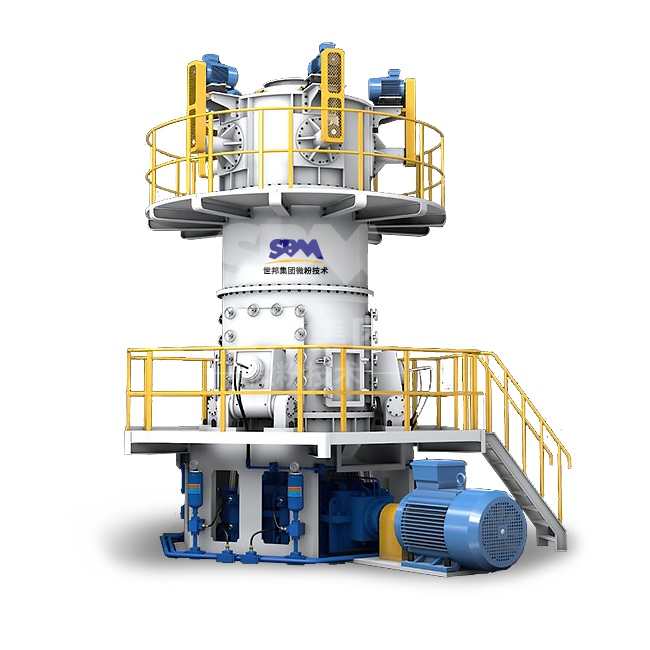 CLUM Barite Ultrafine Vertical Roller Mill
Adjustable fineness: 150-3000 meshes
Output: 1-20 t/h
Machinable materials: non-metallic ore with Mohs hardness less than 6. Such as limestone, calcium carbonate, marble, carbon black, dolomite, diatomaceous earth, and so on.
Features: high production and efficiency, environmental protection and energy-saving, high classification efficiency, a wide range of finished products, high degree of automation, high reliability, convenient maintenance, low operating costs, high quality, and good grain size of the finished powder.
About Barite
Barite is a non-metallic mineral product with barium sulfate (BaSO4) as the main component. Pure barite is white and shiny, with a Mohs hardness of 3 to 3.5 and a specific gravity of 4.0 to 4.6. It is chemically stable, insoluble in water and hydrochloric acid, non-magnetic, and toxic. Barite is a very important non-metallic mineral raw material and has a wide range of industrial uses.
Use the CLUM ultrafine vertical grinding mill independently developed and produced by SBM to grind barite to obtain fine barite powder of 150-3000 mesh. It can be used as a white pigment, used as a filler in chemicals, papermaking, and textiles. It can also act as a fluxing agent and increase the brightness of glass. But it is mainly used as a weighting agent in the drilling industry and used to extract barium.
Barite Ultrafine Vertical Roller Mill
CLUM barite vertical grinding mill is mainly composed of an electric motor, reducer, grinding roller device, grinding disc device, pressurizing device, powder separator, machine body, and oil station.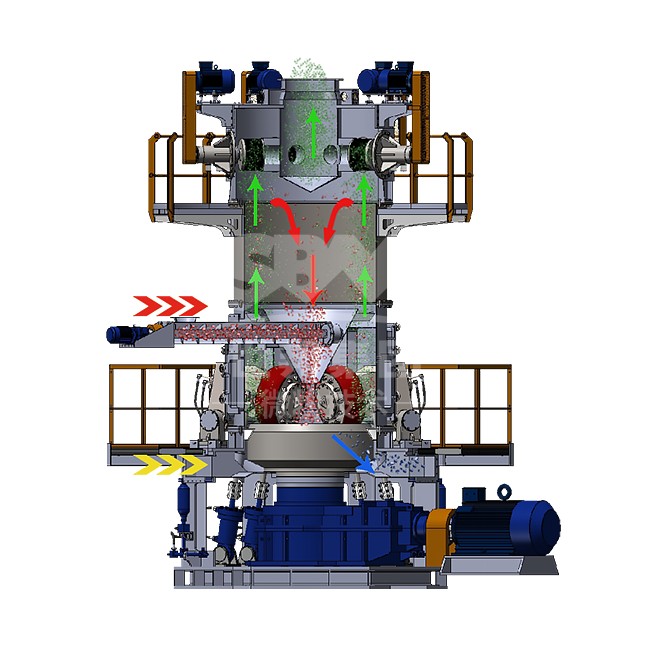 Working Principle
The motor drives the reducer to drive the grinding disc to rotate, and the material moves around the grinding disc under the action of centrifugal force and enters between the grinding roller and the grinding disc.
Under the pressure of the grinding roller, the material is crushed by squeezing, grinding, and shearing forces.
The ground powder is blown by the airflow of the blower to the classifier above the main engine for screening.
If the particle size is too coarse, it will still fall into the main engine for regrinding. The powder with qualified fineness flows into the pulse dust collector with the wind and is discharged through the powder outlet after being collected.
The purified airflow flows into the blower through the pipe on the pulse collector and then is discharged into the atmosphere.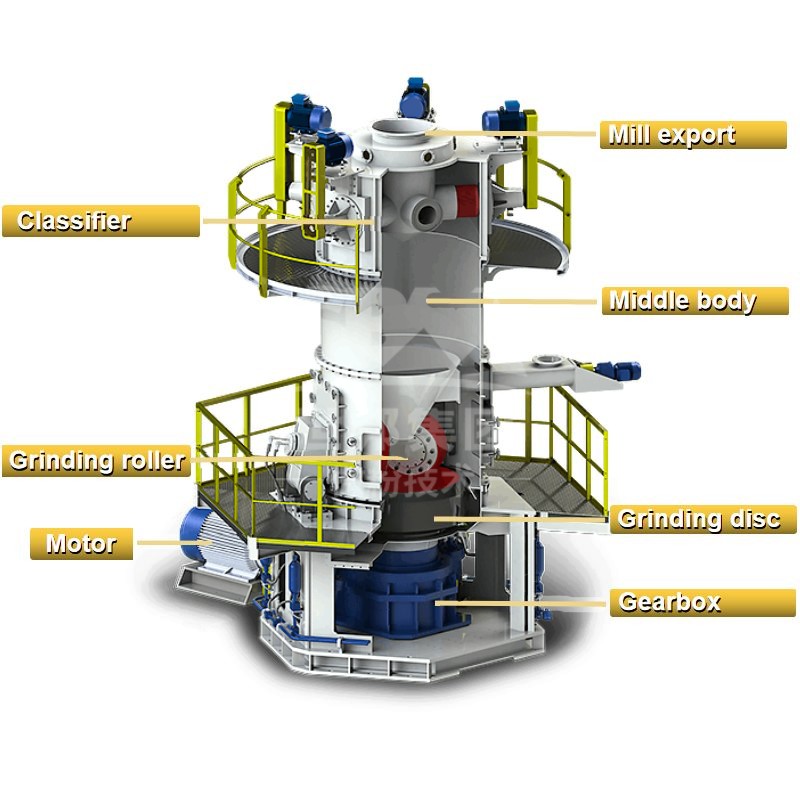 Performance Characteristics
● The contact surface of the grinding disc and the grinding wheel is specially designed to ensure effective and stable operation.
● The roller hydraulic system has an adjustable coefficient of elasticity, and continuous high pressure acts on the material bed through the hydraulic pull rod.
● The designed vertical roller can be easily turned outside the casing, and the roller lining is easy to maintain.
● The materials of the rollers and grinding discs are made of alloy wear-resistant linings with long service life.
● The high-efficiency air-flow classifier can be easily adjusted to screen out products of different particle sizes.
● The unique central funnel device can effectively mix coarse materials and new materials so that the mill can feed and grind steadily and continuously.
● A reliable roller air sealing device can eliminate unnecessary airflow into the mill.
● The special sealing design of the roller bearing can prevent the infiltration of dust.
● A sturdy gear reducer is used to ensure effective and stable power transmission.
Barite Ultrafine Vertical Roller Mill Production Line
The ultrafine vertical grinding mill system is composed of a host, a feeder, a classifier, a blower, a pipeline device, a storage hopper, an electric control system, and a collection system.

Advantages of ultrafine vertical grinding mill production line
1. Good quality of finished products
Adopting the principle of material layer grinding, the material stays in the mill for a short time, the repeated grinding is less, the iron content is low, and the finished product has high whiteness and clarity. The grinding curve of a specially designed roller sleeve and liner can be ground to the required fineness (0.045-0.02mm) at one time.
2. Excellent powder selection technology
Adopting the principle of multi-wheel powder selection, all rotors can be adjusted by frequency conversion, and the fineness of the finished product can be realized within the selected range. And when producing finished products of the same fineness, it can save 30%-50% energy than ordinary mills.
3. Operational safety
Equipped with mechanical and electronic limit devices to avoid destructive impact and vibration. Adopting the PLC/DCS automatic control method of grinding roller pressure, the control is accurate and no manual operation is required. The vertical grinding roller lubrication station can not only fully lubricate but also prevent excessive oil leakage.
4. Convenient maintenance and environmental protection
The grinding roller is not in direct contact with the grinding disc, with little wear and long life. The grinding roller can be turned out for maintenance, which is convenient and quick and reduces the loss of downtime. Small vibration, low noise, good overall sealing, no dust spillage, clean and environmentally friendly.
Parameters of Barite Ultrafine Vertical Roller Mill
| | | | |
| --- | --- | --- | --- |
| ModelItem | CLUM1425 | CLUM1632 | CLUM1736 |
| Working Diameters(mm) | 1400 | 1600 | 1700 |
| Number of rollers(pieces) | 3 | 3 | 3 |
| Number of classifier(pieces) | 6 | 6 | 8 |
| Power of classifier(Kw) | 6X15 | 6X22 | 8X22 |
| Main unit power (Kw) | 220-250 | 315-355 | 355-410 |
| Blower power(Kw) | 180-200 | 250-280 | 325-355 |
| Feed size (mm) | <10mm | <10mm | <10mm |
| Moisture of feeding material | <3% | <3% | <3% |
| Less than 2μm=30% output(t/h) | 9-12 | 12-16 | 14-18 |
| Less than 2μm=45% output(t/h) | 5.5-7.5 | 7-9 | 10-12 |
| Less than 2μm=60% output(t/h) | 3-4 | / | / |
Material: base on calcite
Particle size distribution: measured by microlayer diffraction particle size analyzer in British Malvern 3000 instruments
Barite Ultrafine Vertical Roller Mill Site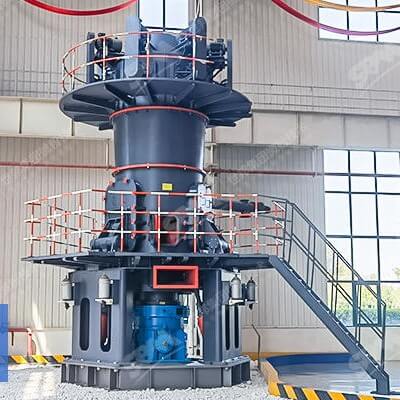 Reasons for Choosing SBM Ultrafine Vertical Grinding Mill
SBM Micro Powder Technology is an excellent manufacturer of ore crushing and grinding equipment in China. All equipment is directly supplied by the factory, with real prices and higher cost performance.
Our grinding mills have passed ISO9001, EU CE certification, French BV certification, Geneva SGS certification, etc., and the products comply with international standards.
The CLUM ultrafine vertical roller mill produced by SBM has a higher 2um content of ore powder, high powder whiteness, and a good grain shape. It is a high-end powder and has better profits.
We have a complete service system, from pre-sales to after-sales, there is professional service personnel to connect with you. We provide free installation instructions and train operators for you free of charge.