Brief Introduction
The PF series impact crushers adopt the technology of domestic traditional impact crushers. After years' design and optimization, such crushers boast more excellent performance and more reliable operation. It acts as medium and fine crushing equipment, most widely used domestic and abroad for medium hard and soft materials.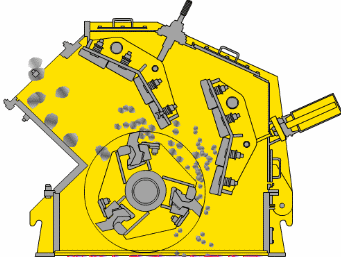 After optimal design of the crushing chamber and rotor, the PF series impact crushers have won significant improvement on the equipment capacity and finished product grain shape over the traditional impact crushers, using mechanical adjustment of the impact frame and rotor spacing to achieve simple and reliable control and operation.
Main Structure of PF Impact Crusher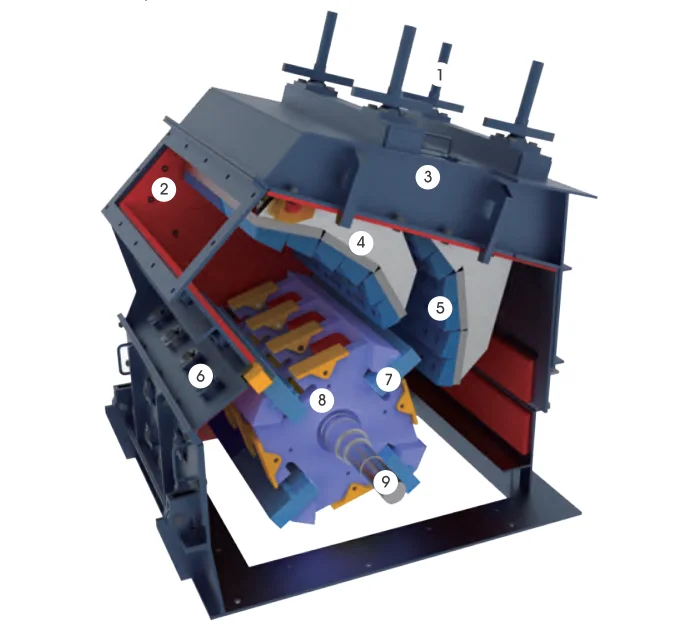 1. Adjustment device
2. Lining plate
3. Rear frame
4. Impact rear
5. Impact plate
6. Front frame
7. Hammer bar
8. Rotor
9. Main shaft
Advantages of PF Impact Crusher
1. The impact crusher can effectively deal with a large amount of moisture content of the material to prevent the crusher from clogging.
2. The impact crusher is not only suitable for soft materials but also for larger hardness.
3. The impact crusher can be easily adjusted and flexibly discharge particle size adjustment range.
4. The impact crusher wears less parts than the hammer crusher, and the utilization rate is higher and the metal rate is higher.
5. The spare parts of the impact crusher are easy to replace, and the maintenance cost is correspondingly reduced.
Parameter of PF Impact Crusher
| Model | Rotor Φ×L(mm) | Feed Opening(mm) | Max Feeding(mm) | Capacity (t/h) | Power (kw) | Motor Model | Machine Size(mm) |
| --- | --- | --- | --- | --- | --- | --- | --- |
| PF1010 | F1000 × 1050 | 400 × 1080 | 350 | 50-80 | 4-75 | Y280S-4/75 | 2455 × 2086 × 2800 |
| PF1210 | F1250 × 1050 | 400 × 1080 | 350 | 60-120 | 6-110 | Y315L1-6 / 110 | 2590 × 2050 × 2810 |
| PF1214 | F1250 × 1400 | 400 × 1430 | 350 | 80-160 | 6-132 | Y315L2-6 / 132 | 2590 × 2400 × 2810 |
| PF1315 | F1300 × 1500 | 860 × 1520 | 350 | 120-260 | 6-200 | Y355M3-6 / 200 | 2930 × 2760 × 3050 |
Product
Specifications
Model: PF
Accepted delivery terms: FOB, CFR, CIF, EXW, CPT, DDU, express
Acceptable payment currency: USD
Acceptable payment methods: T/T, L/C, Western Union