Ultrafine vertical roller mill
SBM Micro Powder Technology Co., Ltd. designs and manufactures high-quality ultrafine vertical roller mills, which can grind any ore materials with a Mohs hardness below 6. Our goal is to "get the maximum benefit with the minimum investment" for our customers.
The key reason why the SBM ultrafine vertical roller mill sells well is that the finished fineness of the ground product is fine, and the finished fineness can be adjusted according to the demand, and the operation is convenient.
What is a ultrafine vertical roller mill?
Ultrafine vertical roller mill is a new type of vertical roller mill suitable for grinding non-metallic ultra-fine powder, which is developed by improving the existing vertical roller mill technology on the basis of absorbing the advantages of foreign ultra-fine vertical roller mill and analyzing the needs of domestic customers.
Independent research and development of Ultrafine vertical roller mill used Adopt multi-head powder separator, SBM classifier perfect solved the particle cutting point height rate of screening questions, compared with the traditional horizontal classifier, fully guaranteed the fineness of finished product can reach 20% ~ 70% (powder size<2um)(Detection machine: Malvern Micro laser particle size analyzer).
After years of material research and development, SBM's new wear-resistant alloy steel has been successfully applied to roll, ball mill bearing and other wear-resistant parts, which gives wear-resistant parts extremely long service life and prolonging the replacement cycle of wear-resistant parts.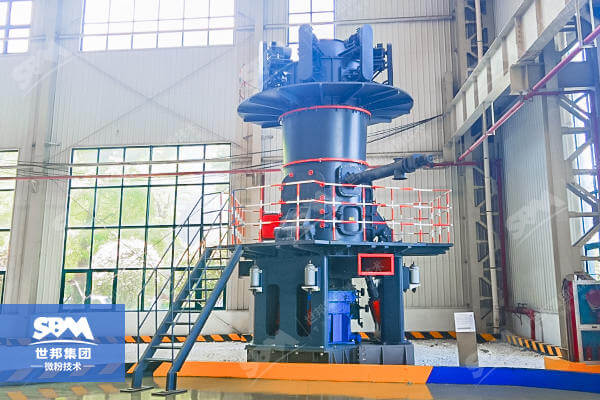 Working Principle
Ultrafine vertical roller mill is mainly composed of motor, reducer, grinding wheel device, roller device, pressure device, powder separator, feeding device, oil station, main engine, electric control system and so on.
1. Grinding wheel device: the main part of rolling material, no power output, due to the friction force in contact with the material and passive operation.
2. Rolling plate device: the grinding area of the material is connected with the reducer and rotates by itself.
3. Pressure device: control the clearance between grinding wheel and rolling disc to ensure the pressure of grinding wheel during grinding.
4. Powder separator: multi-head powder selection structure, the use of rotating centrifugal force principle to achieve continuous production of fine powder screening and filtering work, is a high efficiency, energy-saving powder selection device.
Ultrafine vertical roller mill grinding plate is rotated by the main motor via the reduction gear. Meanwhile, high pressure air enters the mill interior via inlet.
Materials then fall onto the center of the grinding plate in rotation by the screw conveyor feeder. Due to the centrifugal force, the materials evenly move from the center of the grinding plate towards its fringe. While passing across the track in the grinding plate, large blocks of materials are crushed and grinded directly by the grinding roller. The fine particles form the material bed, owing to squeezing, where the inter-particle crushing takes place until grind to the fine powder.
The fine powder continues to move towards the fringe of the grinding plate until they are taken away by strong air flow at the air ring. While the materials along with the air flow pass through the separator located above the grinding plate, the coarse particles return to the grinding plate for re-pulverization due to the action of the rotor blade, the fine particles along with the air flow leave the mill interior and are collected and discharged as finished powder product by the powder collector.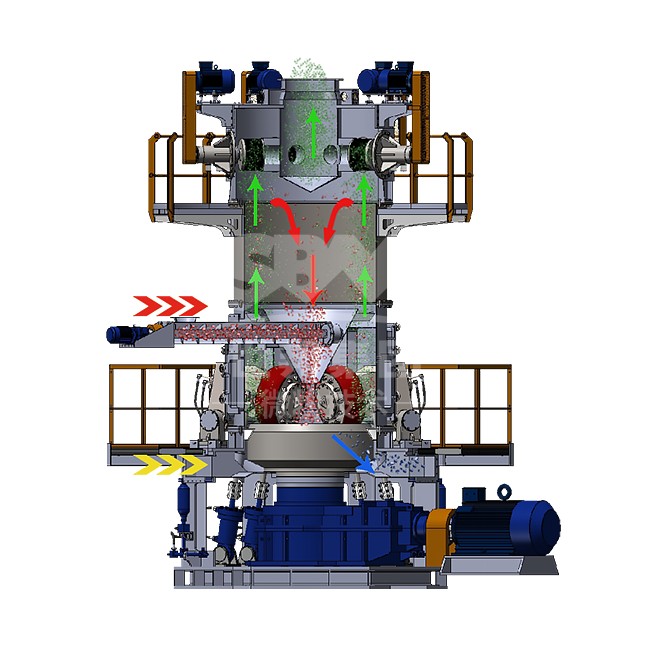 Product Application
Ultrafine vertical roller mill can be widely used in large-scale ultra-fine dry powder processing of non-metallic minerals such as calcite, marble, limestone, dolomite, barite, talc, kaolin, dolomite, wollastonite, gypsum, feldspar, pyrophyllite, etc.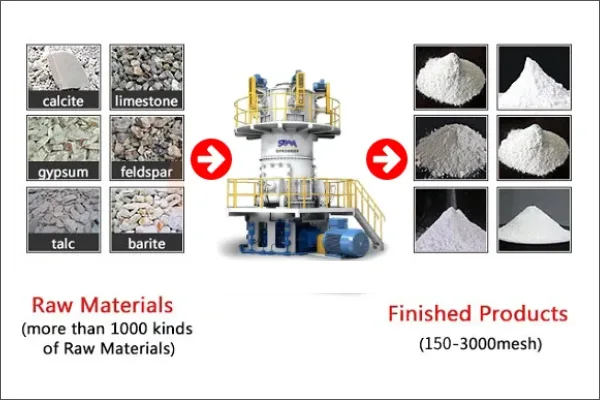 Product Parameter
Main Configuration and Production
Model
CLUM1425
CLUM1632
CLUM1736
Working Diameters(mm)
1400
1600
1700
Number of rollers(pieces)
3
3
3
Number of classifier(pieces)
5
7
7
Power of classifier(Kw)
5X15
7X15
7X(15~18.5)
Main unit power (Kw)
250
315
355
Blower power(Kw)
200
250
315
Feed size (mm)
<10mm
<10mm
<10mm
Moisture of feeding material
<3%
<3%
<3%
Less than 2μm=34%
output(t/h)
11-14
13-17
15-19
Less than 2μm=46%
output(t/h)
7-8
9-10
11-12
Less than 2μm=60%
output(t/h)
3-4
/
/
Material: based on calcite
Particle size distribution: measured by micro laser diffraction particle size analyzer in British Malvern3000 instruments
Why did you choose SBM as your ultrafine vertical roller mill manufacturer?
Since its establishment, Shibang Micro Powder Technology has become a leader in the ultrafine vertical roller mill and crusher industry with its diversified product lines and high-quality services.
All of our machines are developed and produced to better meet customers' actual needs, which makes SBM designed roller mills and other mining equipment stand out.
Largest mining machine showroom in the world
1000 square meters of exhibition hall, covering 200+ mining equipment. SBM's ore grinding equipment sells well all over the world with high quality and high-cost performance.
Especially the ultrafine vertical roller mill, because of its good performance and outstanding advantages, has been favored by many customers.
Perfect service system
SBM has customers all over the world. In SBM, you can get the production line plan formulation for free, you can enjoy 7*24 hours one-to-one service, you can get professional operation skills training for free, and you can quickly purchase original spare parts and so on.
FAQ
Because there are different kinds of ultrafine vertical roller mill, our ultrafine vertical powder grinding mill has different prices, I need to ask you for some details to send you the more suitable quotation:
1. Which kind of material are you going to grind?
(Dolomite; Calcite; Quartz; Basalt; Barite; Feldspar ; Gravel; Bentonite; Gypsum; Granite; Coal; Slag; Pebble; Others )
2. What's the production capacity you want? How many tons or cubic meters per hour?
( > 100 TPH > 50 TPH > 30 TPH > 10 TPH > 1 TPH < 1 TPH)
3. What's the granularity of the final products you need?
(in milimeter, micron or mesh)
4. What's the max input size of the material?
(In inch, centimeter or millimeter)
We will give you factory prices with full specification, so please leave us an inquiry to know more details about price and packaging. shipping and discount.