VSI high-efficiency vertical shaft impact crusher, commonly known as sand making machine and shaping machine, is a new type of equipment with international advanced level. The equipment can be widely used in the crushing and shaping of metal and non-metallic ores, building materials, artificial sand making and various metallurgical slag.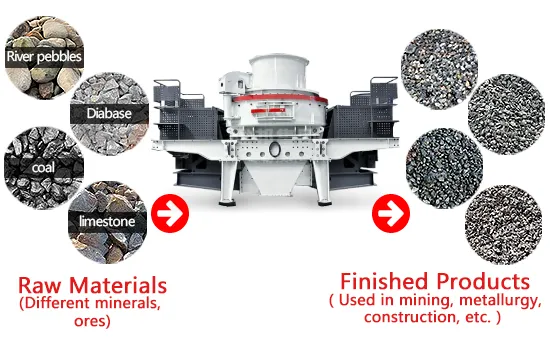 Due to its structure and function integrating two functions, it can be used as a crusher or a shaping machine by changing the feeding method and the core structure. So, if you own a VSI sand maker, you have a crusher and a shaper at the same time.
Application of Vertical Shaft Impact Crusher
1. Artificial sand making from river pebbles, mountain rocks, ore tailings and stone chips.
2. Production of building aggregates, road fabrics, cushion materials, asphalt concrete and cement concrete aggregates.
3. Machine-made sand production and stone shaping for water conservancy and hydropower, high-grade highways, expressways, high-speed railways, bridges, and municipal engineering in the engineering field.
4. The fine crushing process before grinding in the mining field, and the material crushing of building materials, metallurgy, chemical industry, mining, refractory materials, cement, abrasives and other industries.
5. High abrasiveness and secondary disintegration crushing, desulfurization in thermal power and metallurgical industries, steel slag, construction waste crushing and other environmental protection projects.
6. Production of glass, quartz sand and other high-purity materials.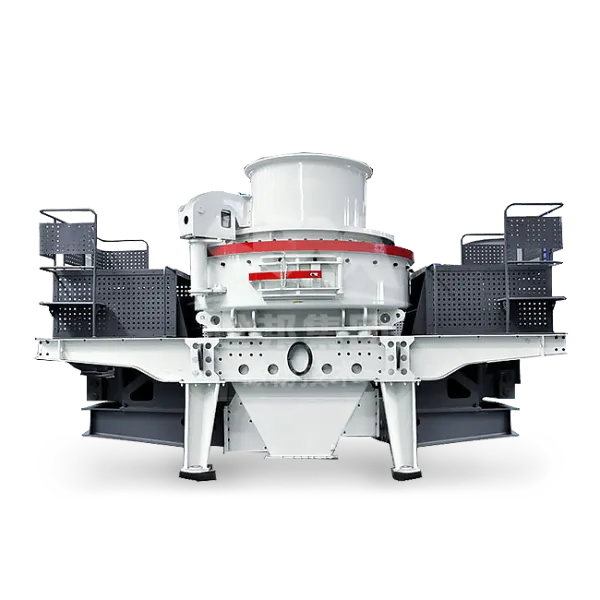 Performance Features and Benefits
1. Large processing capacity and uniform particle size
Throughput can reach 520 t/h, a 30% increase in output compared to earlier equipment at the same power. The product is cubic, with good grain shape, reasonable gradation and adjustable fineness modulus, especially suitable for artificial sand making and stone shaping.
2. Easy operation and easy maintenance
The equipment is light in weight, various installation methods (can be installed fixedly, or can be configured on a mobile crushing station) and is easy to operate and use. Once the specific use is clear, only minor adjustments can be made to maximize its excellent performance. Equipped with a hydraulic cover opening device, the repair and replacement of the components in the crushing chamber are convenient and quick, saving time and effort.
3. Low consumption of wearing parts
Wear resistant materials used in special structure.
The optimized impact angle design of the crushing chamber reduces the friction between the material and the wear-resistant parts, which directly reduces the use cost of the equipment.
4. Long service life
Advanced light oil lubrication system ensures shaft bearing lower temperature, can completely solve the problem of bearing heating, keep the main shaft bearing at a constant temperature, and prolong the maintenance cycle and service life.
5. Advanced technology
Advanced technology and high-quality core parts selection ensure low failure rate of VSI sand making machine system.
6. Energy saving and environmental protection
The unique shock absorption design makes the VSI sand making machine work with lower noise. Equipped with a unique air self-circulation system, which greatly reduces the external exhaust air volume and dust and meets environmental protection requirements.
Working principle of sand making machine
VSI sand making machine is mainly composed of top cover rotating assembly, rotor assembly, bearing chamber assembly, bracket assembly and upper and lower frame assembly.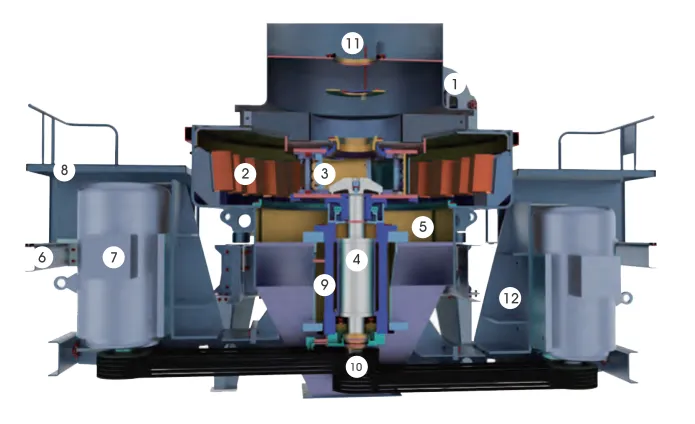 1. Coping hydraulic
2. Impact plate
3. Rotor
4. Transmission shaft
5. Frame
6. Bracket
7. Motor
8. Pedal bracket
9. Bearing cylinder
10. Pulley
11. Hopper
12. Motor bracket
VSI vertical shaft impact crusher (also known as sand making machine) has two feeding modes and four working forms. Center feeds are accompanied by waterfall feeds "PL" and "PLST", and complete center feeds "PL" and "PLST".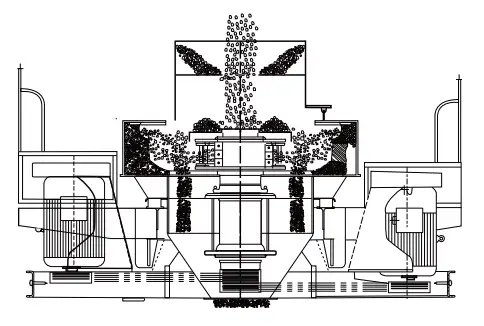 Complete central feeding: the material falls into the feeding hopper, enters the high-speed rotating rotor through the central feeding hole, and is fully accelerated and thrown out through the launching port. First, it collides with a part of the material that falls freely after the rebound, and then hits the vortex lining (or the counterattack block) in the surrounding vortex cavity together. It is first bounced to the top of the crushing cavity, and then deflects to move downward, collides with the material emitted from the impeller channel to form a continuous material curtain, and finally discharges through the lower discharge port.
The central feeding is accompanied by the annular waterfall feeding: the material falls into the feeding hopper, and then falls through the annular hole, and is divided into two strands by the bulk material tray. One part enters the high-speed rotating impeller through the distribution plate, and the other part falls from the surrounding of the distribution plate. The material entering the impeller is rapidly accelerated in the impeller and thrown out at high speed. First, it is impacted and crushed with another part of the free-falling material around the bulk material disc, and then impacted together on the vortex lining (or counterattack block) in the surrounding vortex cavity. It is first bounced to the top of the crushing chamber, and then deflects to move downward, colliding with the material emitted from the impeller channel to form a continuous material curtain. Finally, it is discharged through the lower discharge port.
Technical parameter of sand making machine
Model
Feed at center&sides
Feed at center
Soft Material
Hard Material
REV (r/min)
Power (kw)
Motor Model
Machine Size (mm)
Capacity (t/h)
Max.Feeding (mm)
VSI7611
120-180
60-90
35
30
1700-1890
4-55×2
Y250M-4/55
4100×2250×2258
VSI8518
200-260
100-130
40
35
1520-1690
4-90×2
Y280M-4/90
4140×2280×2425
VSI9526
300-380
150-190
45
40
1360-1510
4-132×2
Y315M-4/132
4560×2450×2780
VSI1140
450-520
225-260
50
45
1180-1310
4-200×2
Y315L2-4/200
5100×2690×3200
Our Services
Pre-sale
Help customers to select equipment

Free arrangement of engineers to the site for actual survey and plan design
On sale
Strict implementation of quality standards, quality assurance of ex-factory products

Free logistics and transportation information, more choices for logistics and transportation

Strictly implement the standard process of preparation and delivery, timely and accurate stock preparation, and rapid delivery

After sale
Free arrangements for engineers to guide the basic production of equipment

Provide free technical guidance for equipment installation and commissioning

The free on-site one-to-one operation, repair, maintenance, and other training

Professional after-sales service team, 24 hours response to customer needs
Our Factory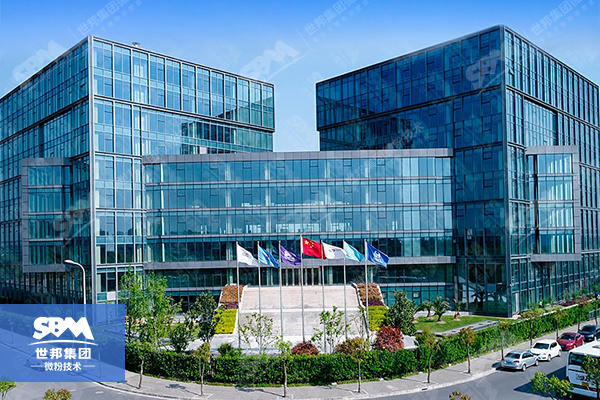 Product
Specifications
Model: VSI
Feed particle size: 0-50mm
Production capacity: 60-520 tons/hour
Applicable materials: brittle materials with Mohs hardness less than 9, granite, quartz, basalt, river pebble, limestone, dolomite, etc.
Features: Little dust pollution and litter noise, high efficiency and low consumption etc.
Payment methods:
Accepted Delivery Terms: FOB, CFR, CIF, EXW, CPT, DDU, Express Delivery
Accepted Payment Currency: USD
Accepted Payment Type: T/T, L/C, Western Union