Brief introduction of 45-5μm HGM Series Ultrafine Mill
45-5μm HGM Series Ultrafine Mill Along with the rapid development of social economy, the requirements on pulverizing fineness by the clients from the pulverizing industry are also increasingly improved. General Raymond mill has been fairly unable to meet the demands of the market development. As a result, 45-5μm HGM series ultrafine mill is developed.
Its powders' fineness can be adjusted within a range from 325 to 2500 meshes and its disposable fineness can reach D97≤5um which has ranked the leading level in the same trade and partial highest fineness reaching 2500 meshes through repeated experiments test by the geoscientific research institute. Because of its good performance, SCM win high praise from the users.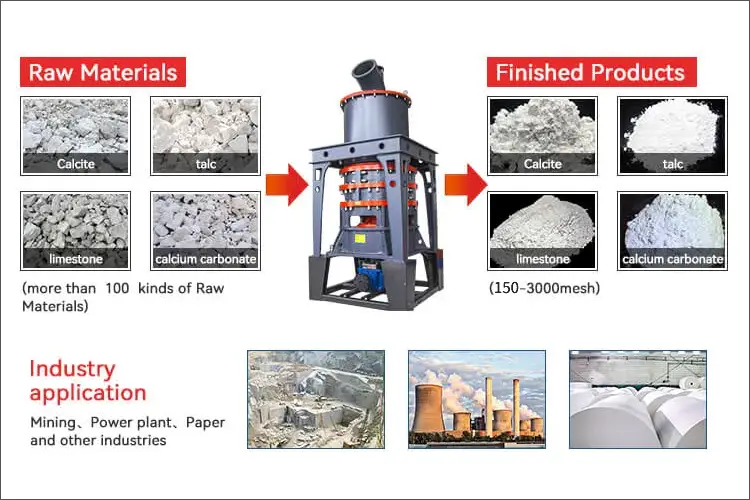 Technical Advantages of 45-5μm HGM Series Ultrafine Mill
The 45-5μm HGM Series Ultrafine Mill offers several advantages, making it a preferred choice for various applications. Here are some of its key advantages:
1. Superior Fineness.
The HGM Series Ultrafine Mill is designed to achieve a fineness level of 45-5μm, which refers to a particle size range of 45 microns to 5 microns. This level of fineness allows for the production of ultrafine powders with exceptional precision and control.
2.Wide Range of Applications.
The ultrafine mill can be used in a wide range of industries and applications, including but not limited to mining, metallurgy, chemical engineering, construction materials, coatings, ceramics, and more. It is suitable for grinding various non-flammable and non-explosive materials with Mohs hardness below 9.3 and humidity below 6%.
3. High Grinding Efficiency.
The mill incorporates advanced grinding principles and technologies, such as multiple grinding zones, multi-stage classification, and high-speed impeller rotation. These features contribute to high grinding efficiency, allowing for faster processing and improved productivity.
4. Energy Efficient.
The HGM Series Ultrafine Mill is designed with energy efficiency in mind. It utilizes advanced mechanical principles and optimized grinding chamber geometry to minimize energy consumption while maximizing grinding performance. This helps reduce operational costs and environmental impact.
5. Versatile Design.
The mill's versatile design enables it to handle both wet and dry grinding processes. It can accommodate various feed materials, ranging from soft to hard and from brittle to fibrous. The mill also offers flexible adjustment options for particle size distribution, allowing for tailored product specifications.
6. Advanced Control System.
The ultrafine mill incorporates an advanced control system that enables precise control over the grinding process. Operators can adjust parameters such as grinding pressure, grinding speed, and classifier rotor speed to achieve the desired fineness and particle size distribution.
7. Low Maintenance and Longevity.
The HGM Series Ultrafine Mill is built to withstand rigorous operating conditions. It features robust construction, high-quality materials, and advanced wear-resistant components, ensuring durability and longevity. Additionally, the mill requires minimal maintenance, reducing downtime and maintenance costs.
7. User-Friendly Operation.
The mill is designed for user-friendly operation, with intuitive controls and a clear interface. It can be easily integrated into existing production lines and is equipped with safety features to ensure operator protection.

High Output and Low Energy Consumption
It features high efficiency and low energy consumption, with the capacity more than twice that of jet mills but the energy consumption lower by 30%.

Automatic feedback with fast and stable conversion of finished products; intelligent control, saving labor costs directly.

High Fineness
Frequency-conversion control, convenient for the adjustment control, with the one-time finished products D97≤5μm.

The efficient vertical turbine powder classifier can achieve high efficiency, accurate cutting size and no spillover of coarse powder.

Heavy rotor design and tight test method
The roller and ring are made of special material, so the durability can be several times higher.

The grinding chamber has no bearing screw, able to work stably free of vibration after balance treatment.

Environmental protection
The efficient double powder collecting method of powder collectors and pulse dust collectors is able to achieve good effect in dust collection, which is far higher than the international standard.

The optimized sound insulation room and muffler can effectively prevent the spread of equipment noise.
These advantages collectively make the 45-5μm HGM Series Ultrafine Mill a reliable and efficient solution for ultrafine grinding, offering precise control over particle size and meeting the demands of various industries.
Product Parameter of 45-5μm HGM Series Ultrafine Mill
Parameters of 45-5μm HGM Series Ultrafine Mill

Model

HGM80

HGM80A

HGM90L

HGM100L-Ⅱ

HGM100P

HGM125L

HGM1680L

Ring Diameter(mm)

800

800

900

1000

1000

1250

1680

Ring Number (PCS)

3

3

4

4

4

4

4

Input Size (mm)

≤10

≤10

≤10

≤15

≤15

≤20

≤20

Adjustable range of finished product (mesh)

150-3000

150-3000

150-3000

150-3000

150-3000

150-3000

150-3000

Capacity (t/h)

0.5-5.5

0.5-5.5

0.8-6.5

1.2-10

1.2-11

2.5-20

5-45

Outlet Size L*W*H (mm)

8605*4139*6050

10454*3393*6626

11735*3952*7525

14507*3633*7562

14362*4200*7562

19261*4406*8591

25067*5414*9007

Main motor power (kw)

75

75

55*2

132/75*2

132/75*2

185

315
Working Principle of 45-5μm HGM Series Ultrafine Mill
The working principle of the 45-5μm HGM Series Ultrafine Mill is based on the principle of impact and grinding. Here's a step-by-step explanation of its working principle:
1. Feeding: The raw materials are evenly and continuously fed into the grinding chamber of the mill by a vibrating feeder or other feeding equipment. The materials typically enter the mill through the top and fall onto the grinding ring.
2. Grinding: Inside the grinding chamber, a high-speed rotating grinding roller assembly is suspended. The centrifugal force generated by the rotation of the assembly presses the grinding ring. As a result, the raw materials are grinded and crushed between the grinding roller and the grinding ring. The grinding rollers also roll around the grinding ring, further pulverizing the materials.
3.Classification: The ground materials enter the classifier through the airflow. The classifier separates the fine particles from the coarse particles based on their size and density. The fine particles are carried by the airflow and collected in the dust collector, while the coarse particles are returned to the grinding chamber for further grinding.
4. Collection: The fine particles, also known as the finished product, are collected in the dust collector. The collected powder can be discharged through a discharge valve or other outlet systems.
5. Airflow and Circulation: The mill operates under a closed-circuit system, where the airflow is generated by a high-pressure blower. The airflow, along with the separated fine particles, is circulated back into the mill for further grinding. This ensures continuous grinding and prevents excessive temperature rise inside the mill.
6. Adjustments: The mill allows for adjustments to control the fineness of the final product. The grinding pressure, grinding roller speed, and classifier rotor speed can be adjusted to achieve the desired particle size distribution and fineness level.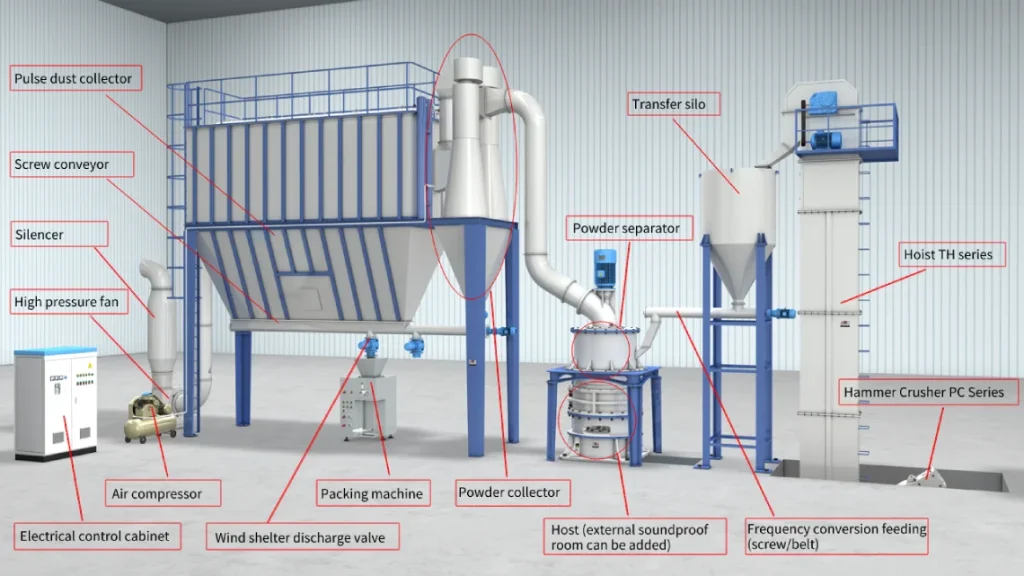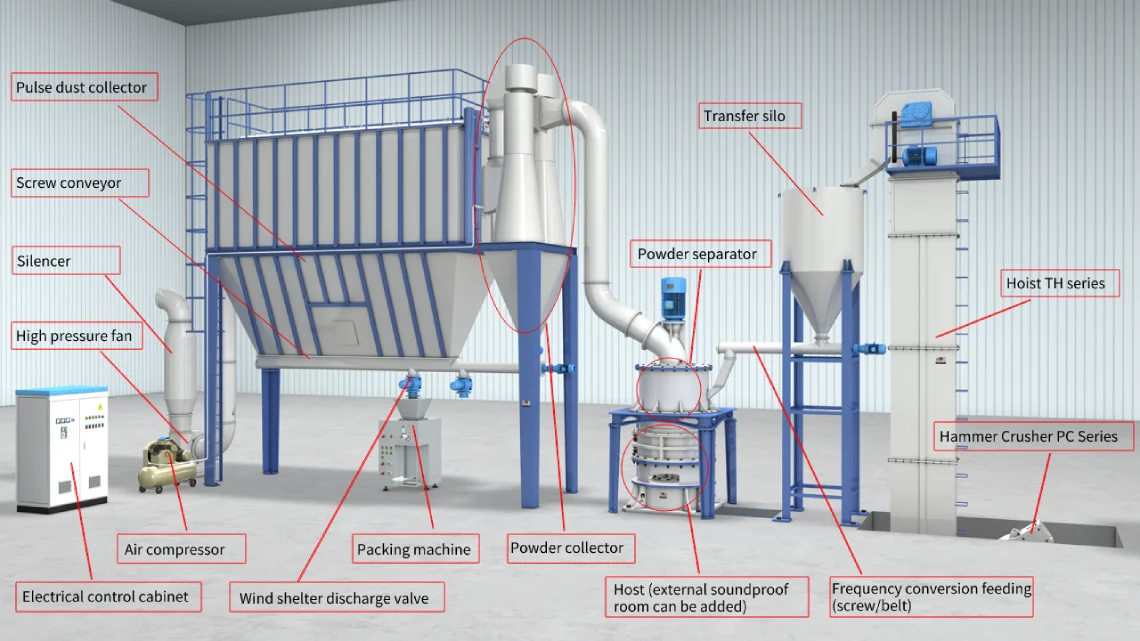 Throughout the process, the HGM Series Ultrafine Mill maintains a stable and efficient grinding operation, ensuring precise control over particle size and delivering high-quality ultrafine powders.
Application of ultrafine grinding mill – in ore field
Calcium carbonate ultrafine grinding mill is an efficient industrial powder grinder machine. It can grind 100+ kinds of ores into fine powder.