Calcium oxide is an inorganic compound, usually grayish-white, pale yellow or gray when it contains impurities, and is hygroscopic. Calcium oxide can be ground into calcium oxide powder by CLUM ultra-fine vertical roller mill. Calcium oxide powder is widely used and can be used to make calcium carbide, soda ash, bleaching powder; it can be used as building material, refractory material, desiccant, soil conditioner and calcium fertilizer; can also be used as an analytical reagent and a flux for the manufacture of phosphors; also commonly used in tanning and wastewater purification.
CLUM vertical roller mill is a large-scale ultra-fine powder grinding equipment independently developed and produced by us. It integrates the functions of grinding, transportation, screening and packaging. It is a very popular industrial grinding equipment.
Advantages:
● The finished powder has strong diversity and high added value
● High grinding efficiency and low power consumption
● Intelligent control system, stable and efficient operation
● Long service life and low maintenance costs
● Green, environmentally friendly
Calcium oxide processing process
Limestone —> calcination (rotary kiln, shaft kiln) —> quicklime (calcium oxide crusher) —> calcium oxide powder (vertical roller mill) —> calcium oxide powder 150-3000 mesh (powder separator) —> finished product
Process 1, limestone calcination
Large pieces of limestone are calcined at high temperature in rotary kiln and shaft kiln and decomposed into calcium oxide (chemical formula is CaO).
Process 2, quicklime crushing
The large pieces of quicklime are crushed into particles of about 50mm by a jaw crusher and are lifted by a chain hopper and stored in a storage tank for later use.
Process 3, calcium oxide grinding
The crushed calcium oxide is transported to the grinding chamber of the vertical roller mill for grinding.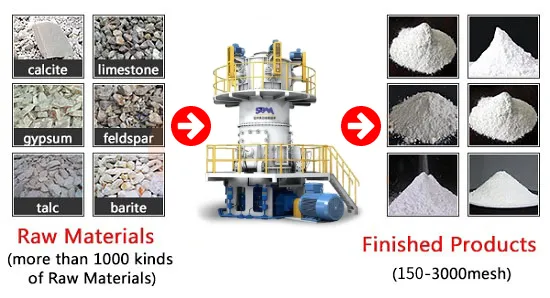 It can be widely used in large-scale ultra-fine dry powder processing of non-metallic minerals such as calcite, marble, limestone, dolomite, barite, talc, kaolin, dolomite, gypsum, etc.
Process 4, powder selection
After the calcium oxide is ground by the vertical roller mill, the powder is selected by the powder separator. The powder that meets the fineness requirements is obtained by adjusting the air speed, air volume and air pressure, and the qualified powder enters the powder collector through the pipeline.
Calcium oxide processing equipment
The selection of equipment for calcium oxide powder production line includes the selection of two important equipment, one is lime calcining equipment, and the other is quicklime grinding equipment.
In the calcination process, rotary kiln or shaft kiln is selected according to the investment capacity. The shaft kiln has less investment and quicker return.
The calcium oxide grinding process can use the CLUM vertical roller mill, which has large output, long service life of wear-resistant parts, simple replacement and intelligent operation. It can process calcium oxide to 150-3000 mesh fine powder, the fineness is uniform and fine, which can further enhance the market competitiveness.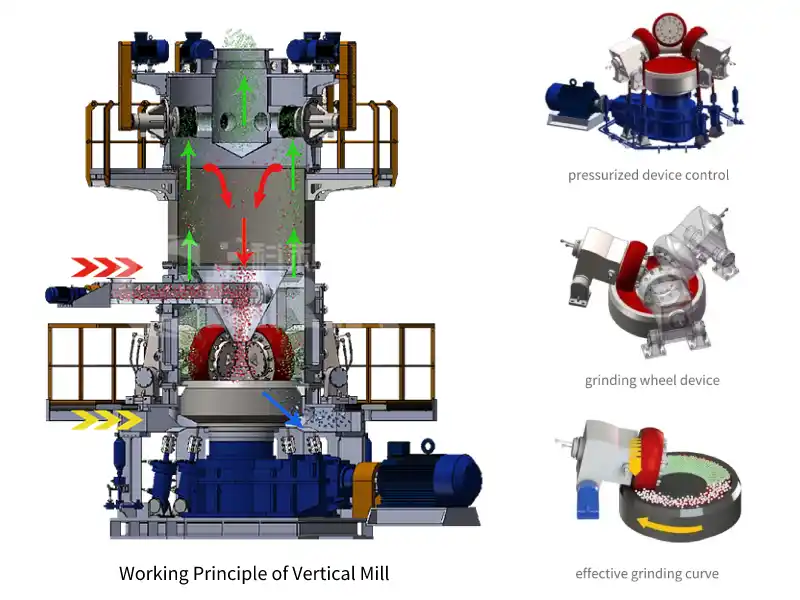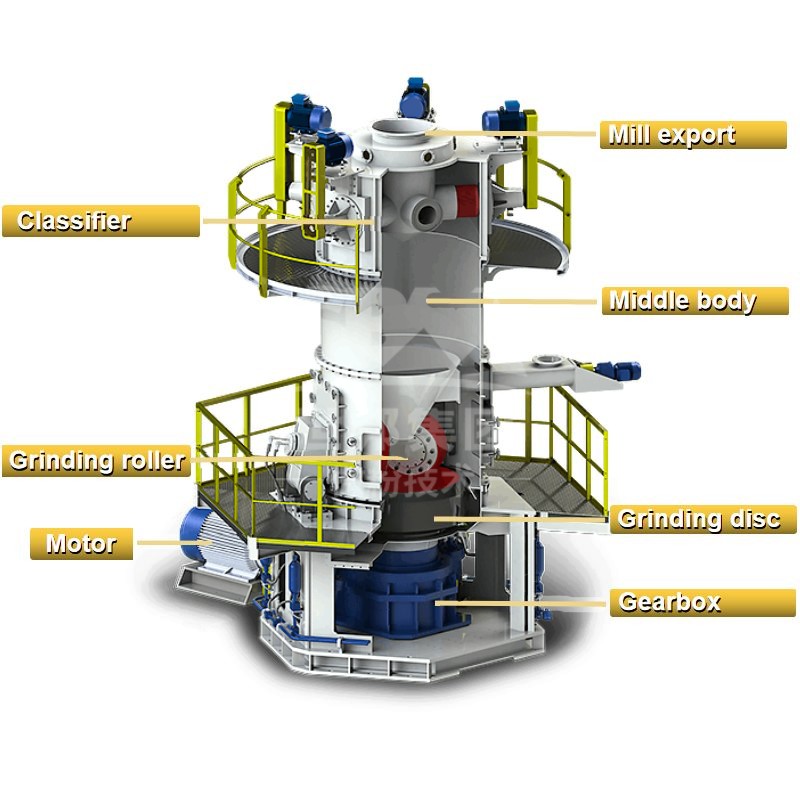 The vertical roller mill production line has comprehensive mechanical crushing performance such as rolling, grinding, impact, etc., the production workshop is clean, the dust emission is low, and the equipment is green and environmentally friendly. Our engineers can design a production line for you free of charge. If you are looking for a mill manufacturer, please leave your specific requirements, and we will design a production line for you and provide a suitable mill according to your needs.