Product Introduction Of CLRM Series Dolomite Powder Enhanced Roller Grinding Mill
The CLRM series dolomite powder Enhanced roller grinding mill is an innovative and advanced industrial machine designed to efficiently grind and process dolomite powder with enhanced quality and performance.
Dolomite is a mineral that is commonly used in various industrial applications, such as in the production of ceramics, glass, iron and steel, construction materials, and more. The grinding process is crucial in converting raw dolomite into a fine powder that can be utilized effectively in these applications.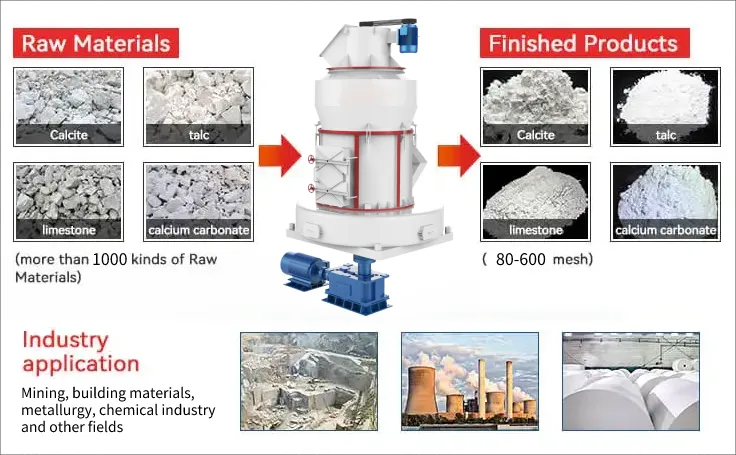 Performance Feature Of CLRM Series Dolomite Powder Enhanced Roller Grinding Mill
A. Optimize the grinding assembly and improve the grinding efficiency.
Compared with the previous mill, the grinding pressure is increased by 10%, the grinding area is increased by 15-20%, and the layout of the grinding rollers is improved to improve the effective grinding space efficiency.
B. Triple shock-absorbing structure design to ensure the stability of the equipment.
The equipment base, volute air duct, machine body, and grinding assembly are triple-shock-absorbed to effectively prevent vibration transmission and ensure stable output of the equipment.
C. The frequency conversion control of the new impeller improves the efficiency of powder selection.
The impeller of the analytical machine is upgraded from a vane type to a wheel type, and the speed is continuously variable through frequency conversion control. The fineness range of the finished product can be adjusted arbitrarily from 80-425 mesh.
D. The grinding device adopts overlapping seal, which has good sealing performance.
CLRM series dolomite powder Enhanced roller grinding mill can effectively prevent the leakage of wind dust and create a clean ore powder processing plant.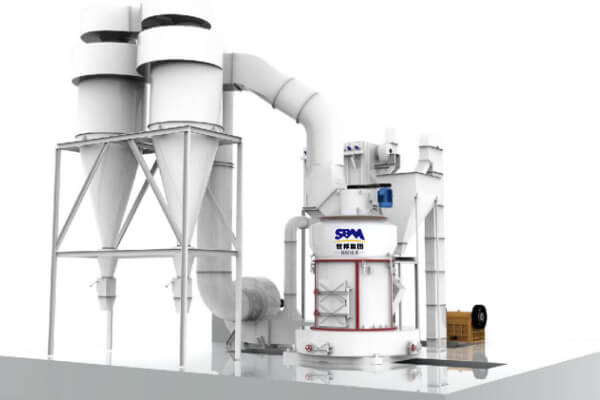 Working Principle Of CLRM Series Dolomite Powder Enhanced Roller Grinding Mill
CLRM series dolomite powder enhanced roller grinding mill components:
The standard configuration of the CLRM series enhanced roller grinding mill consists of main unit, reducer, powder classifier, cyclone percolator, dustcleaner, blower, electrical cabinet and pipes. The optional accessories include a crusher, bucket elevator, feeder.
CLRM series dolomite powder enhanced roller grinding mill workflow:
Big materials are crushed by jaw crusher to the required particle sizes, and carried by bucket elevator to the storage hopper, and are fed evenly and continuously by vibrating feeder into the main unit for grinding. The grinded powder is carried by the airflow from the blower to the classifier to be classified, the particles which meet the fineness enter cyclone collector through pipe, are separated and collected there. They are discharged at the discharging valve to become finished products; the airflow is sucked to the blower by a return pipe on the top of a cyclone collector. the whole airflow system is a sealed circulation and is circulated under positive and negative air pressure.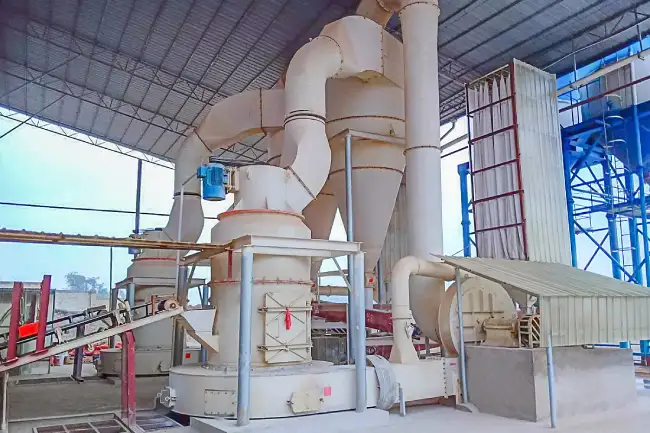 Product Adavantage Of CLRM Series Dolomite Powder Enhanced Roller Grinding Mill
1. Enhanced Grinding Mechanism: The roller grinding mechanism in this series is designed to provide superior grinding efficiency, resulting in finer and more consistent dolomite powder. This is achieved through advanced engineering and precision manufacturing.
2. High Capacity and Throughput: The CLRM Series is equipped with a high-capacity roller system that allows for greater throughput, enabling large quantities of dolomite to be processed efficiently within a shorter timeframe.
3. Customizable Particle Size Control: The roller grinding mill offers adjustable settings for controlling the particle size distribution of the ground dolomite powder. This level of customization is essential as different industries and applications require specific particle sizes.
4. Energy Efficiency: The CLRM Series incorporates energy-efficient technologies to minimize energy consumption while maximizing output. This not only helps in reducing operational costs but also contributes to environmental sustainability.
5. Advanced Automation and Control: The mill may be equipped with advanced automation and control systems that allow for precise regulation of grinding parameters, monitoring of performance, and real-time adjustments. This ensures consistent product quality and operational stability.
6. Robust Construction and Durability: The roller grinding mill is built using high-quality materials and precision engineering, ensuring its longevity and reliable performance even under demanding working conditions.
7. Safety Features: The CLRM Series incorporates safety features to protect operators and the equipment itself during operation. These features may include protective covers, emergency shutdown mechanisms, and more.
8. Ease of Maintenance: The design of the CLRM Series Roller Grinding Mill considers ease of maintenance, with accessible components and user-friendly interfaces for routine checks and servicing.
Product Parameter Of CLRM Series Dolomite Powder Enhanced Roller Grinding Mill
Model
Roller
Ring
Main Shaft Speed
(r/min)
Feeding Size
(mm)
Finished Size
(mesh)
Motor
(kw)
Capacity
(t/h)
Quantity
(piece)
Size
(mm)
External Dia
(mm)
Height
(mm)
CLRM9720
3-4
320*200
1077
200
145
<20
80-500
45*15*37
1-7
CLRM1280
3
370*2*40
1280
240
125
<20
80-400
75*15*55
2-12
CLRM1300
4
410*2*80
1390
280
112
<20
80-400
110*22*90
3-15
CLRM1620
4
450*300
1620
300
102
><20
80-400
160*30*132
5-20
CLRM1700 A
4
510*300
1700
300
102
<30
80-325
185*37*160
6-25
CLRM1720
4
510*300
1850
300
92
<35
80-325
250*45*185
6-25
CLRM1900 A
4
600*300
1900
300
92
<35
80-325
250*45*220
8-32
CLRM2150
4
600*300
2150
300
85
<35
80-325
315*45*280
12-35
Introduction manufacturers of CLRM series enhanced roller grinding mill
SBM Micro powder Technology Co., Ltd. has a professional technical force and perfect production capacity. The company's products are widely used in mining, road construction, bridge construction, housing construction and other industries, crusher, ultra-fine grinding mill, feeder, vibrating screen, sand washing machine, conveyor and other equipment and series of products, all passed the ISO9001:2000 standard quality certification.
SBM has more than 12,000 square meters of standardized production plant, including a processing workshop, assembly workshop, painting and sandblasting workshop, trial machine debugging workshop, finished product placement workshop, etc. The workshop is equipped with more than 100 high-end CNC machine tools of well-known foreign brands.