Brief Introduction of CLRM series Raymond mill
CLRM series Raymond mill is suitable for processing various non-flammable and non-explosive mineral materials with Mohs hardness less than 6 and humidity less than 6%. It is widely used in metallurgy, construction, chemical industry, mining, highway construction and other fields. The particle size of the finished powder can be adjusted between 50-325 mesh (315-45 microns). The materials that can be processed by this type of Raymond mill include quartz, feldspar, barite, carbonate calcite, limestone, talc, ceramics, iron ore, emery, bauxite, phosphate rock, coal and other materials, a total of about 400 kinds of material.
Composition of CLRM series Raymond mill
The standard configuration of CLRM enhanced Raymond mill is composed of main engine, reducer, powder separator, cyclone powder collector, dust collector, blower, electric control cabinet and link pipes. Optional accessories include crusher, bucket elevator, feeder.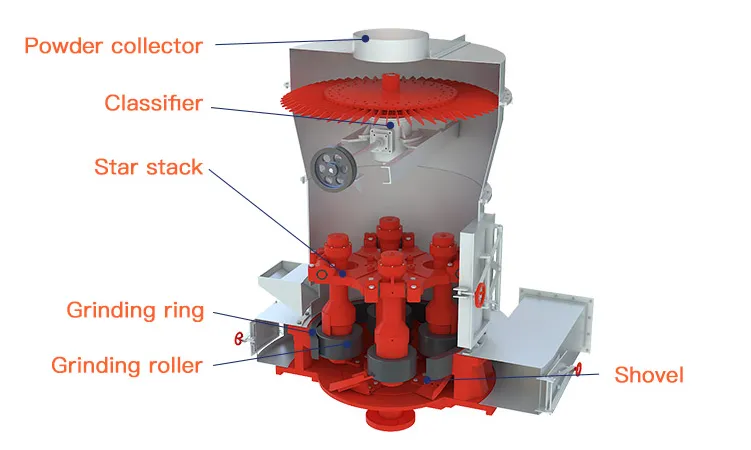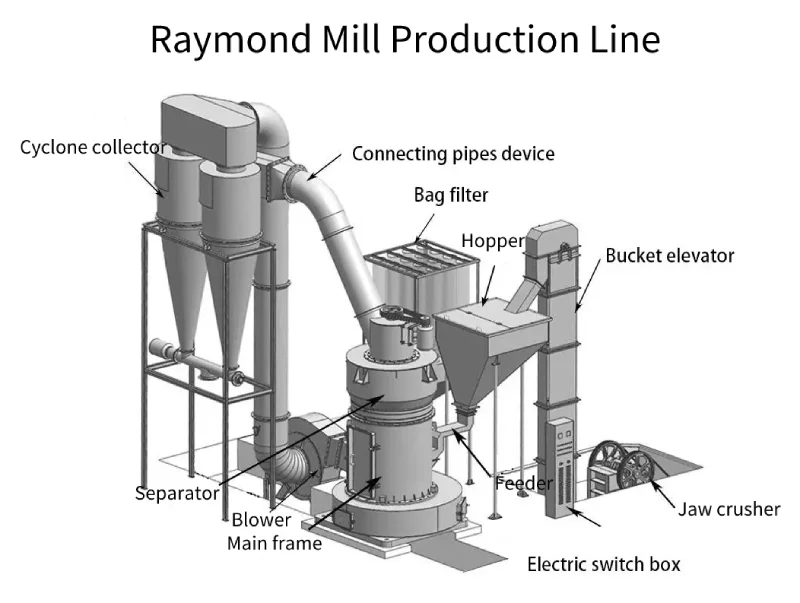 Features of CLRM series Raymond mill
● Optimize the grinding part and improve the grinding efficiency
Compared with the previous generation mill, the grinding pressure is increased by 10% and the grinding area is increased by 15-20%. The layout of the grinding rollers has been optimized to increase the sufficient grinding space.
● Triple vibration damping ensures working stability
Triple damping to resist the vibration transmission of the main engine base, the volute airflow chamber, the unit body, and the grinding part. Make sure the grinding condition is stable.
● New frequency conversion grinder impeller
Equipped with a new cage type wire drawing machine impeller, frequency conversion speed regulation, the output size range is expanded to 80-425 mesh.
● The grinding device adopts superimposed multi-stage seals to prolong the lubrication cycle.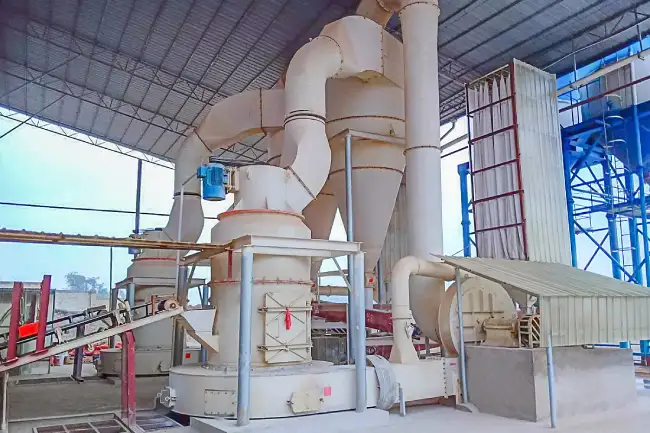 Working principle of CLRM series Raymond mill
After being crushed by the jaw crusher to the required particle size, the bulk materials are transported to the storage hopper by the bucket elevator, and then evenly and continuously fed into the main grinding chamber by the vibrating feeder for grinding.
The pulverized fine powder is carried by the air flow of the blower to the classifier for classification. The powder that meets the fineness enters the cyclone collector through the pipeline, where it is separated and collected, and discharged at the discharge valve to become the finished product.
Air is drawn into the blower by a return duct at the top of the cyclone collector. The entire airflow system of the machine is sealed and circulated under positive and negative air pressure.
Parameter of CLRM series Raymond mill
Model
Roller
Ring
Main Shaft Speed(r/min)
Feeding Size(mm)
Finished fineness
(Mesh)
Motor(kw)
Capacity(t/h)
Qty(pcs)
Size(mm)
External Dia(mm)
Height(mm)
CLRM9720
3-4
Φ320*200
1077
200
145
<20
80-500
45*15*37
1-7
CLRM1280
3
Φ370*240
1280
240
125
<20
80-400
75*15*55
2-12
CLRM1300
4
Φ410*280
1390
280
112
<20
80-400
110*22*90
3-15
CLRM1620
4
Φ450*300
1620
300
102
<20
80-400
160*30*132
5-20
CLRM1700A
4
Φ510*300
1700
300
102
<30
80-325
185*37*160
6-25
CLRM1720
4
Φ510*300
1850
300
92
<35
80-325
250*45*185
6-25
CLRM1900A
4
Φ600*300
1900
300
92
<35
80-325
250*45*220
8-32
CLRM2150
4
Φ600*300
2150
300
85
<35
80-325
315*45*280
12-35
Note: For the motor data in the above sheet such as "45*15*37″ means the main motor * classifier motor * blower motor
Manufacturer of CLRM series Raymond mill
SBM Micropowder Technology Co., Ltd. located in Pudong New district of Shanghai, China as a professional enterprise, which specializes in research, manufacture and sales of all kinds of mining equipment.
So far, we have established a whole production chain. The products cover micro powder grinding mill, high pressure grinding mill, Europe a version coarse grinding mill, hammer crusher, jaw crusher, screw conveyor, bucket elevator and so on.
In particular, we independently developed HGM micro powder grinding mill, which are not only renowned in the domestic market, but also have been sold widely in Eastern Europe, Middle East, Africa, South Asia, Southeast Asia, Oceania, and America, etc.