Brief Introduction Of Rock Powder Grinding Mill
A rock powder grinding mill is a type of machine used to grind various types of rocks or minerals into powdered form. It is commonly used in the mining and construction industries for grinding materials such as limestone, quartz, marble, granite, and other stones or ores.
The grinding process involves feeding the rocks or minerals into the mill, where they are pulverized by the rotating grinding media (such as steel balls or ceramic beads) and the impact of the grinding chambers. As the rocks or minerals are ground down, they are reduced in size and transformed into fine particles or powder.
Rock powder grinding mills come in various sizes and configurations, ranging from small laboratory mills to large industrial mills. They can operate using different grinding mechanisms, including ball mills, rod mills, and autogenous mills, depending on the specific application and desired particle size.
The powdered rock or mineral obtained from the grinding mill can be used in various applications. For example, in the construction industry, it can be used as a raw material for cement production, as a filler or additive in concrete, or as a component in the manufacturing of building materials. In addition, rock powders are also used in industries such as agriculture, pharmaceuticals, and cosmetics.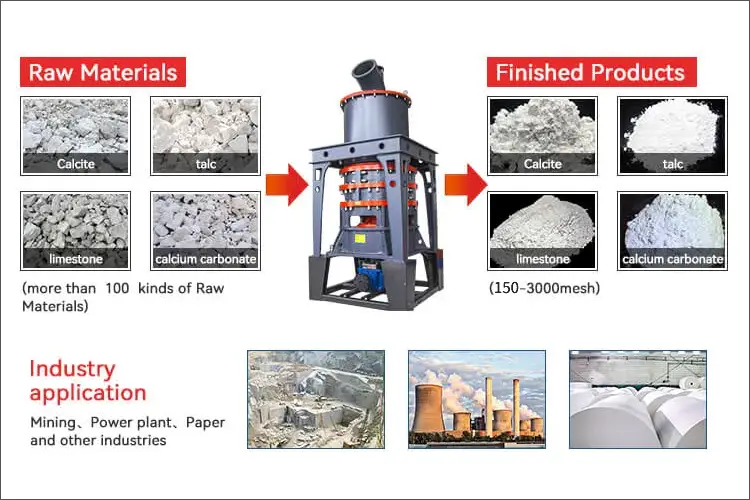 Overall, rock powder grinding mills play a crucial role in processing raw materials and converting them into usable forms, facilitating various industrial processes and applications.
Prodct Parameter Of Rock Powder Grinding Mill
| | | | | | | | |
| --- | --- | --- | --- | --- | --- | --- | --- |
| Model | HGM80 | HGM80A | HGM90L | HGM100L-Ⅱ | HGM100P | HGM125L | HGM1680L |
| Ring Diameter(mm) | 800 | 800 | 900 | 1000 | 1000 | 1250 | 1680 |
| Ring Number (PCS) | 3 | 3 | 4 | 4 | 4 | 4 | 4 |
| Input Size (mm) | ≤10 | ≤10 | ≤10 | ≤15 | ≤15 | ≤20 | ≤20 |
| Adjustable range of finished product (mesh) | 150-3000 | 150-3000 | 150-3000 | 150-3000 | 150-3000 | 150-3000 | 150-3000 |
| Capacity (t/h) | 0.5-5.5 | 0.5-5.5 | 0.8-6.5 | 1.2-10 | 1.2-11 | 2.5-20 | 5-45 |
| Outlet Size L*W*H (mm) | 8605*4139*6050 | 10454*3393*6626 | 11735*3952*7525 | 14507*3633*7562 | 14362*4200*7562 | 19261*4406*8591 | 25067*5414*9007 |
| Main motor power (kw) | 75 | 75 | 55*2 | 132/75*2 | 132/75*2 | 185 | 315 |
Working Principle Of Rock Powder Grinding Mill
The working principle of rock powder grinding mill, also known as an ultrafine mill or ultra-fine grinding mill, is based on the same general principles as a standard rock powder grinding mill. However, the ultra-fine grinding mill is designed to produce much finer and more precise particle sizes.
Here is an overview of the working principle of rock powder grinding mill:
Feed Material
The rocks or minerals to be ground are typically fed into the grinding mill through a feed hopper or conveyor. The size and moisture content of the material can vary depending on the specific application and requirements.
Grinding Media and Grinding Chambers
Inside the rock powder grinding mill, there are grinding chambers where the grinding media, such as steel balls or ceramic beads, are contained. The grinding media is responsible for pulverizing the rocks or minerals as they collide with the material and each other.
Rotation and Friction
The rock powder grinding mill's container or drum is rotated either by a motor or other means, causing the grinding media to move and cascade within the chamber. As the grinding media moves, it generates friction and impacts the feed material, crushing and grinding it into smaller particles.
Size Reduction
The continuous grinding action and the impact of the grinding media gradually reduce the size of the rocks or minerals. The material is subjected to forces that break it down into smaller pieces, and eventually, it is reduced to the desired particle size or powder.
Classification and Separation
Some grinding mills have built-in classifiers or screens that separate the fine particles from the coarser ones. This step ensures that the desired particle size range is achieved, and the fine powder is collected separately while the larger particles are recirculated for further grinding.
Collection and Discharge
The ground rock powder is typically collected in a discharge outlet or through a cyclone separator. The collected powder can be stored in bins or transported for further processing or use in various applications.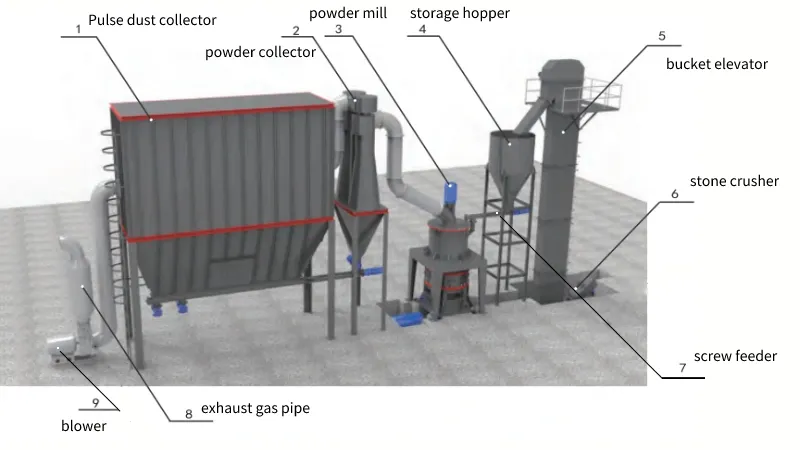 Product Advantages Of Rock Powder Grinding Mill
Rock powder grinding mills offer efficient size reduction, versatility, precise particle size control, high grinding efficiency, low maintenance requirements, environmental friendliness, and a wide range of applications. These advantages make them indispensable in industries that rely on the processing of rocks, ores, and minerals.
Efficient Size Reduction
Rock powder grinding mills are designed to efficiently reduce the size of rocks, ores, minerals, and other solid materials. They use mechanical forces, such as impact, compression, and attrition, to break down the particles into smaller sizes. This size reduction process is crucial for many industries, including mining, construction, and pharmaceuticals.
Versatility
These mills can handle a wide range of materials, from soft to extremely hard rocks. They are capable of grinding various types of rocks, such as limestone, quartz, granite, basalt, and more. This versatility makes them suitable for processing different ores and minerals, allowing for flexibility in production processes.
Precise Particle Size Control
Rock powder grinding mills offer excellent control over the particle size distribution. The grinding process can be adjusted to produce a specific range of particle sizes, which is essential for many applications. Whether you need coarse, medium, or fine powders, these mills can be customized to meet your requirements.
High Grinding Efficiency
These mills are designed to maximize grinding efficiency, ensuring the highest possible throughput with minimal energy consumption. They are equipped with advanced grinding mechanisms, such as high-speed rotating discs or hammers, impact plates, and classifier systems, which optimize the grinding process and minimize energy losses.
Low Maintenance
Rock powder grinding mills are built to withstand heavy-duty usage and are designed for easy maintenance. They incorporate robust components and wear-resistant materials to minimize the need for frequent repairs. Additionally, many mills offer features such as quick and easy access to internal parts, reducing downtime during maintenance and cleaning procedures.
Environmental Friendliness
Grinding mills for rock powder production often incorporate advanced technologies to reduce environmental impact. Some mills utilize closed-circuit systems that recirculate air and minimize dust emissions. Moreover, modern mills may incorporate energy-efficient designs and can be equipped with dust collection systems to capture and control airborne particles.
Wide Range of Applications
Rock powder produced by grinding mills finds applications in various industries. It can be used as a raw material in the production of building materials, such as cement and concrete. It is also utilized in the manufacture of ceramics, glass, fertilizers, paints, coatings, and pharmaceuticals. Additionally, rock powders are used in soil amendments and as additives in various industrial processes.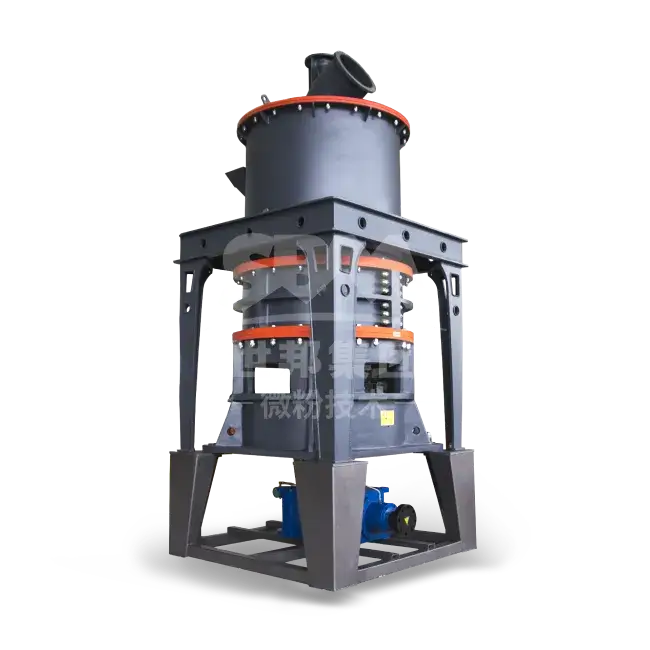 ● High Efficiency
● Long lifecycle of spare parts
● High safety and reliability
● High fineness, flexible adjustment
● Advanced intelligent speed control device
● Environment-friendly
FAQ
1. Who are we?
SBM Ultrafine Powder Technology Co., Ltd is specializing in the research, manufacture, and sales of all kinds of industrial grinding mills. We have been devoted to the grinding field for more than 30 years.
2. Why should you buy an ultrafine grinding mill from us?
CE, ISO9001
Factory sell directly
30 years experience, professional
Sales market all over the world
3. What payments can we accept?
Accepted delivery terms: FOB, CFR, CIF, EXW, CPT, DDU, express;
Acceptable payment currency: USD;
Acceptable payment methods: T/T, L/C, Western Union;