What is the stone powder making machine?
Stone powder making machine is a kind of high-efficiency and low-consumption mineral ultra-fine powder processing equipment. Compared with the traditional jet mill and ball mill, the process of powder selection is simpler.
Stone powder making machine greatly reduces production cost and improves product fineness. Thousands of domestic and overseas users have proved that the equipment has the advantages of superior performance, stable quality, simple operation and convenient maintenance, and is an ideal equipment for ores ultra-fine powder processing.
What is the use of grinding stones into powder?
Stone powder has a wide range of uses. In our daily life, we use stone powder for clothes, toothpaste, plastics, cosmetics, food, and pigments. Industrial ceramics, cement, glass, refractory materials, smelting, papermaking, coatings, etc. use stone powder. Even the production of medicine requires the participation of stone powder, which can be said to be everywhere.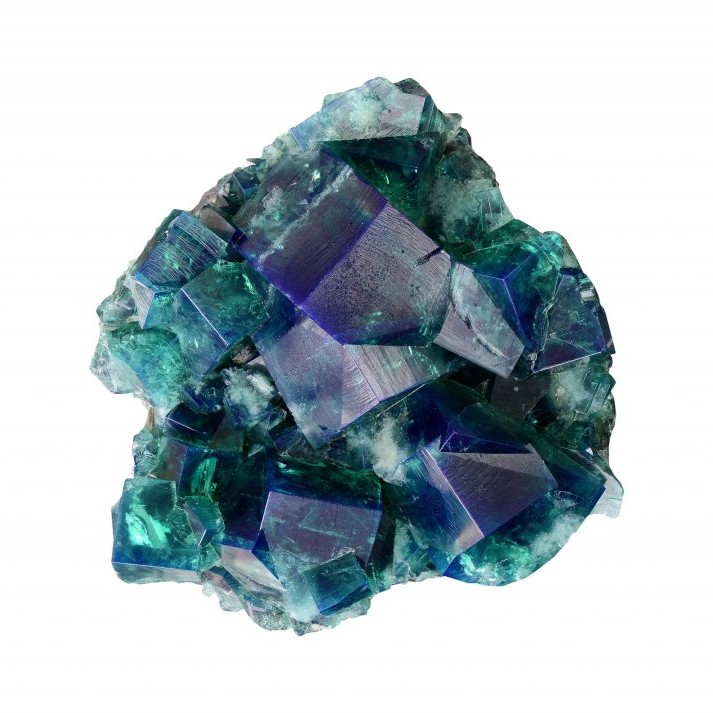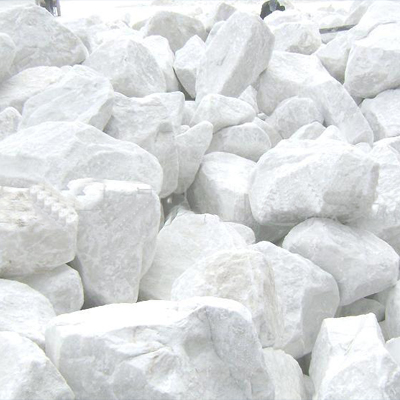 The application of stone powder is indeed very extensive, but it is not just to find Kayama, and the blasted stones can be ground into powder. It is necessary to know which types of stones are useful to grind into powder. For more information, please leave us a message.
What are the ore materials that the stone powder making machine is suitable for?
​Stone powder making machine is suitable for the super fine grinding of all kinds of crisp materials whose Moh's hardness is below 7, such as calcium carbonate, barite, dolomite, calcite, limestone, kaolin, bentonite, marble, gypsum, quartz, feldspar, clay, talc, fluorite, white mud, mica, refractory material, glass, total about 1000 kinds of materials.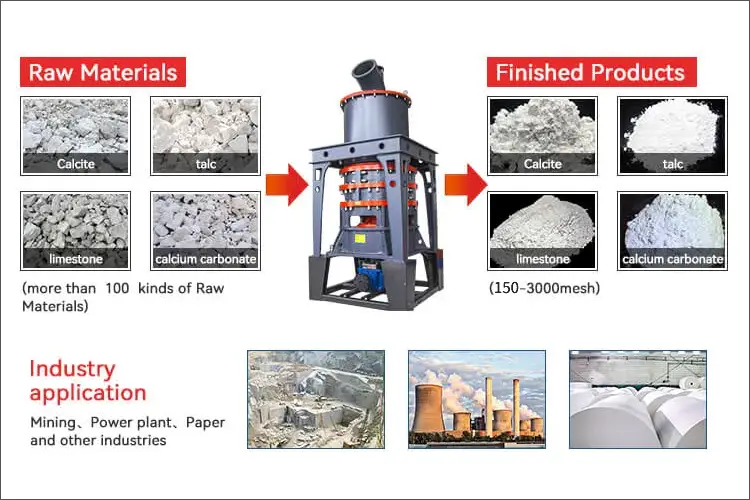 What is the working principle of the stone powder making machine?
Stone powder making machine is mainly formed by mill body, blower fan, ultra-fine analyzer, finished product cyclone container, bag de-duster and air pipe. The elevator, storage bin, electric control cabinet, powder feeder and crusher are optional for the demands of customers.
When stone powder making machine is at work, the main bearing and each dial are driven by electricity through reducer, and all the grinding rollers are rolling in the ring channels driving by dial through plunger.
The materials are driven to the edge of the turn plate by the centrifugal force and fall down into the grinding chambers. The high-pressure air blower constantly inhales air, airflow with crushed materials is brought to classifier whose high-speed impeller will screen the airflow: The unqualified particle size will fall and return to the mill for being around while the qualified particle size mixed with air will go into the cyclone powder collector.
Most of the qualified powders will fall and exit from the discharging valve at the bottom; a small proportion of the fine powders, with airflow, moves to the dust cleaner. The materials from the above two lots are sent by the conveyor to get finished powders packed. In addition, filtered clean air will be emitted from muffler in the end.
What are the advantages of stone powder making machine?
1. Under the same finished final size and the same motor power, the capacity of the stone powder making machine is twice as much as jet mill, mixing grinder and ball mill, and energy consumption decreased 30%.
2. The ring and roller are forged by special material with high utilization. Under the same grinding material and finish special size, the lifecycle of spare parts is about one year, which is 2-3 times longer than an impact mill or turbo mill. Furthermore, the lifetime can reach 2-5 years for grinding calcite carbonate. The lifestyle of spare parts is variable for the material's hardness.
​3. As there are no rolling bearings or screws in the grinding cavity, there are no problems caused by bolts shedding or rapid wear of bearings and seal components.
4. The final fineness of the grinding materials can be adjusted between 150 meshes and 3,000 mesh (74-5 micron).
5. The application of pulse bag filters and mufflers greatly alleviates dust pollution and noise.
6. Let the material feed into the machine evenly, adjust the main speed to fit for ground material, the fineness more stable. To increase the capacity and efficiency, reduce power consumption.
What types of stone powder making machine can you choose?
There are 7 types of stone powder making machine for you to choose, you can choose according to your needs, If you don't know how to choose, you can leave us a message for consultation.
Parameters of HGM series stone powder macking machine

Model

HGM80

HGM80A

HGM90L

HGM100L-Ⅱ

HGM100P

HGM125L

HGM1680L

Ring Diameter(mm)

800

800

900

1000

1000

1250

1680

Ring Number (PCS)

3

3

4

4

4

4

4

Input Size (mm)

≤10

≤10

≤10

≤15

≤15

≤20

≤20

Adjustable range of finished product (mesh)

150-3000

150-3000

150-3000

150-3000

150-3000

150-3000

150-3000

Capacity (t/h)

0.5-5.5

0.5-5.5

0.8-6.5

1.2-10

1.2-11

2.5-20

5-45

Outlet Size L*W*H (mm)

8605*4139*6050

10454*3393*6626

11735*3952*7525

14507*3633*7562

14362*4200*7562

19261*4406*8591

25067*5414*9007

Main motor power (kw)

75

75

55*2

132/75*2

132/75*2

185

315
Why choose SBM?
1. The product variety is complete and the quality is high.
Our main products include ore crusher (jaw crusher, cone crusher, hammer crusher, etc.), ore crusher (ultrafine mill, vertical mill, ultrafine wet mill, coarse powder crusher, etc.), grinding production line accessories (hoist, baler, muffler, dust bag, etc.), powder surface modifier, etc.
2. The company is strong.
Shibang industry and its affiliated enterprises have five advanced mining machinery production bases and one under construction Xiuwu production base in Jiaozuo, Henan Province, with a total production area of 1200000 square meters, which can better meet the more needs of global customers in the future.
3. Perfect service system.
SBM has customers all over the world. In SBM, you can get the production line plan formulation for free, you can enjoy 7*24 hours one-to-one service, you can get professional operation skills training for free, and you can quickly purchase original spare parts and so on.