Brief Introduction
Talcum powder making machine is also called talc industrial ultrafine grinding mill, which can produce 150-3000 mesh talcum powder and other non-metallic ore powder. In addition, it can also be used to process hard calcium-containing materials such as shells and coconut shells.

The equipment has the characteristics of stable operation, simple operation, convenient maintenance, high efficiency, and environmental protection, etc., and has been favored by many users. In particular, maintenance does not require downtime, and 24-hour operation is truly realized.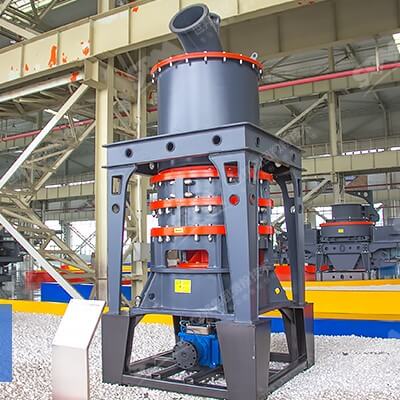 HGM ultrafine grinding mill, super fine powder mill, stone powder making machine
Talcum powder making machine
Adjustable fineness:150-3000 mesh

Capacity: 0.5-45 t/h

Materials: non-metallic ores, shells, bamboo, coconut shells, etc.

Features: small footprint, safe and reliable, intelligent control, long service life, flexible adjustment, large adjustable range
About Talcum
Talc generally has many advantages such as insulation, acid resistance, high melting point, good gloss, strong adsorption, and anti-sticking properties. The talc powder obtained through the processing of the talcum powder making machine is a white powder, which is odorless, tasteless, non-toxic, and environmentally friendly. It has important value in the fields of chemicals, ceramics, cosmetics, medicine, paper making, and electric porcelain.
Talc powder processing can be divided into four types: coarse talc powder processing (0-3MM), fine powder processing (20 mesh-400 mesh), ultra-fine powder deep processing (400 mesh-1250 mesh), and micro-powder processing (1250 mesh-3250 mesh) type.
Process Flow of Talcum Powder Production Line
Talc needs to undergo a reasonable grinding process to further realize its higher economic value. It is very important to choose suitable grinding equipment and design a scientific production line process.

The talc milling process is generally divided into two stages: crushing and grinding. The equipment used includes a jaw crusher, talcum powder making machine, bucket elevator, electromagnetic vibrating feeder, fan, analyzer, conveying pipeline, etc. The specific process flow is as follows:

The first stage: broken
The bulk material of talc is crushed by the crusher to the fineness (10mm-50mm) that can enter the mill.
The second stage: milling
The crushed small pieces of talc are sent to the silo by elevator and then sent to the grinding chamber of the mill evenly and quantitatively by the vibrating feeder for grinding.
Fine powder processing: Raymond mill or high-pressure suspension roller mill can be used.
Superfine powder processing: HGM ultrafine grinding mill or CLUM vertical roller mill can be used.
Coarse powder processing: European version of coarse powder mill can be used.




Core
processing
equipment
The third stage: classification
The ground material is classified by the classifier, and the unqualified powder is classified by the classifier and returned to the host for re-grinding.
The fourth stage: collecting powder
The powder that meets the fineness is separated and collected by the airflow through the pipe into the dust collector. The collected finished product powder is sent to the finished product silo by the conveying device through the discharge port. Then uniformly use a powder tanker or automatic packing machine for packaging.
Features of Talcum Powder Mill Production Line
① The production line is equipped with special dust removal equipment, with low dust emission and good dust removal effect, basically reaching more than 99.99%, realizing dust-free workshop operations.
② The production line runs stably, with low vibration, reduces the operating noise to a smaller range, and at the same time has a low failure rate, reducing maintenance costs by nearly 30,000 yuan per year.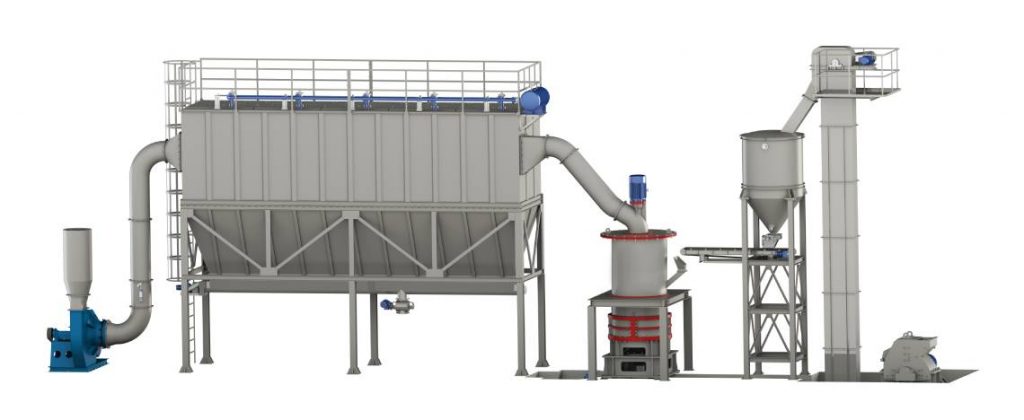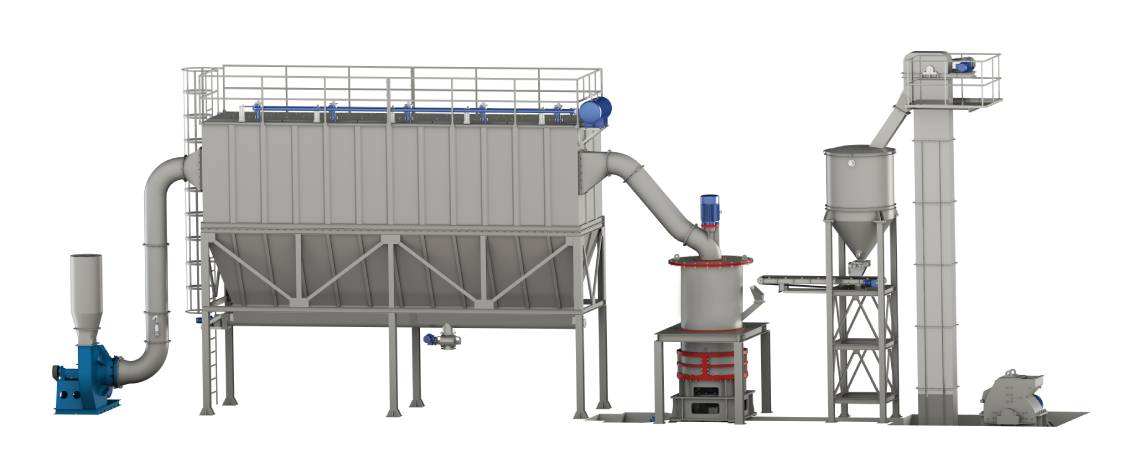 ③ An automatic control system is installed, which can remotely control the running status of the production line without requiring workshop personnel, making operation more convenient and maintenance more convenient.
④ The equipment is more reasonable and compact, the area of ​​the production line is reduced by about 30%, and the investment cost is reduced by at least 20,000 yuan.
⑤ High powder extraction rate and large output. At the same time, the finished talc fine powder after processing has uniform particle size, high quality, high purity, and stable quality, and the sieving rate is over 99.99%.