In terms of finished product particle size, sand quality, particle shape, application field and investment cost, making sand with limestone is a very good choice. Limestone belongs to the category of limestone, which is a relatively environmentally friendly stone material. At the same time, the water absorption rate is less than or equal to 0.75%, the bending strength is more than or equal to 10.0MPa, and the gloss is about 60. It is widely used.
Machine-made sand is relative to natural sand such as river sand. Generally speaking, natural sand is mainly formed by the impact of natural forces, such as river sand, sea sand, mountain sand and so on. The machine-made sand refers to the rock particles with a particle size of less than 4.75 mm made from ordinary ores and rocks after soil removal, mechanical crushing and screening.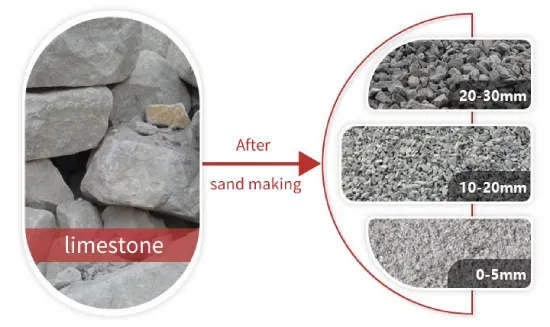 Limestone is the most widely used and used industrial rock in industry. Widely used in metallurgy, chemical industry, construction, building materials, environmental protection, agriculture, food and other industries. The use of limestone to make machine-made sand can effectively improve the mineral rate of limestone blocks, reduce the amount of limestone waste slag disposal, and achieve obvious energy saving and emission reduction effects.
Production process of limestone manufactured sand
The processing of limestone is mainly to crush, classify and produce lime, slaked lime, precipitated calcium carbonate, carbon dioxide, etc. Limestone generally adopts a dry crushing process. For limestone used in metallurgy and roads, the ore can be crushed and screened.

The limestone sanding production line includes feeding, crushing, sand making, screening, conveying and other systems. The required equipment includes vibrating feeder, jaw crusher, impact crusher, vibrating screen, sand making machine, and sand washing machine, and conveyor equipment.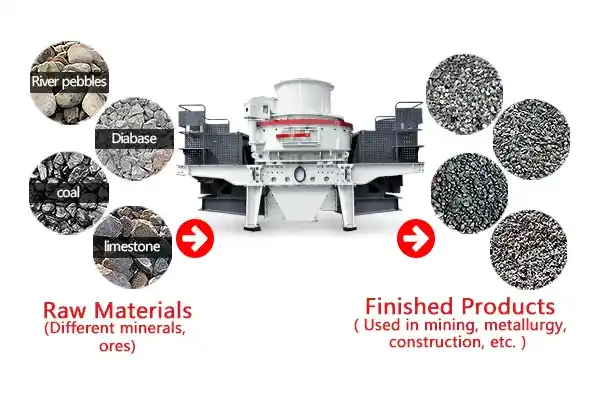 The core and more critical link are sand making. Whether the sand produced by limestone can meet the standard of construction sand basically depends on the choice of sand making machine. Then for limestone, the impact sand making machine is very suitable. It takes into account the dual functions of sand making and shaping. The sand produced is of good shape and high quality. In addition, it has the following advantages for limestone:
1. Compared with the same traditional scale and process sand making machine, the yield is more than 30% higher, and the electricity saving is more than 30%.
2. The finished sand material, the stone material is cubic, with strong compressive ability, suitable for high standard construction needs (needle shape, less flake shape).
3. The production automation is high, the labor cost is low, and the daily maintenance cost is reduced by more than 50% compared with other sand making machines of the same scale. It is wear-resistant and wear-resistant and has a long service life.
Advantages of limestone manufactured sand
Limestone machine-made sand is made from waste and excess resources such as limestone quarry waste, waste slag, and stone powder, which are mechanically crushed, washed and screened.
1. Machine-made sand can effectively and stably control technical indicators such as sand particles according to national standards and engineering quality requirements and meet engineering technical requirements.
2. The particle and fineness modulus of machine-made sand can be adjusted, and the fineness modulus and particle of machine-made sand can be adjusted according to the needs of the project, combined with the advantages of the base material and the requirements of concrete.
3. The particle shape of machine-made sand is multi-angular, and the surface is rough, which is conducive to bonding with cement and other cementitious materials and is conducive to the improvement of concrete strength.
4. The production of machine-made sand can be combined with the production process of crushed stone, which is conducive to the comprehensive utilization of mineral resources and reduces pollution, thereby greatly reducing the production cost of machine-made sand.