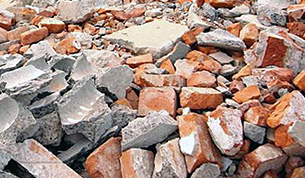 Construction waste mainly comes from land excavation, dilapidated building materials, road excavation and construction sites, and usually includes cement-based materials, ceramic-based materials, natural stone, metal and others (such as wood, plastic), etc. Its composition varies with the level of regional economic development, building structure, demolition methods, and recycling methods. These construction wastes erode our living environment, destroy the beauty and cause potential safety hazards.
Construction waste processing and production process
According to the production and processing requirements of construction waste raw materials, fixed or mobile crushing lines can be selected for processing. It can optionally be further processed by grinding equipment, and its finished product has a wider range of uses.
Stage 1: Preprocessing
The construction waste raw materials are pre-treated first, including (optional) using hydraulic hammers to reduce excessively large blocks, cutting off excessively long steel bars, preventing damage to the conveyor belt, sorting and removing large debris, etc.
Stage Two: Broken
The raw materials are crushed by jaw crusher, impact crusher, etc. The actual engineering application proves that this process can efficiently crush construction waste and separate the steel bars.
The third stage: Iron removal and screening
The crushed materials are separated by iron separators to separate ferrous metals such as steel bars, and the sand and gravel materials pass through the vibrating screen to form finished sand and stone of different specifications. A small amount of materials that do not meet the fineness requirements are returned to the crusher for reprocessing to form a closed loop to ensure the grade requirements of the finished materials.
Stage 4: Grinding (optional)
The crushed materials can be further processed by the suspension roller mill to produce powders of different grades. These powders can be used as raw materials for high value-added products such as brick making, cement, and concrete admixtures.
Required equipment
The construction waste treatment process is relatively complex. In the later crushing and grinding process, feeder, jaw crusher, iron remover, impact crusher, vibrating screen, YGM Raymond suspension roller mill, etc. are generally used.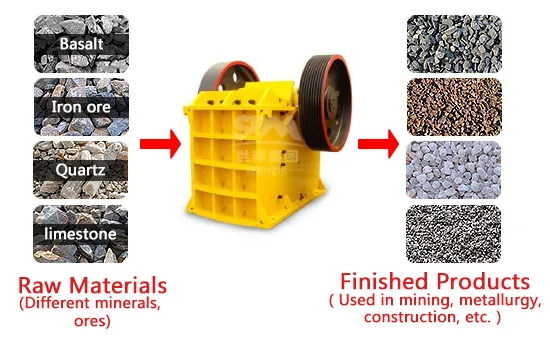 Jaw crusher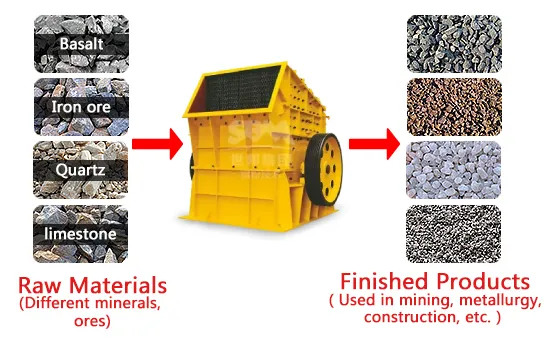 Impact crusher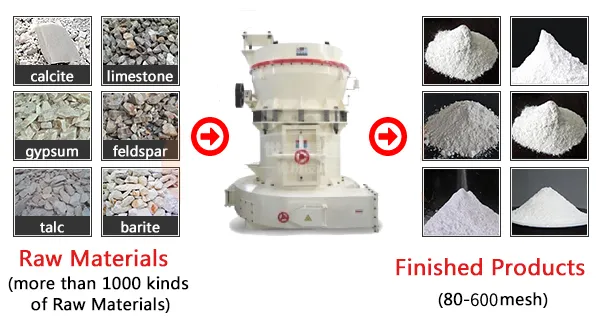 YGM Raymond mill
Main uses of construction waste
The effective recycling of construction waste is increasingly valued by the government and society. With customized crushing and grinding production lines, more than 95% of construction waste can be reused as raw materials for various building materials. It has great economic value and social environmental value.
(1) Manufacture of recycled concrete aggregate
Crushing waste masonry, cement concrete, etc. into recycled aggregate, which can replace ordinary sand and gravel for road subgrade construction or concrete preparation.
(2) Manufacture of recycled non-burning bricks
After the waste bricks are crushed and ground, 150# and 175# bricks that meet the requirements of GB5101-85 "Standard for Sintered Ordinary Bricks" can be obtained, and the burning and steaming process can be saved.
(3) Recycled non-fired masonry cement
The waste brick powder can be made into 175# and 275# masonry cement in line with GB/T3183 standard after grinding without firing process.
(4) Other new building materials products
After crushing and grinding, construction waste can also be made into new wall material products such as concrete standard bricks and concrete porous bricks, as well as concrete pavement brick products such as pavement bricks, permeable bricks, and roadside stones.
(5) Landfill hills
Construction waste with no recycling value can also be used as backfill material to build landscape rockery gardens after being crushed.