Introduction of iron ore crusher: iron ore crusher is a kind of mechanical equipment that crushes iron ore raw ore step by step, from large pieces of raw iron ore (about 500mm) to millimeter-level fine materials. Usually, the iron ore dry separator is used to enrich the lean ore, and the enriched iron ore rich ore is sent to the ball mill for grinding, and then the iron concentrate is separated and extracted by wet separation.
Iron ore crushing material characteristics
Characteristics of iron ore: Any ore containing economically available iron is called iron ore. There are more than ten kinds of iron minerals in nature. The iron minerals of industrial significance are mainly magnetite, hematite and pseudo-hematite, followed by siderite and limonite.
Iron ore is an important raw material for iron and steel production enterprises. Generally, iron ore with a grade of less than 50% needs to be processed before smelting and utilization. Due to the large number of lean ores (97.5% of the total reserves) and the many comprehensive ores with other components (accounting for 1/3 of the total reserves), most of the iron ore in my country needs to be crushed before smelting, grinding, magnetic separation, flotation, gravity and other procedures to gradually select iron.
Iron ore crushing process
In the iron ore crushing process, the feeder, first crushing, secondary crushing, screening, fine crushing and dry selection are generally used. For the sake of economy, generally the finer the ore particle size entering the dry separator, the higher the proportion of iron-bearing ore that is dry selected.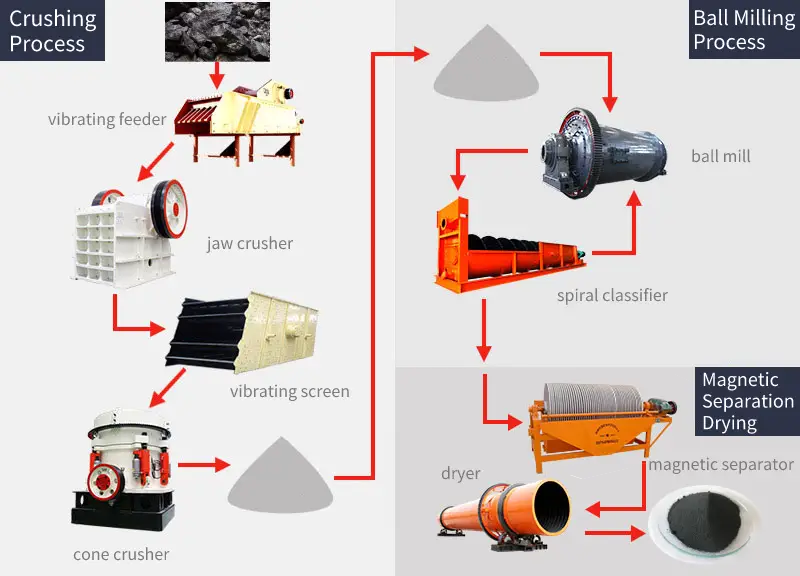 Primary crushing
Jaw crushers are generally used for head crushing in iron ore production operations, and gyratory crushers are used in large production units (especially large foreign mines). Jaw crusher is a traditional, stable and reliable primary crushing equipment, which is widely used. The manufacturing process and technical level of jaw crusher are very mature, as long as the products of regular manufacturers are used, they can meet the design and production requirements.
Secondary crushing
In the iron ore crushing production process, there are generally two types of secondary crushers: either fine jaw crushers or cone crushers. The fine jaw crusher is generally used for small iron ore dressing fields, and its equipment value is low, the structure is simple, and the maintenance is simple and convenient. However, the discharge port of the fine jaw crusher can only be adjusted to a minimum of 25mm, so the crushing particle size is generally below 40mm.
The structure of the cone crusher is more complex, and the equipment value is higher. However, its output is larger, the crushing particle size is smaller, and the service life of wear-resistant parts is longer. Therefore, cone crushers are widely used in relatively large iron ore dressing fields. From the production efficiency and cost of iron ore, the use of cone crusher can effectively reduce the production cost. Because the cone crusher can provide smaller product size, from the overall process, it is a very economical production method to use lamination equipment to complete the main crushing task of iron ore.
(1) Crushing process
The iron ore crushing production line has the characteristics of high degree of automation, high crushing rate, low operating cost, energy saving and environmental protection, and fine particle size. SBM can provide you with a complete set of process solutions and technical support according to specific production requirements to ensure that your needs are met.
(2) Grinding process
Most iron ore grinding processes use two-stage grinding processes, and most small and medium-sized concentrators use one-stage grinding processes. In recent years, some concentrators have changed the two-stage grinding to three-stage grinding due to the adoption of the new fine-screen regrinding process. The equipment used for grinding generally includes ball mills, rod mills and autogenous mills.
(3) Selection process
The separation process mainly includes magnetic separation, flotation and gravity separation, etc., but the composition and type of different ores are different, and the methods, equipment and processes used are also different.
Application field of iron ore crushing material
Iron ore is deeply processed by the crusher and can be widely used in the following industries
1. Treat pig iron. Pig iron smelting adopts the high-temperature solid-state reduction method, that is, it is smelted under the condition that the furnace temperature is increased to 1150-1300 °C. It is in a liquid state when it comes out of the furnace, and it can not only be produced continuously, but also can be cast and formed, which promotes the development of cast iron technology.
2. Other types of iron compounds can also be used in chemical, photography, agriculture, medicine, pigments, abrasives, industry, chemical research, printing and other industries.