Brief Introduction of PE Jaw Crusher
The PE series jaw crusher is optimized and designed based on the traditional domestic compound pendulum crusher technology. It has a simple structure and reliable performance.
PE Jaw Crusher is mainly used in the industries of metallurgy, mining, chemical, cement, construction, refractory materials, and ceramics. It is suitable to crush hard and soft ores with compressive strength of less than 320 MPa. This machine can break materials into medium size and fine size.
The PE series jaw crushers adopt a simple structure, a deep crushing cavity an integrally welded frame, and an optimized movement style of the movable jaw, so the equipment performance has been significantly improved over the traditional jaw crushers to achieve more stable and reliable operation.
Main structure of PE Jaw Crusher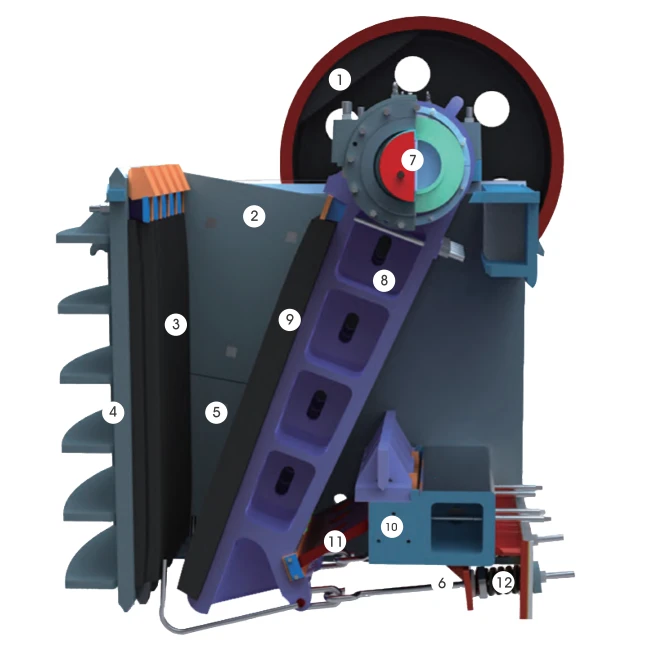 1. Flywheel
2. Upper Lining Plate
3. Fixed Jaw Plate
4. Flame
5. Lower Lining Plate
6. Tension Rod
7. Eccentric Shitt
8. Movable jaw
9. Movable Jaw Plate
10. Adjustment Device
11. Toggle plate
12. Spring
Features of PE Jaw Crusher
1 Low noise and less dust.
2 The crushing ratio is large, and the product size is uniform.
3 The structure is simple, the work is reliable, and the operating cost is low.
4 The lubrication system is safe and reliable, the replacement of parts is convenient, and the equipment maintenance is simple.
5 The crushing cavity is deep and there is no dead zone, which improves the feeding capacity and output.
6 Equipment energy saving: single machine energy saving is 15%-30%, system energy saving is more than doubled.
7 The adjustment range of the discharge opening is large, which can meet the requirements of different users.
Working Principle of PE Jaw Crusher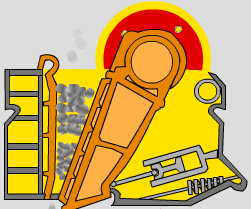 Jaw crusher mainly consists of frame, eccentric shaft, jaw plate, connecting bar, adjustment part, and spring.
The movable jaw goes upward and downward through the eccentric shaft when the belt and belt wheel are driven by the motor. The angle between the movable jaw and bracket turns big when the movable jaw goes upward, which pushes the movable jaw plate to come closer to the fixed jaw plate. At the same time, materials are crushed with the movement of the movable jaw.
When the movable jaw goes downward, the angle between the movable jaw and bracket turns small. Under the force of spring and connecting bars, the movable jaw plate leaves a fixed jaw plate, and the crushed materials with qualified size are discharged from the crushing cavity. With the continuous rotation of the motor, the movable jaw crushes and discharges materials, which in turn, realizes the goal of mass production.
Specifications of PE Jaw Crusher
Type
FeedOpening Szie(mm)
Feeding Size (mm)
Output
Open Range
(mm)
Capacity (t/h)
Powder
(kw)
Dimension
L * W * H
(mm)
PE150 × 250
150×250
125
10-40
1-5
5.5–7.5
922 × 745 × 933
PE200 × 350
200×350
125
15-40
5-16
7.5–11
1056*1142*1220
PE250 × 400
250×400
210
20-60
5-20
15–18.5
1430*1310*1340
PE400 × 600
400×600
350
40-100
15-60
30-37
1700*1732*1653
PE500 × 750
500×750
425
50-100
40-100
45-55
2035*1921*2000
PE600 × 900
600×900
480
65-160
60-140
55-75
2290*2206*2370
PE750 × 1060
750×1060
630
80-140
130-260
90
2620*2302*3110
PE900 × 1200
900×1200
750
95-165
220-380
130
3789*2826*3025
PE1000 × 1200
1000×1200
850
195-265
230-380
130
3889*2826*3025
PE1200 × 1500
1200×1500
1020
150-300
400-800
200
4930*3150*3700
Note: This specification is just referencing, any changes are subject to the products.
Our Factory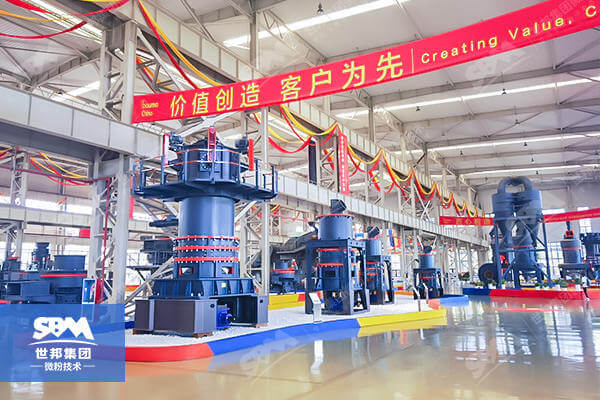 FAQ
1. What are the parts of jaw crushers?
Jaw crusher mainly consists of frame, eccentric shaft, jaw plate, connecting bar, adjustment part, and spring.
2. What is the difference between crushers and grinders?
The crusher crushes the stone by squeezing, impacting, stripping, rolling, etc.
The grinding mill is mainly used to grind the material into ultrafine powder.
Larger mineral materials need to be initially crushed with a crusher. The grinding mill further processes the pulverized material into powder.
3. Why should you buy ultrafine vertical mill from us?
CE, ISO9001
Factory sell directly
30 years experience, professional
Sales market all over the world
SBM Hot Sale Grinding Mill
HGM90 ultra fine grinding mill is mainly applied to non-inflammable, non-explosive and brittle materials with Mohs hardness under six.