Brief Introduction of Stone Powder Making Machine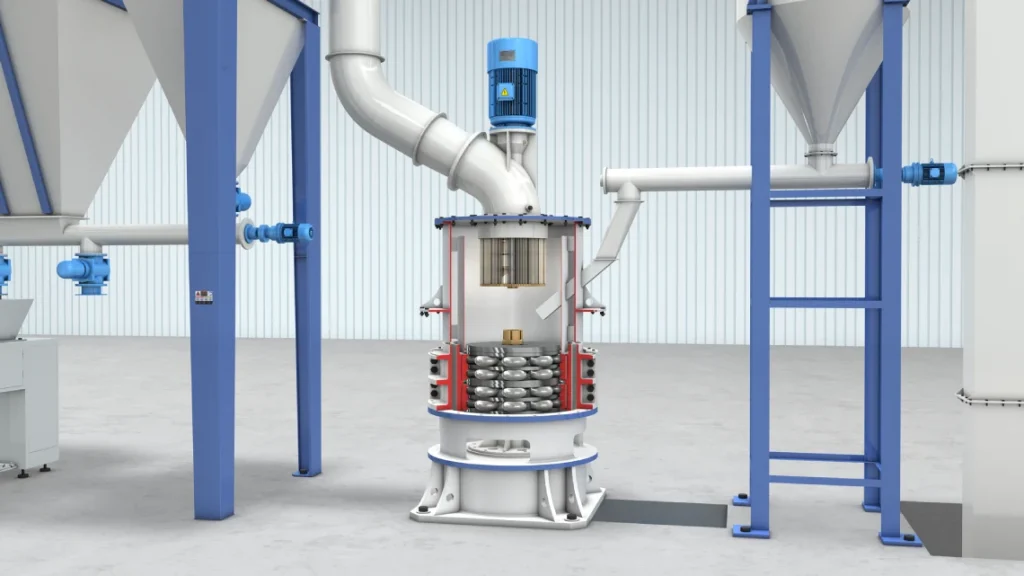 Stone powder making machine is an industrial grinding mill that can grind solid materials into ultrafine powder. It is usually used in metallurgy, building materials, chemical, and mine industries.
It is suitable for the superfine grinding of all kinds of crisp materials whose Moh's hardness is below 7, such as calcium carbonate, barite, dolomite, calcite, limestone, kaolin, bentonite, marble, gypsum, quartz, feldspar, clay, talc, fluorite, white mud, mica, refractory material, glass, total about 1000 kinds of materials.
Finished production fineness: 250meshes-2500meshes, 5-74 micron.
The capacity (ton/hour) ranges from 0.4T/H to 45T/H.
Max feeding size: 20 mm.
Features of Stone Powder Making Machine
● High efficiency
Under the same finished final size and the same motor power, the capacity of the zeolite grinding machine is twice as much as jet mill, mixing grinder, and ball mill.
● Long lifecycle of spare parts
● High safety and reliability
As no rolling bearings or screws in the grinding cavity, there are no problems caused by bolts shedding or rapid wear of bearings and seal components.
● High fineness and flexible adjustment
● Environment-friendly
The application of pulse deduster and muffler greatly alleviates dust pollution and noise.
Working Principle of Stone Powder Making Machine
Stone powder making machine is mainly formed by mill body, blower fan, ultra-fine analyzer, finished product cyclone container, bag de-duster, and air pipe. The elevator, storage bin, electric control cabinet, powder feeder, and crusher are optional for the demands of customers.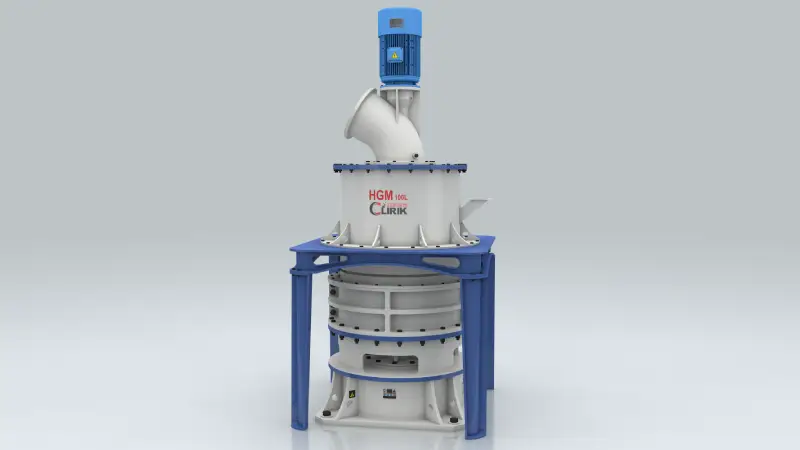 Ultrafine grinding mill host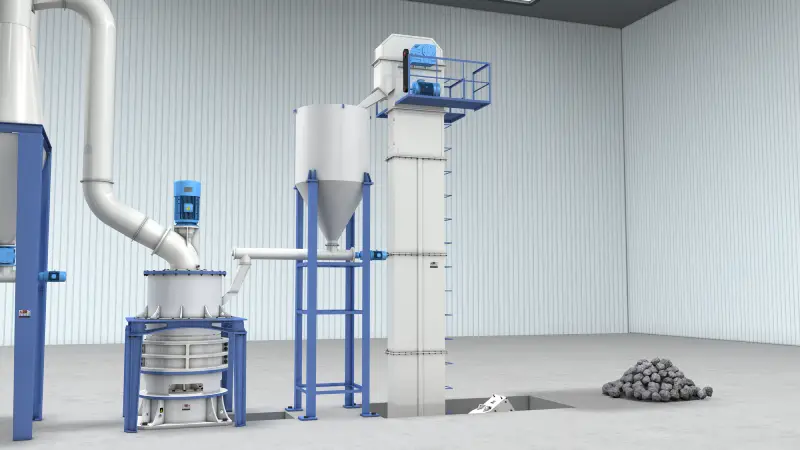 Hoist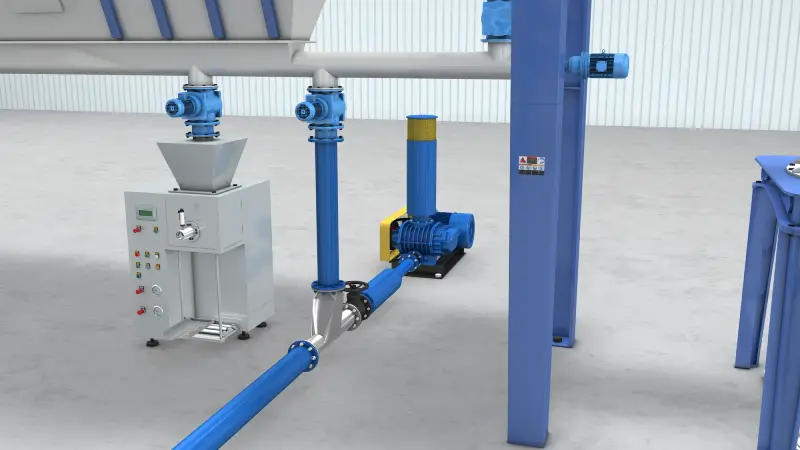 Packing machine gas conveying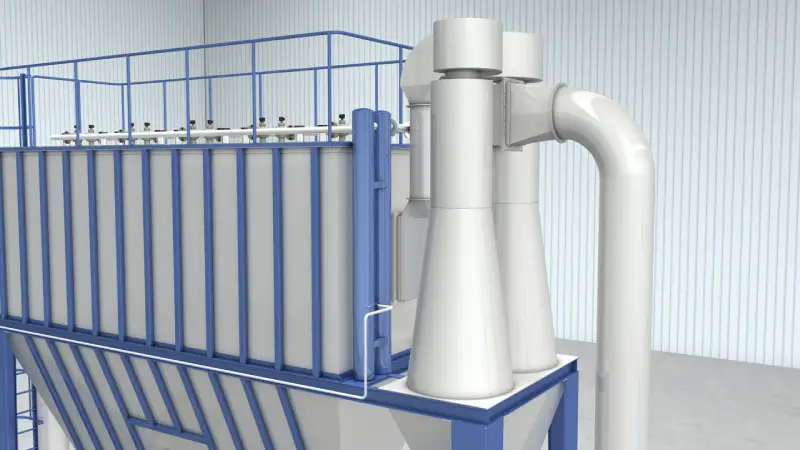 Superfine grinding mill dust collector powder collector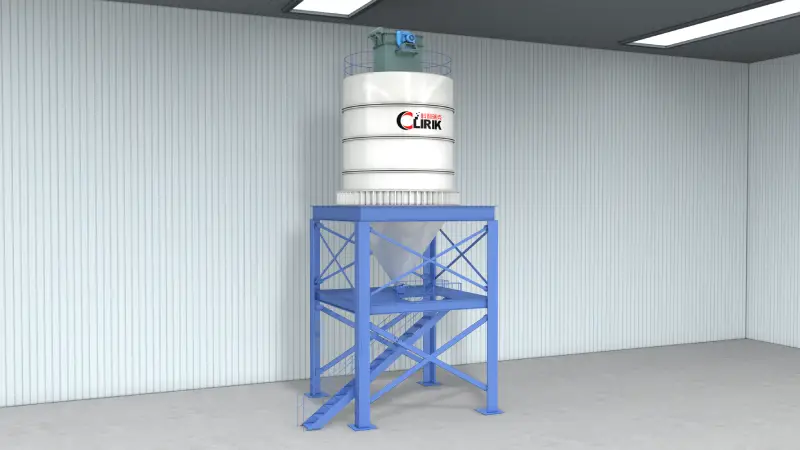 Superfine grinding mill tank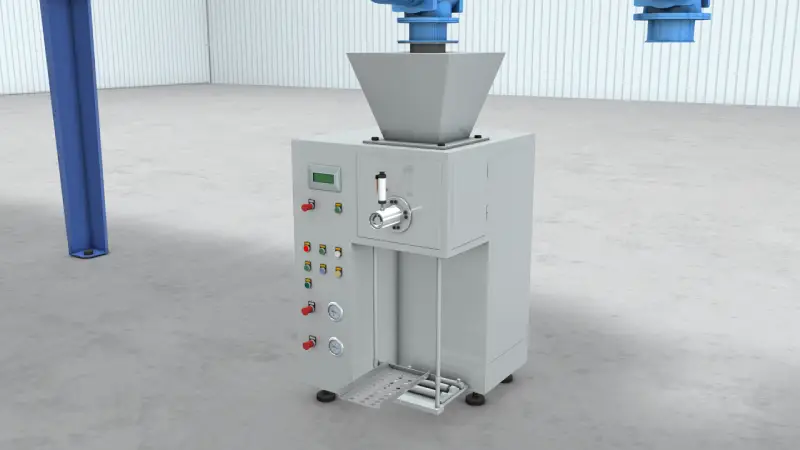 Packing Machine
After being crushed by hammer crusher, the big materials become small ones and are sent to storage hopper by elevator and further sent to the middle of the first dial evenly by the electromagnetic vibrating feeder and feeding pipe.
The materials will be driven to the edge of the dial by centrifugal force and fall down into the ring, crushed and ground by roller, and become powder after production of three rings.
The high-pressure centrifugal blower will inhale air from outside and blow the crushed materials to the classifier.
The rotating turbo in the powder concentrator will make the coarse powder return to the mill and reground, while the fineness will mix with the air and go into the cyclone and be discharged in the discharge bin, which is at the bottom of it.
The air, which mixed with very little fineness, will be purified by impulse duster and discharged by blower and muffler.
Advantages of HGM ring roller mill production line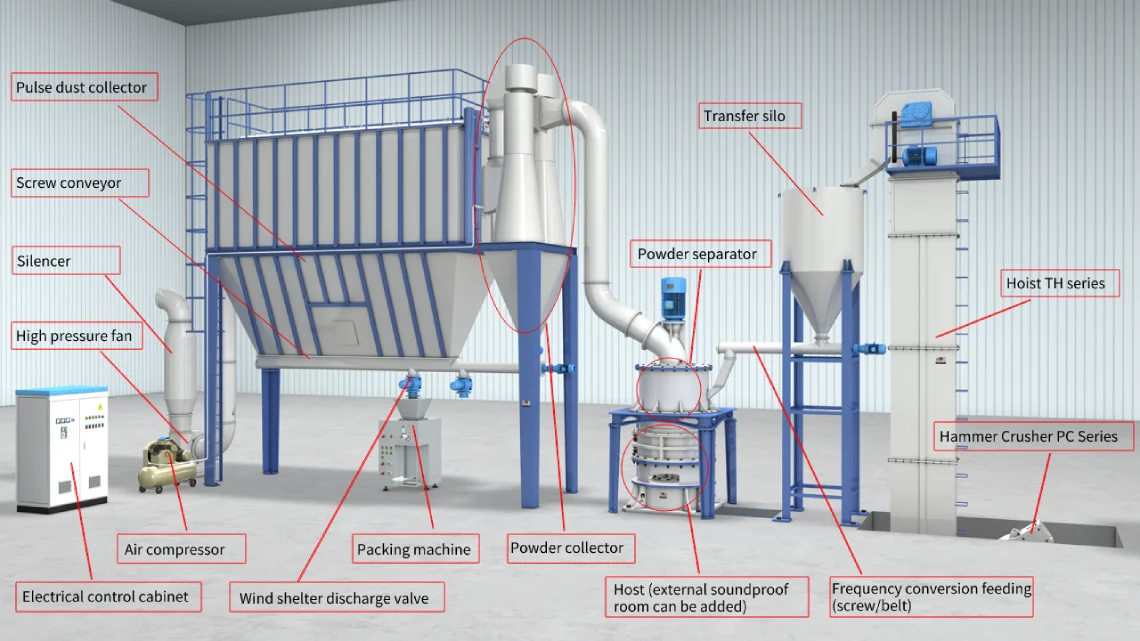 ① Integrated design, less comprehensive investment
The machine integrates crushing, grinding, powder selection, conveying, and packaging. The system is simple, and the layout is compact. The floor area is about 50% of the ball mill system, and it can be arranged in the open air, greatly reducing investment costs. The system design is simple and reasonable, saving unnecessary equipment investment and reducing the total equipment investment.
② 24-hour continuous production without stopping
The grinding roller bearings and reducer of the main machine are all lubricated with thin oil, which can be used for 24-hour continuous production without stopping. The lubrication system is stable and reliable, and the maintenance is simple.
③ Intelligent control, simple and safe
Adopting PLC/DCS automatic control of grinding roller pressure control mode, basically no manual operation is required. The independent grinding roller lubrication station can not only fully lubricate but also prevent excessive oil leakage.
④ Using multi-head powder separator
Using the principle of multi-wheel powder selection, all rotors can be adjusted by frequency control, and the fineness of finished products can be realized within the selected range. The quality of multi-variety production is stable, and the reproducibility is high.
⑤ Environmentally friendly
The equipment is sealed as a whole, the system works under negative pressure, and the finished product is directly sent to the large finished product warehouse by the gas conveying equipment, without dust spillage, the production environment is clean and meets the environmental protection requirements.
⑥ Adapt measures to local conditions, plan optimization
The production line construction plan is designed by the professional team of SBM micro-powder technology according to the data of the field examination room and combined with the production needs of customers, and the production and operation process is smooth.
Parameter of Stone Powder Making Machine
Parameters of HGM series ultrafine mill

Model

HGM80

HGM80A

HGM90L

HGM100L-Ⅱ

HGM100P

HGM125L

HGM1680L

Ring Diameter(mm)

800

800

900

1000

1000

1250

1680

Ring Number (PCS)

3

3

4

4

4

4

4

Input Size (mm)

≤10

≤10

≤10

≤15

≤15

≤20

≤20

Adjustable range of finished product (mesh)

150-3000

150-3000

150-3000

150-3000

150-3000

150-3000

150-3000

Capacity (t/h)

0.5-5.5

0.5-5.5

0.8-6.5

1.2-10

1.2-11

2.5-20

5-45

Outlet Size L*W*H (mm)

8605*4139*6050

10454*3393*6626

11735*3952*7525

14507*3633*7562

14362*4200*7562

19261*4406*8591

25067*5414*9007

Main motor power (kw)

75

75

55*2

132/75*2

132/75*2

185

315
Customer Sites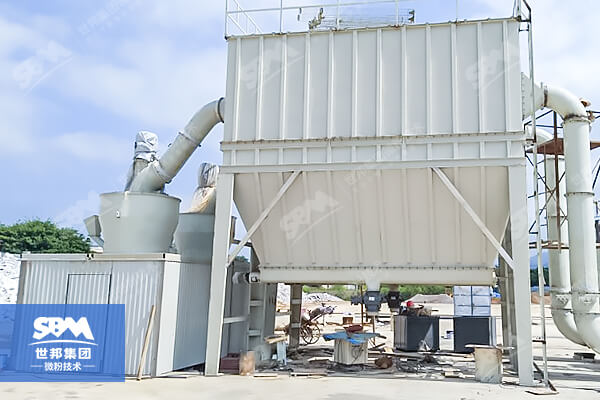 FAQ
1. What is the production process of the CLUM ultra-fine vertical mill?
Crushing system: raw material silo→feeder→jaw crusher→belt conveyor→de-ironing separator→hammer crusher→elevator→dust collector→surge bin.
Grinding system: quantitative belt scale→elevator→spiral conveyor→de-ironing separator→ultrafine vertical mill→pulse dus collector→fan→air door.
Conveying system: elevator or pneumatic conveyor.
Auxiliary system: agent adding system, compressed air system, water cooling system.
2. Why should you buy from us?
CE, ISO9001
factory sell directly
30 years experience, professional
3. What payment methods can we accept?
Accepted Delivery Terms: FOB, CFR, CIF, EXW, CPT, DDU, Express Delivery
Accepted Payment Currency: USD
Accepted Payment Type: T/T, L/C, Western Unio
Application field of stone powder machine
Calcium carbonate ultrafine grinding mill is an efficient industrial powder grinder machine. It can grind 100+ kinds of ores into fine powder.