Brief Introduction
CLUM series ultrafine vertical roller mill is independently designed by SBM on the basis of years of experience in grinding mill production.
CLUM series ultrafine vertical roller mil adopts the latest Taiwan grinding roller technology and German powder separating technology. The ultrafine vertical grinding mill integrating ultrafine powder grinding, grading and transporting has become a better choice in the ultrafine powder grinding industry.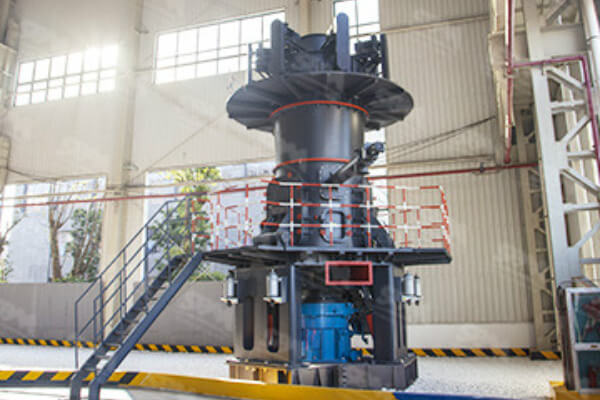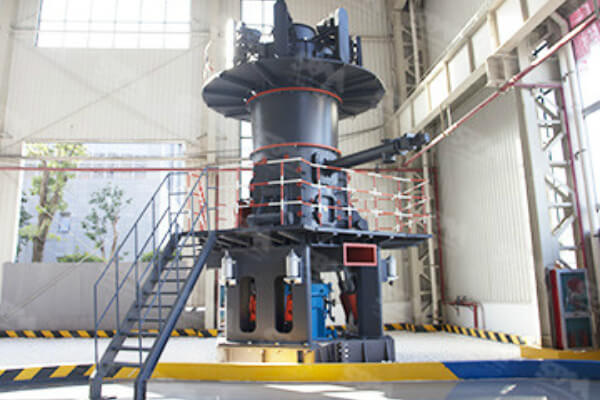 Product Performance
1. Higher Yielding Rate, Better Quality
In order to avoid materials' long lingering time, repeated grinding, high iron content and other problems occurring during the grinding process of traditional grinding mills, SBM specially designed unique roller shell and lining plate grinding curve.
This design is easier to generate material layer, and can realize a high rate of finished products by once powder milling, which can greatly enhance the working efficiency of grinding mill and improve the whiteness and cleanliness of finished products.
2. More Energy-Saving Multi-Head Powder Separating Technology
SBM adopted PLC control system and multi-head powder separating technology in this grinding mill, which completely solve two problems, i.e. "high-precision and accurate cutting powder diameter, and fast switch of different production demands".
Users can accurately control the grinding pressure, revolving speed and other equipment working parameters. Compared with common grinding mills, this grinding mill reduces the energy consumption by 30%-50%.
3. Double Position-Limiting Technology Makes Operation More Stable
In the CLUM series ultrafine vertical roller mill, the contact point between roller shell and millstone liner plate adopts electronic limiting technology and mechanical limiting protection technology, which can avoid the destructive impact (e.g. the grinding roller directly smashing the millstone) caused by machine vibration (e.g. machine vibration caused by mine explosion) and guarantee the operation stability.
4. Reversible Structure Gets Maintenance Easier
During the design process of CLUM series ultrafine vertical roller mill, SBM fully considered the maintenance problems which may be caused by heavy grinding roller, and finally developed and designed the reversible structure.
Through this structure and hydraulic adjustment system, the operator can easily and rapidly move the grinding roller out of the body for checking and replacing roller shell and liner plate, and carry out other maintenance operations, so as to reduce the shutdown losses.
5. Digitalized Processing, Higher Precision
There are tens of lines of numerical controlling machine tools. Operations such as steel plates' cutting, bending, planing, milling and paint spraying are all controlled numerically. The machining precision is high, especially for the core parts.
6. Sufficient Supply Of Spare Parts, Worry-Free Operation
SBM, whose businesses cover production and sales, takes responsibility for every machine produced by ourselves. We can offer customers technical services about products and original spare parts to ensure the worry-free operation.
Working Principle
1. Feeding
The materials are fed onto the center of the grinding plate of the CLUM series ultrafine vertical roller mill through a spiral feeder.
2. Grinding
The motor of the mill's host drives the reducer, which rotates the grinding plate. This rotation creates centrifugal force, causing the materials to move towards the fringe of the grinding plate. As the materials pass through the grinding area between the roller and the grinding plate, bulky materials are directly broken by the pressure of the roller. Fine materials form a layer where they crush each other.
3. Airflow and Powder Selection
After grinding, the broken materials continue to move towards the edge of the grinding plate. They are carried away by the airflow and enter the powder selector. Within the powder selector, blades separate the coarse particles that fail to meet the desired fineness standards. These coarse particles drop back to the grinding plate for further grinding. The powders that meet the fineness requirements enter the powder collector as finished products.
4. Removal of Sundries
If there are any impurities like iron blocks in the materials, as they move towards the fringe of the grinding plate, their heavier weight causes them to drop to the lower cavity of the grinding mill. A scarper installed at the bottom of the grinding plate removes these impurities and sends them into the discharging port. Finally, the impurities are discharged out of the grinding mill.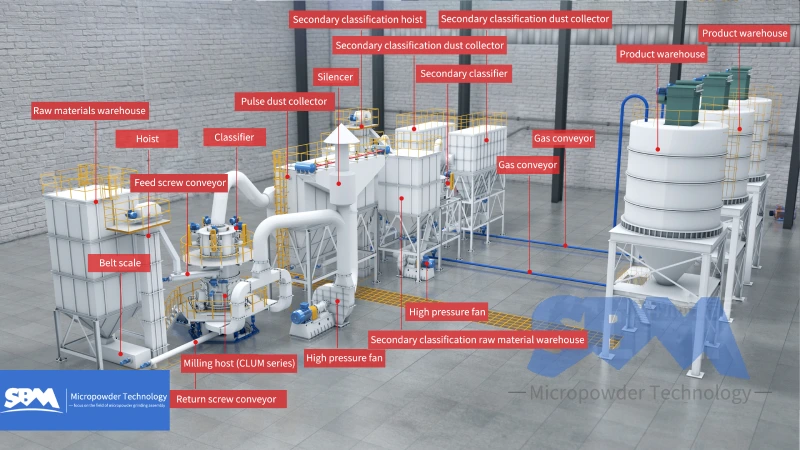 The CLUM series ultrafine vertical roller mill combines grinding, centrifugal force, and airflow to achieve the desired fineness of the final product. It is designed to produce ultrafine powders efficiently and is commonly used in industries such as mining, metallurgy, cement, and chemicals.
Product Parameter
| | | | |
| --- | --- | --- | --- |
| ModelItem | CLUM1425 | CLUM1632 | CLUM1736 |
| Working Diameters(mm) | 1400 | 1600 | 1700 |
| Number of rollers(pieces) | 3 | 3 | 3 |
| Number of classifier(pieces) | 6 | 6 | 8 |
| Power of classifier(Kw) | 6X15 | 6X22 | 8X22 |
| Main unit power (Kw) | 220-250 | 315-355 | 355-410 |
| Blower power(Kw) | 180-200 | 250-280 | 325-355 |
| Feed size (mm) | <10mm | <10mm | <10mm |
| Moisture of feeding material | <3% | <3% | <3% |
| Less than 2μm=30% output(t/h) | 9-12 | 12-16 | 14-18 |
| Less than 2μm=45% output(t/h) | 5.5-7.5 | 7-9 | 10-12 |
| Less than 2μm=60% output(t/h) | 3-4 | / | / |
More products
Product Comparison
Product name

Product performance

Equipment performance

Raymond mill

2um content is about 6% or more, the highest fineness is 45um, low-end finished powder.

Production of coarse powder and general fine powder above 45um, stable operation, high cost performance and high noise.

Ring roller mill

2um content is about 20% or more, the highest fineness is 8-10um, middle and high-end finished powder.

Produce 10-15um powder, stable operation, short life of wearing parts, high noise and low output.

Ball mill

Generally produce 45um thick body; ultra-fine ball mill can produce 10um powder; ceramic ball mill has high whiteness and the lowest iron content.
Good grain, spherical.
It is suitable for a wide range of materials, a wide range of particle size of the finished product, a wide selection of grinding media, high energy consumption and high noise.
Producing different specifications of powder, long switching time. Difficulty in fineness adjustment.

Jet mill

5um powder can be produced, jet pulverization, the whiteness of the finished powder is the best.
High-end food grade finished powder.
Mechanically crushed, the powder has the highest fineness.
It is only suitable for high-end or high value-added powders.
High energy consumption and low output.
Ultrafine vertical grinding mill
The content of 2um is 30%-70%, D97=4-45um, the fineness of powder can reach 8.5um at one time, and the specific surface area is high
There is no contact between the roller and disc, the vibration is small, and the operation is stable. Low energy consumption and large output.
The production of finished products of different specifications can realize rapid switching.
The products are highly professional, and the initial investment is relatively large.
If you'd like to learn more about the CLUM series ultrafine vertical roller mill, or any of the other products you can leave us a comment here.
Our sales manager will get in touch with you later. We value every customer and look forward to hearing from you.
Our Factory
SBM is the biggest crushing machine and grinding mill manufacturer in Asia. Besides, SBM offer customers comprehensive service, including solution design, installation &training,spare parts and local service and so on. Based on SBM's good quality and excellent service, it successfully cooperated with lots of famous enterprise from aggregates, powder making and metal ore processing industries.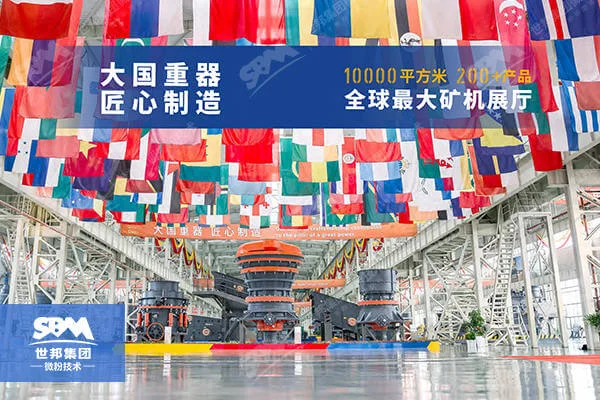 The world's largest mining machine showroom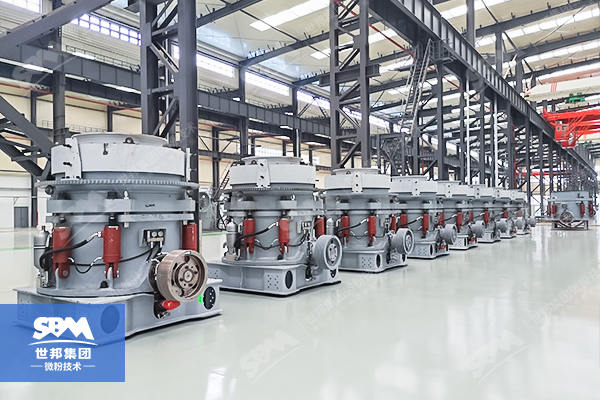 30+ years of development history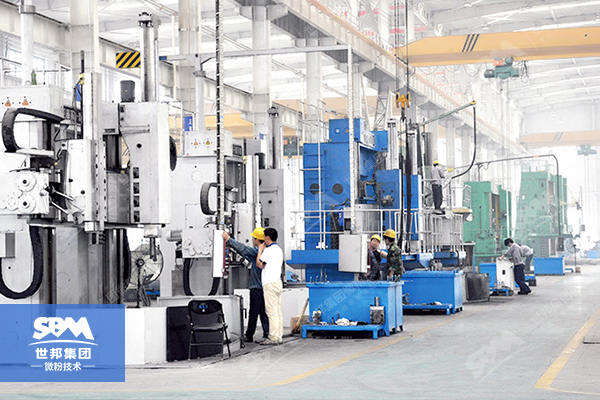 Quality first, customer first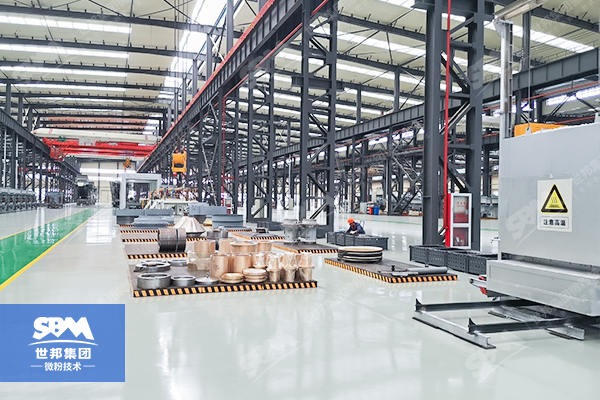 Perfect service and strong strength
Our Certifications