Magnesite grinding equipment usually includes a crusher and an industrial grinding mill. The crushing and grinding process is indispensable in the processing technology of magnesite ore. The ultrafine grinding mills, high-pressure mills, and vertical roller mills developed and produced by SBM have excellent and stable working performance, which can meet the grinding and processing of different grades of finished powder. It plays an important role in the milling production line of magnesite.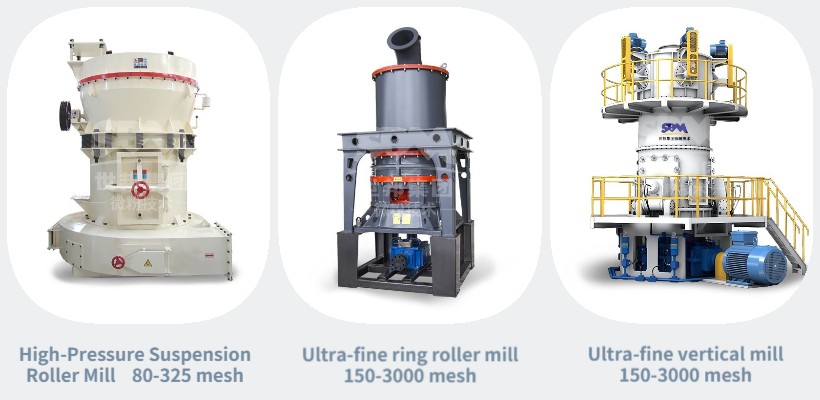 About Magnesite
What kind of rock is magnesite?
Magnesite is a kind of magnesium carbonate mineral, which is the main source of magnesium. After the magnesium-containing solution acts on calcite, it will turn the calcite into magnesite, so magnesite also belongs to the calcite family. The world's magnesite is mainly distributed in Russia, Austria, China, Greece, North Korea, and other countries.
Magnesite is white or off-white, with glassy luster, and iron-containing magnesite will appear yellow to brown. The hardness is 3.5-4.5, and it is brittle. In addition to refining magnesium, magnesite can also be used as refractory materials and magnesium compounds.
What is magnesite used for?
Main application

Application field

The main purpose

Metallurgical Industry

Refractory materials, magnesia bricks, inscribed magnesia bricks, magnesia carbon bricks, converters, open-hearth furnaces, electric furnace linings, and furnace walls, etc.

Building Materials Industry

Light-burned magnesite is combined with magnesium oxide or magnesium sulfate to form new building materials such as magnesium-containing cement, sound insulation, heat insulation, and wear resistance.

Chemical industry

Production of magnesium sulfate and other magnesium-containing compounds, mordants, desiccants, solvents, decolorants, and adsorbents, etc.

Light Industry

Purifier for the sugar industry, curing agent for paper, the accelerator for vulcanization process in the rubber industry, man-made fibers, plastics, cosmetics, and special glass raw materials

Agriculture and Animal Husbandry

Feed, agricultural fertilizer raw materials

other

The main raw material for refining magnesium metal
Application segmentation: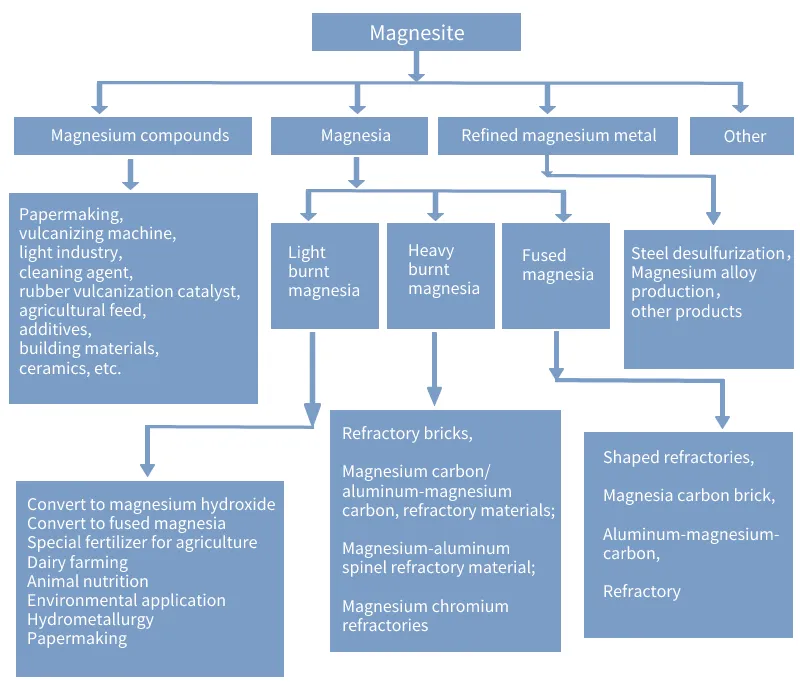 Magnesite Processing Technology
Blind mining without planning will result in an extremely low comprehensive utilization rate of magnesite. Low-grade magnesite cannot be used comprehensively, causing a large amount of ore to be discarded and wasted, and it also causes great damage to the environment.
Low-grade magnesite cannot be directly used to produce high-grade materials. To avoid waste of resources, we can use beneficiation methods for beneficiation and purification. As a result, the grade of magnesite is improved, so that low-grade magnesite can be used in the production of high-grade materials. According to the type of ore deposit and the nature of the ore, a beneficiation test is carried out to determine the best beneficiation process and obtain the best flotation index.
Beneficiation
It mainly solves the separation problems of silicate gangue minerals and magnesite and magnesite and dolomite.
Thermal separation is based on the difference in thermal properties of the main impurity minerals talc or dolomite, chlorite, and magnesite in high-silicon magnesite ore.
Flotation uses the difference in physical and chemical properties of the surface of brucite and silicate minerals for sorting.
Hot selection process
Flotation process

Carbonization process flow

Calcined
Magnesium carbonate is the main chemical component of magnesite. Calcining magnesite at different temperatures can produce magnesite clinker with obvious differences in physical and chemical properties.
When heated to about 600 degrees, magnesium carbonate will decompose into magnesium oxide and carbon dioxide.
When heated to 700 to 1000 degrees, it will become light burnt magnesia.
When heated to 1400 to 1800 degrees, magnesium carbonate is completely decomposed, and magnesia is formed, which is re-burned magnesia.
When heated to 2500 to 3000 degrees, the re-burned magnesia will be converted into fused magnesia.
Magnesite Crushing & Grinding Equipment
How to choose magnesite grinding equipment?
Through the above introduction, crushing and grinding are indispensable steps in the processing technology of magnesite beneficiation and purification. So how should the appropriate crushing and grinding equipment be selected in the magnesite production line?
In the crushing and grinding process, a jaw crusher is generally selected for the initial crushing of magnesite, and then a cone crusher is used for the secondary crushing to the required size. The choice of the mill is more important and needs to be considered in terms of the fineness of the finished powder, output, and quality.
The best-selling mills independently developed and produced by SBM mainly include:
High-pressure mill: can produce 50-325mesh magnesite ore powder
HGM ultrafine grinding mill: can produce 150-3000mesh magnesite powder, the powder quality is medium and high
CLUM vertical roller mill: can produce 150-3000mesh magnesite ore powder, the powder quality is superior, the fine powder content is higher, and the powder shape is better
What is the complete ore crushing and grinding production line?
---
The design of non-metallic ore grinding technology is relatively simple, usually including crushing, grinding, grading, packaging, and other stages. The specific process is as follows:
Crushing stage: Large pieces of material are crushed by the crusher to the fineness (15mm-50mm) that can enter the grinding mill.
Grinding stage: Small pieces of material that meet the conditions for entering the mill are uniformly and quantitatively fed into the grinding chamber of the industrial mill through the feeding system, and ground into powder in the grinding cavity.
Classification stage:
The ground material will be classified by the classifier along with the airflow of the system, and the unqualified powder will be classified by the classifier and returned to the main machine grinding cavity for re-grinding.
Powder collection stage:
The powder that meets the fineness enters the powder collection system with the airflow through the pipeline, and the gas and powder are separated. The finished powder is sent to the finished product silo by the conveying device and then is packaged by a powder tanker or an automatic baler.
Introduction of Magnesite Grinding Equipment
Magnesite Stone Crusher >>
Jaw Crusher – Coarse Crushing
Jaw crushers are widely used as crushing equipment in the magnesite grinding production line. It is mainly used for the primary crushing operation of the raw material magnesite so that the crushed magnesite meets the particle size requirements required by the next construction. The equipment has the characteristics of a small footprint, simple operation, convenient maintenance, large processing capacity, energy-saving, and consumption reduction.
Cone Crusher – Secondary Crushing
The cone crusher is excellent in crushing hard materials. The stable lubrication system and the excellent sealing system have significantly reduced the production cost. The overload protection system can effectively ensure the safety of the crusher. Using different crushing cavities and adjusting devices, it is easy to control the discharging particle size.
Magnesite Grinding Equipment >>
For the production of coarse powder (under 325 mesh), you can choose a high-pressure powder mill or Raymond mill; for the production of fine powder above 1000 mesh, you can choose an ultrafine grinding mill, vertical roller mill, wet mill, etc.
>> 150-3000 mesh powder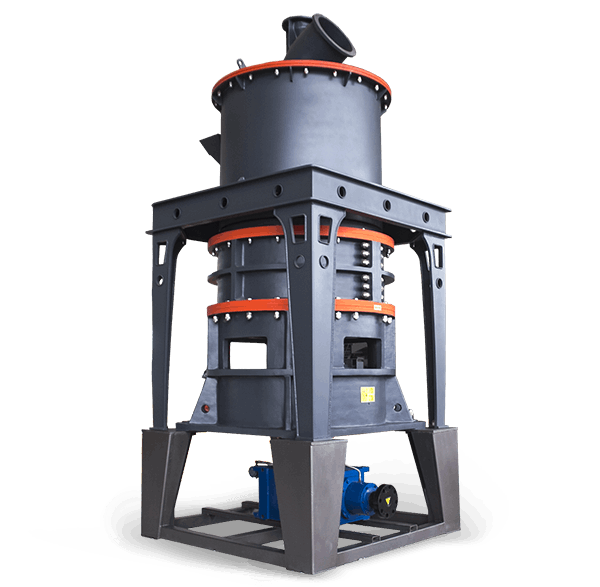 HGM Ultrafine Grinding Mill
Product features: ultrafine powder, wide application, the good environmental protection effect

Input size: 0-20mm

The fineness of the product: 150-3000mesh

Capacity: 0.5-25TPH

Materials: limestone, calcite, dolomite, petroleum coal, gypsum, barite, marble, talc, coal powder, etc.
HGM superfine powder grinding mill
The newly designed grinding roller grinding ring grinding curve improves the grinding efficiency. The production capacity is 40% higher than that of jet mills and stirring mills, and the energy consumption is only 30% of that of jet mills.

Equipped with multi-head cage type powder concentrator. The fineness of the product can be adjusted arbitrarily between 150-3000 mesh, and the one-time screening rate can reach d97≤5μm.

The lubrication device is installed outside the main shaft, which can realize external non-stop lubrication and continuous production for 24 hours.

HGM ultrafine grinding mill is equipped with a high-efficiency pulse dust collector, so there will be no dust pollution during the operation of the entire crushing system. Equipped with silencer and anechoic room to reduce noise.
---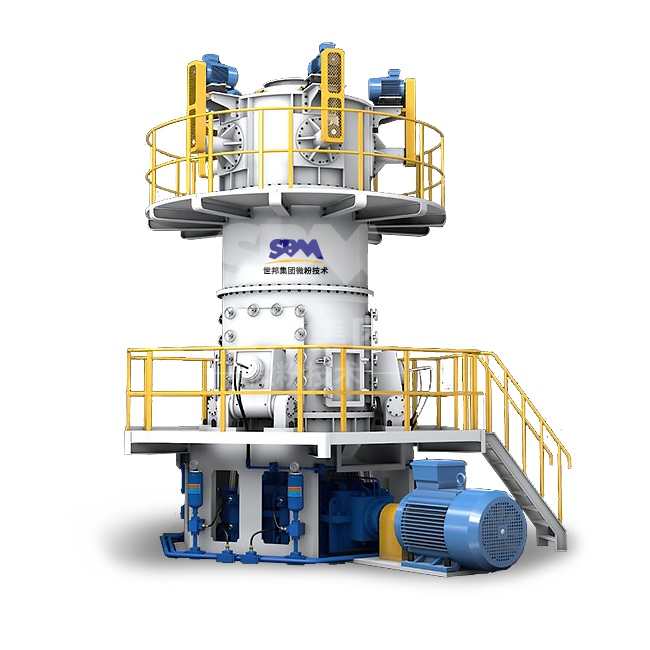 CLUM Vertical Roller Mill
Product features: higher capacity, better powder quality, better overall performance

Input size: 0-10mm

Capacity: 5-18TPH

The fineness of the product: 150-3000mesh

Materials: limestone, calcite, dolomite, petroleum coal, gypsum, barite, marble, talc, coal powder, etc.
CLUM ultrafine vertical roller mill
SBM specially designed a unique roller shell and liner grinding curve, which can greatly improve the working efficiency of the mill and improve the whiteness and cleanliness of the finished product.

Using a PLC control system and multi-head powder selection technology, it can precisely control the working parameters of the equipment such as grinding pressure and speed. Compared with ordinary mills, the energy consumption of this mill can be reduced by 30%-50%.
The contact point between the roller shell and the grinding disc liner adopts electronic limit technology and mechanical limit protection technology, which can avoid the destructive impact caused by machine vibration and ensure the stability of operation.

Through the reversible structure and hydraulic adjustment system, the operator can easily and quickly move the grinding roller out of the machine body, inspect and replace the roller shell and liner, and perform other maintenance operations to reduce downtime losses.
>> 50-325 mesh powder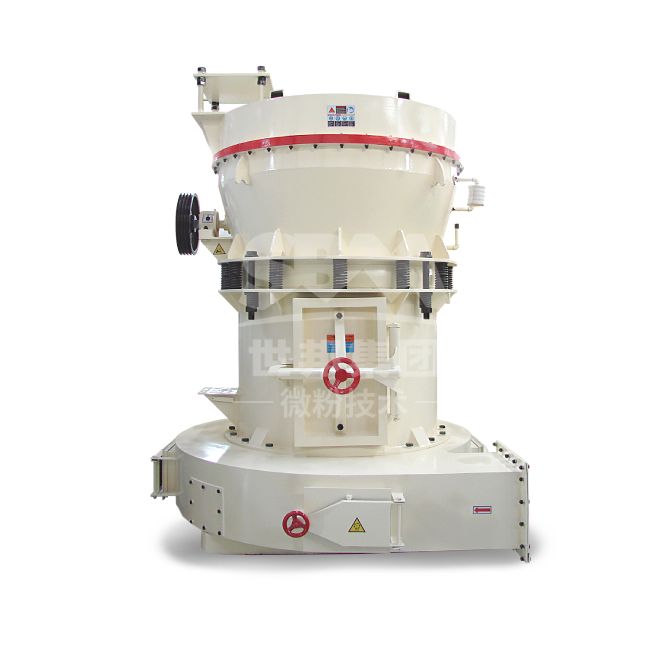 High-pressure Suspension Roller Mill
Processing ability: 0-50tph
Max feeding size: 35mm
Product Fineness: 80-325Mesh
Range of application: Barite, quartz, feldspar, mica, calcite, talc, apatite, gypsum, fluorite, limestone, dolomite, diatomite, ceramic soil, clay, marble, granite, fly ash, kaolin, calcium carbonate, slag, bauxite, glass, etc.
High-pressure Powder Mill
Vertical structure, so it has a small footprint, strong system. Compared with other mills, it has a high passing rate – 99%.
The main drive device of the high-pressure mill adopts an airtight gearbox and belt pulley, the transmission is stable and the operation is reliable.
Important components are made of high-quality castings and profiles, ensuring the durability of the whole equipment.
The centralized control is used in the electric system, the mill can basically realize unmanned operation, and the maintenance is convenient.
Why Choose SBM Industrial Grinding Mills?
Our Strength
SBM provides non-metallic ore grinding/crushing and screening solutions.
The common choice of 1000+ customers, tailor-made solutions for you.
More than 30 years of R&D and manufacturing experience, covering 120+ countries and regions, witnessing high quality together.
Systematic and standardized process, from service to preparation and delivery, safer and more efficient.
The production capacity is strong, and the production department adopts digital processing with higher precision. The supply of spare parts is sufficient, and the operation is worry-free.
Our Factory
Payment Methods
Accepted Delivery Terms: FOB, CFR, CIF, EXW, CPT, DDU, Express Delivery
Accepted Payment Currency: USD
Accepted Payment Type: T/T, L/C, Western Union
FAQ
1. What type of rock is magnesite?
Magnesite crystals are carbonate minerals of the trigonal crystal system, usually in the form of crystalline or cryptocrystalline compact blocks. The latter is also called porcelain-like magnesite. It is white or off-white, and iron-containing is yellow to brown. , Glass luster. The composition of magnesite is mainly MgCO3, and iron and manganese are often substituted for magnesium, but the iron content of natural magnesite is generally not high. With complete rhombohedral cleavage, porcelain-like magnesite has a shell-like fracture. The Moss hardness is 3.5-4.5, and the specific gravity is 2.9-3.1.
2. What is magnesite used for?
Application of magnesite in magnesia refractories
Magnesia refractory is an application field developed earlier by magnesite, and its amount accounts for about 80-90% of the total. The hard-burned magnesia is crushed into fine sand or ground into fine powder to become metallurgical magnesia or metallurgical magnesia powder, which has high fire resistance and cohesiveness. It is widely used in welding the bottom, hearth, and lining of metallurgical furnaces, and is also used to make magnesia bricks, chrome magnesia bricks, and aluminum magnesia bricks. Its refractoriness is as high as 2000℃ or higher, and it is a high-grade refractory material.
Application of Magnesite in Building Materials Industry
Magnesite is used as a binder in the building materials industry. Magnesite can be made into magnesium-containing cement. This kind of cement has high cohesiveness and plasticity, short setting time, a strong binding force with organic substances, and after hardening Very hard and beautiful in color, suitable for architectural decoration. When used as a building material, it has good heat insulation, sound insulation, heat preservation, and abrasion properties, and its hardness and elasticity are better than ordinary cement. Add appropriate amount of sawdust, wood chips, sand, etc. to light burned magnesium to make floors, step boards, chipboards, foamed cement, magnesium-containing plaster, paint, artificial grinding stones, and grinding wheel cement, as well as stone chips, slates, stone walls, stone pillars, and artificial building materials and decorative materials such as marble are widely used in house construction.
Application of Magnesite in Metal Material Industry
Magnesite has always been one of the main raw materials for refining magnesium metal. Metal magnesium can be obtained from magnesite by oxidation or chlorination electrolysis, chlorination, roasting, Pidgeon method (external heating method) or direct reduction of magnesium by solid carbon and ferrosilicon alloy, 2.5~ 3.2 tons of magnesite can produce 1 ton of metallic magnesium.
Application of magnesite in insulation material and ceramic industry
The hard burned magnesia is produced by calcining magnesite at 1400~1800℃ and then calcined at 2500~3000℃ to produce molten magnesia or fused magnesia, which has good stability, high hardness, and strong chemical resistance. , High resistivity and almost no chemical reaction with water, etc., used as insulation and high-grade refractory materials, making magnesium crucibles and refractory furnace tubes, etc. Using the characteristics of low thermal expansion coefficient of light burned magnesia, it is used as a mixed material for the ceramic industry to calcinate ceramic products and to manufacture high-temperature resistant and high-strength ceramic parts required by the advanced defense industry, such as jet aircraft and rocket combustion chamber nozzles. Special ceramic pieces and so on.
3. What is the purpose of heavy burning and light burning of magnesite?
The magnesite is calcined at 750-1100°C and is called light burned. After light is burned, the product ground with an industrial grinding mill is called light burned magnesia powder, referred to as light burned powder. Since the burning loss of magnesite is generally about 50%, the content of magnesium oxide in the ore can be almost doubled through light burning. Therefore, light burning is the most effective MgO enrichment method. Light burned magnesia has high activity and is an ideal raw material for the production of high-density magnesia. Light burned magnesia is also used to make cementitious materials such as magnesium-containing cement, heat and sound insulation building materials, and ceramic raw materials. In addition, the light-burned magnesium after chemical treatment can be made into a variety of magnesium salts, which are raw materials in the fields of medicine, rubber, man-made fibers, and papermaking.
Heavy-burned magnesia is made by calcination of magnesite at a high temperature of 1800℃. The specific processing flow is: natural super-grade magnesite ore is purified by flotation, light firing, fine grinding, high-pressure ball pressing, and ultra-high temperature oil shaft kiln calcination. . After high-temperature calcination, the carbon dioxide in the magnesite completely escapes and has high refractoriness. Returned magnesia is a refractory material for metallurgy. It can be used to manufacture magnesia bricks, chrome magnesia bricks, magnesia, metallurgical powder, fused magnesia, etc. It is used to smelt special alloy steels, non-ferrous metals, and precious metals for medium and high-frequency induction furnace linings. In addition, it can also be used as a high-temperature electrical insulation material.
4. What is the development prospect of magnesite?
Magnesite and magnesium products are widely used in various fields. The development of the magnesium industry will continue to develop rapidly, and the prospects mainly involve the following points: long-life, low-consumption refractory materials for ladle systems; refractory materials for high-efficiency continuous casting and rolling systems; refractory materials for outdoor refining systems; high-performance amorphous materials Refractory materials; refractory materials adapted to new construction methods; high-performance refractory materials and refractory materials that are conducive to environmental protection and ecology are used in key industrial equipment and key parts such as cement, non-ferrous metals, petrochemicals, and ceramics.