Graphite grinding machine mainly includes ultrafine grinding mills, vertical roller mills, high-pressure mills, ring roller mills, and so on. They can grind non-metallic ores including graphite into fine powders, with the highest fineness up to 3000 mesh. The fineness can be adjusted freely, and it can be equipped with a secondary powder selection system. The finished product produced has a high content of fine powder and good quality.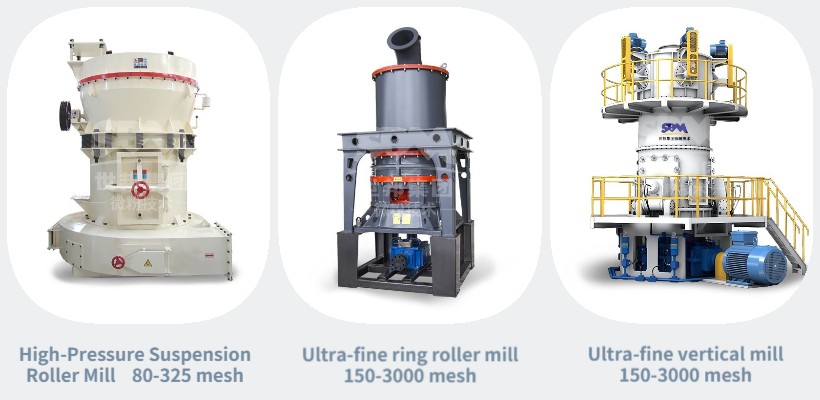 The working principles and functions of this milling equipment are different. We need to choose the most suitable milling equipment according to the actual production situation. Let's get to know the specific information of graphite grinding equipment together.
About Graphite
Graphite is an allotrope of carbon. It is a gray-black, opaque solid with a greasy feel and can contaminate paper. It has stable chemical properties, corrosion resistance, and does not react easily with chemicals such as acids and alkalis. Graphite is soft, with a hardness of 1 to 2.
Graphite has a wide range of uses and can be used as an antiwear agent and lubricant. High-purity graphite is used as a neutron moderator in atomic reactors. It can also be used to make crucibles, electrodes, brushes, dry batteries, graphite fibers, heat exchangers, coolers, electric arc furnaces, arc lamps, pencil refills, etc.
Graphite Processing Process
Natural graphite comes from graphite deposits, and natural graphite can also be divided into flake graphite, earthy graphite, and block graphite. The graphite obtained from natural mining contains a lot of impurities, so it needs beneficiation to reduce its impurity content before it can be used. The main purpose of natural graphite is to produce refractory materials, electric brushes, flexible graphite products, lubricants, lithium-ion battery anode materials, etc. Some carbon products sometimes add a certain amount of natural graphite.
The prerequisite of the graphite deep processing industry is purification. Graphite purification is a complex physical and chemical process. The purification methods mainly include flotation, alkaline acid, hydrofluoric acid, chlorinated roasting, and high-temperature methods.
Graphite Ore Beneficiation Process
---
The design of the graphite ore beneficiation process is relatively simple, usually including three stages of crushing, grinding, and flotation. The specific process is as follows:
Graphite ore crushing stage:
The crushing stage of graphite ore usually chooses two-stage closed-circuit crushing. First, the large pieces of raw graphite ore are uniformly sent to the jaw crusher for coarse crushing through the vibrating feeder.
Then enter the cone crusher for secondary crushing processing. Then the graphite ore particles enter the circular vibrating screen for sieving. The materials that meet the requirements enter the silo to be ground, and the materials that do not meet the requirements enter the cone crusher again to continue crushing.
Graphite ore grinding stage:
The crushed qualified graphite mineral material enters the powder mill for grinding processing, and then enters the powder classifier for reasonable classification. The qualified powder enters the next step, and the unqualified powder falls back to the grinding chamber and re-grinds.
Graphite ore flotation stage:
The ground graphite ore powder is completely mixed with the corresponding agent in the mixing tank and then enters the flotation machine to float the concentrate, and then enters the dryer to be dried to obtain the dried concentrate.
Graphite Production Line Equipment Intro – Crushing & Grinding Link
The equipment configuration of the complete graphite powder production line is complicated, and the equipment selection can be planned and adjusted according to the actual production needs of customers, and the production line has a high degree of automation. The milling link in the production line is extremely important. Only by selecting the right equipment can we produce graphite powder that meets the requirements, and can maximize efficiency and reduce energy consumption, so as to obtain ideal profits.
Stone Crusher >>
Jaw Crusher – Coarse Crushing
Jaw crushers are widely used as crushing equipment in the graphite grinding production line. It is mainly used for the primary crushing operation of the raw material graphite so that the crushed graphite meets the particle size requirements required by the next construction. The equipment has the characteristics of a small footprint, simple operation, convenient maintenance, large processing capacity, energy-saving, and consumption reduction.
Cone Crusher – Secondary Crushing
The cone crusher is excellent in crushing hard materials. The stable lubrication system and the excellent sealing system have significantly reduced the production cost. The overload protection system can effectively ensure the safety of the crusher. Using different crushing cavities and adjusting devices, it is easy to control the discharging particle size.
Graphite Grinding Machine >>
For the production of coarse powder (under 325 mesh), you can choose a high-pressure powder mill or Raymond mill; for the production of fine powder above 1000 mesh, you can choose an ultra fine grinding mill, vertical roller mill, wet mill, etc.
>> 150-3000 mesh powder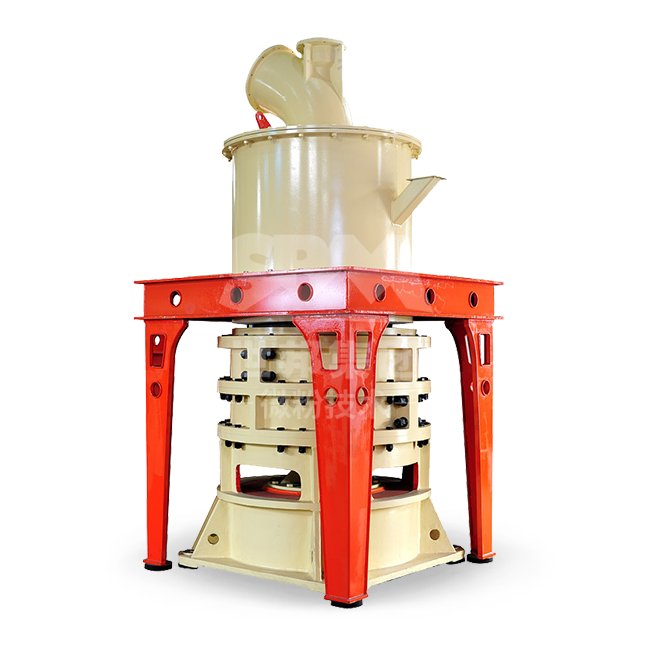 HGM Ultra Fine Grinding Mill
Product features: ultrafine powder, wide application, the good environmental protection effect

Input size: 0-20mm

The fineness of the product: 150-3000mesh

Capacity: 0.5-25TPH

Materials: limestone, calcite, dolomite, petroleum coal, gypsum, barite, marble, talc, coal powder, etc.
HGM superfine powder grinding mill
The newly designed grinding roller grinding ring grinding curve improves the grinding efficiency. The production capacity is 40% higher than that of jet mills and stirring mills, and the energy consumption is only 30% of that of jet mills.

Equipped with multi-head cage type powder concentrator. The fineness of the product can be adjusted arbitrarily between 150-3000 mesh, and the one-time screening rate can reach d97≤5μm.

The lubrication device is installed outside the main shaft, which can realize external non-stop lubrication and continuous production for 24 hours.

HGM ultra fine grinding mill is equipped with a high-efficiency pulse dust collector, so there will be no dust pollution during the operation of the entire crushing system. Equipped with silencer and anechoic room to reduce noise.
---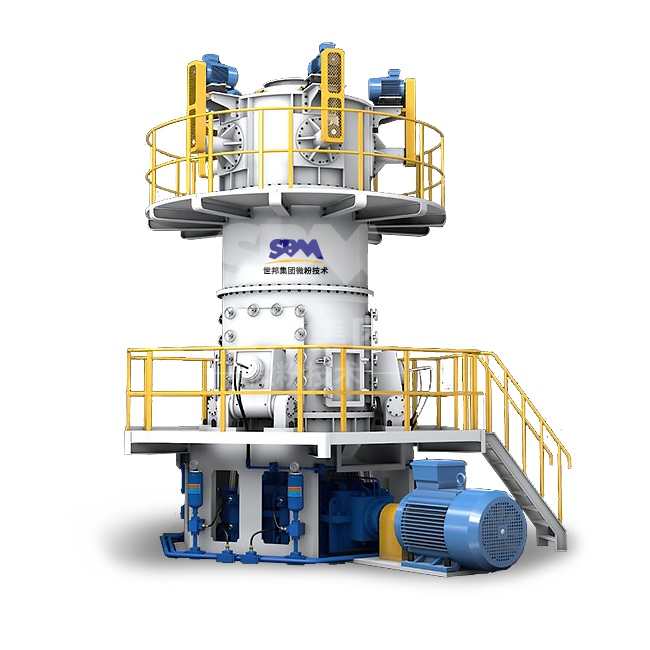 CLUM Vertical Roller Mill
Product features: higher capacity, better powder quality, better overall performance

Input size: 0-10mm

Capacity: 5-18TPH

The fineness of the product: 150-3000mesh

Materials: limestone, calcite, dolomite, petroleum coal, gypsum, barite, marble, talc, coal powder, etc.
CLUM ultrafine vertical roller mill
SBM specially designed a unique roller shell and liner grinding curve, which can greatly improve the working efficiency of the mill and improve the whiteness and cleanliness of the finished product.

Using a PLC control system and multi-head powder selection technology, it can precisely control the working parameters of the equipment such as grinding pressure and speed. Compared with ordinary mills, the energy consumption of this mill can be reduced by 30%-50%.
The contact point between the roller shell and the grinding disc liner adopts electronic limit technology and mechanical limit protection technology, which can avoid the destructive impact caused by machine vibration and ensure the stability of operation.

Through the reversible structure and hydraulic adjustment system, the operator can easily and quickly move the grinding roller out of the machine body, inspect and replace the roller shell and liner, and perform other maintenance operations to reduce downtime losses.
>> 50-325 mesh powder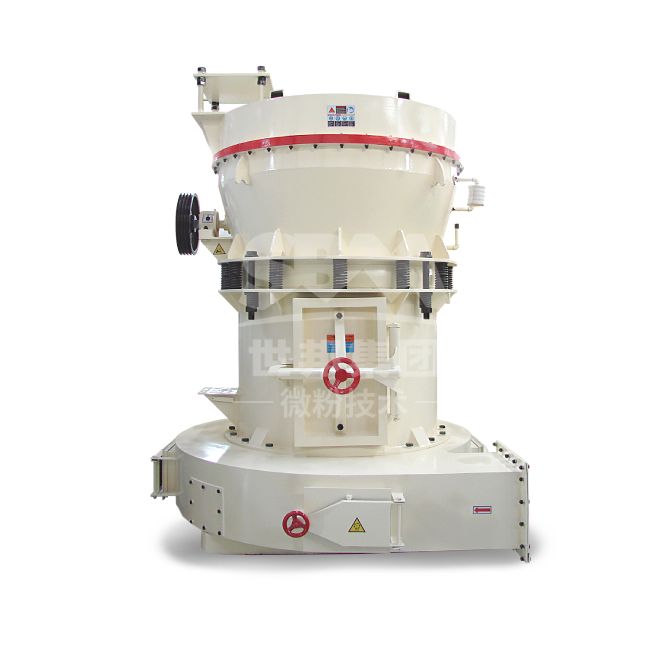 High-pressure suspension roller mill
Processing ability: 0-50tph
Max feeding size: 35mm
Product Fineness: 80-325Mesh
Range of application: Barite, quartz, feldspar, mica, calcite, talc, apatite, gypsum, fluorite, limestone, dolomite, diatomite, ceramic soil, clay, marble, granite, fly ash, kaolin, calcium carbonate, slag, bauxite, glass, etc.
High-pressure Powder Mill
Vertical structure, so it has a small footprint, strong system. Compared with other mills, it has a high passing rate – 99%.
The main drive device of the high-pressure mill adopts an airtight gearbox and belt pulley, the transmission is stable and the operation is reliable.
Important components are made of high-quality castings and profiles, ensuring the durability of the whole equipment.
The centralized control is used in the electric system, the mill can basically realize unmanned operation, and the maintenance is convenient.
Uses of Graphite Powder
Graphite powder is closely related to our lives, and its main uses are as follows:
1. Refractory materials: Graphite and its products have the properties of high-temperature resistance and high strength. It is mainly used in the metallurgical industry to make graphite crucibles. In steelmaking, graphite is commonly used as a protective agent for steel ingots and as a lining for metallurgical furnaces.
2. Conductive materials: used in the electrical industry to make electrodes, brushes, carbon rods, carbon tubes, graphite washers, telephone parts, and coatings for television picture tubes.
3. Lubricating material: Graphite is often used as a lubricant in the machinery industry. Lubricating oil often cannot be used under high-speed, high-temperature, and high-pressure conditions, while graphite lubricating materials can work without lubricating oil at a temperature of 2000°C.
4. High-temperature metallurgical materials: Graphite has reducibility, which can be used to reduce many metal oxides at high temperatures, and can smelt metals, such as iron smelting.
5. Polishing agent and anti-rust agent: Graphite is also a polishing agent and anti-rust agent for glass and paper in the light industry. It is an indispensable raw material for the manufacture of pencils, ink, black paint, ink, synthetic diamonds, and diamonds.
Why Choose SBM Industrial Powder Mills?
Our Strength
SBM provides non-metallic ore grinding/crushing and screening solutions.
The common choice of 1000+ customers, tailor-made solutions for you.
More than 30 years of R&D and manufacturing experience, covering 120+ countries and regions, witnessing high quality together.
Systematic and standardized process, from service to preparation and delivery, safer and more efficient.
The production capacity is strong, and the production department adopts digital processing with higher precision. The supply of spare parts is sufficient, and the operation is worry-free.
Our factory
Payment methods
Accepted Delivery Terms: FOB, CFR, CIF, EXW, CPT, DDU, Express Delivery
Accepted Payment Currency: USD
Accepted Payment Type: T/T, L/C, Western Union
FAQ
1. Where is graphite found in the world?
The world's large graphite deposits are mainly located in China, India, Europe, Mexico, the United States, Austria, Brazil, Canada, Germany, and Madagascar. According to the US Geological Survey, the world's current reserves of graphite resources are 250 million tons.
Graphite not only has half the properties of non-metallic minerals but also has certain characteristics of both metallic minerals and organic plastics. It is a kind of widely used and special non-metallic mineral raw material. At the same time, it is also an important strategic resource that is indispensable in the development of modern industry, military industry, and high-tech industries. In recent years, with the rise of new energy and new materials industries, graphite products, especially downstream deep-processed products, have become irreplaceable important materials in the fields of national defense, aerospace, and new materials.
2. What is graphite made from?
Graphite is a polymorph of carbon, usually formed by the deterioration of organic matter in mineral deposits. It can also appear in the formation of igneous rocks, or in nodules inside iron meteorites. Metamorphism is due to the increase in temperature and pressure, as well as the introduction of chemically active fluids, which change the existing solid rock. In the process of metamorphism, existing rocks become unstable and decompose to form new minerals, but at the same time, they remain solid rather than melted.
Graphite is produced by carbon atoms produced by the metamorphism of minerals such as marble, quartz, calcite, mica, schist, gneiss, and tourmaline. Graphite is almost entirely carbon-based and has the same chemical composition as diamond, but the arrangement of molecules results in a different physical structure.
There are three types of natural graphite resources. They are block graphite, flake graphite, and earthy graphite (cryptocrystalline graphite). Flake graphite has the best floatability, lubricity, and plasticity, so it has the greatest industrial value.
3. Is graphite dust toxic?
Graphite is a form of carbon in nature, and it is not toxic to the human body. However, if graphite dust is inhaled for a long time, a large number of graphite particles will precipitate in the lungs, which easily induces the body's immune response, leading to the occurrence of pneumoconiosis.