The main component of limestone is calcium carbonate. Limestone is a mineral with rich resources and a wide range of applications. It has a wide range of sources and diverse uses. It has been used as an important building material in modern industry and is also an indispensable flux in the metallurgical industry.
Limestone generally needs to undergo deep processing such as crushing, sand making, pulverization and grinding before it can be applied to all walks of life. Lime and limestone are widely used as building materials, most commonly as raw materials in the cement production process industry.

At present, limestone mainly has crushing, sand making, grinding and other processing methods. Among them, crushing and sand making are all to obtain sand and gravel aggregates for construction with uniform particle size and beautiful particle shape. After the limestone is ground, the use after deep processing can be analyzed according to the fineness of the grinding powder.
The further processed products of limestone grinding powder include nano calcium, light calcium, calcium hydroxide, ash calcium powder, food calcium, medicine calcium, calcium oxide grinding and lime products with high activity, high content and high specific surface area. The industries involved and the main uses are:
(1) Used in the field of plastics: mainly plays the role of defoaming and coupling.
(2) Coating field: mainly used in the production of ash calcium powder for putty.
(3) Metallurgy field: high content of active calcium oxide and low content of silicon and magnesium are mainly required.
(4) Environmental protection, aerated bricks and other fields: lime products with low requirements and low whiteness can also be used.
(5) Aquaculture field: mainly play the role of disinfection and deodorization.
Introduction of limestone crushing, sand making and grinding process
The particle size of limestone mined by excavation and blasting is generally about 80 cm to 1 m2. If you want to process it into sand and lime powder for concrete, you need to process processes such as crushing, sand making, screening, and grinding.
Process flow of limestone crushing production line
Feeding: The material is placed on the vibrating feeder by the excavator or silo, and then fed into the primary crusher uniformly and continuously.
Crushing: The jaw crusher and the impact crusher are responsible for the primary and secondary crushing operations, and there are conveyors in the middle to transport materials back and forth.
Screening: The vibrating screen is responsible for screening and controlling the particle size of the finished product. If the stone does not meet the particle size of the screen, it will be returned to the crushing process.
Process flow of limestone sand production line
1. Process flow of limestone manufactured sand
Sand making: Through the crushed limestone, part of it is directly sent to the stockpile as a finished product, and the other part is crushed and made sand by the sand making machine.
Screening: The vibrating screen is also responsible for distinguishing the finished products of different particle sizes, and then the unqualified sand is returned to make sand again, and the qualified sand is transported to the sand washing stage by the conveyor.
Sand washing: The sand washing machine (fine sand recycling machine) is responsible for removing impurities doped in the finished product, improving the quality of the sand, reducing the content of mud and stone powder, etc.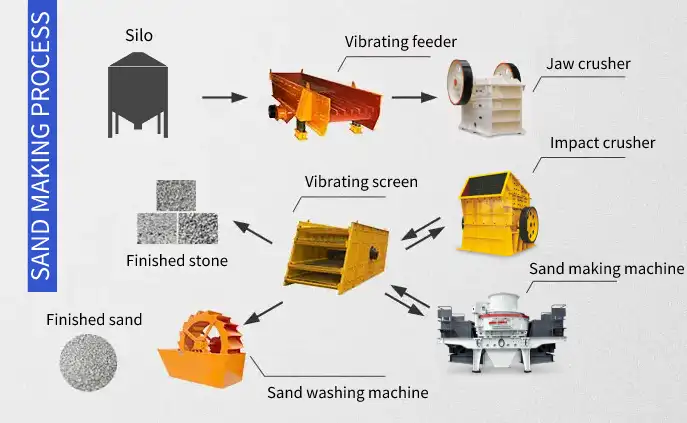 2. Advantages of limestone manufactured sand
Limestone machine-made sand is made from waste and excess resources such as limestone quarry waste, waste residue, stone powder, etc., which are mechanically crushed, washed and screened. The limestone machine-made sand processed according to the above process has the following advantages:
(1) Machine-made sand can effectively and stably control technical indicators such as sand particles according to national standards and engineering quality requirements and meet engineering technical requirements.
(2) The particle and fineness modulus of machine-made sand can be adjusted according to the needs of the project.
(3) The particle shape of machine-made sand is multi-angular, and the surface is rough, which is conducive to bonding with cement and other cementitious materials and is conducive to the improvement of concrete strength.
(4) The production of machine-made sand can be combined with the production process of crushed stone, which is conducive to the comprehensive utilization of mineral resources and reduces pollution, thereby greatly reducing the production cost of machine-made sand.
Process flow of limestone grinding powder production line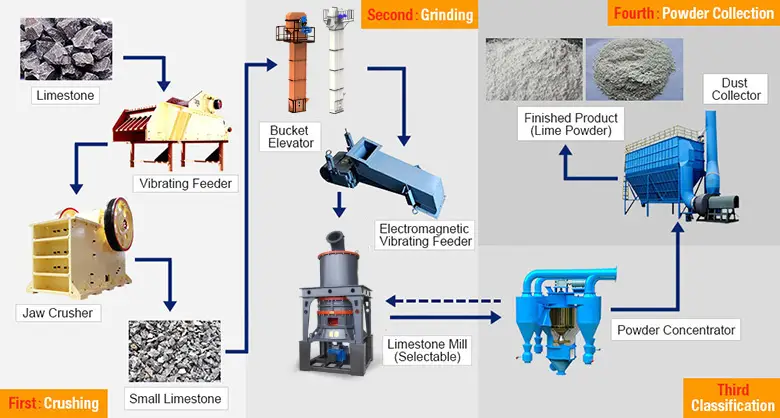 Grinding: If the particle size of limestone is not less than or equal to 30mm, it needs to be broken first, and then enters the limestone grinding mill equipment through the elevator, and is continuously ground by the grinding rollers.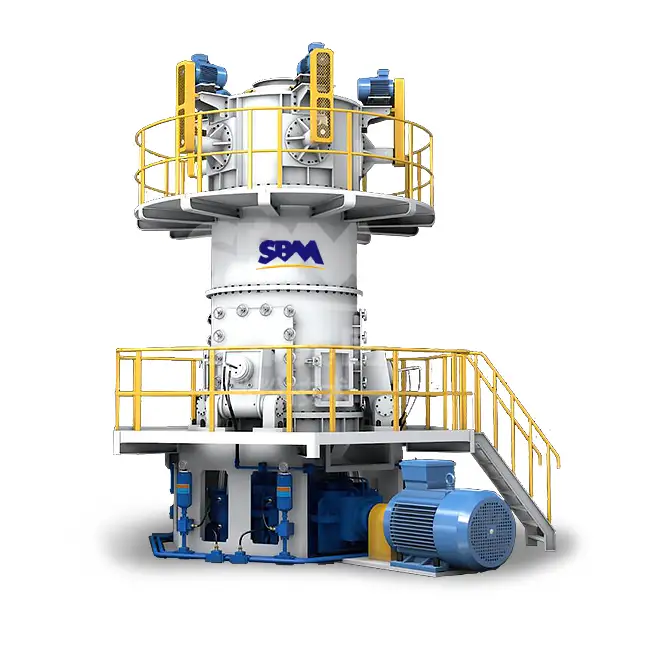 Discharge fineness: 150-3000 mesh
Feed size.: <15 mm
Output: 1-20 T/H
Product features: It has high grinding efficiency, low energy consumption, uniform particle shape, narrow particle size distribution, good fluidity, and strong product adaptability. It is an ideal non-metallic ores powder making equipment.
Powder selection: The pulverized materials are sorted by the powder separator through the action of wind, and the finished powder that meets the requirements is selected, which is collected and temporarily stored by the cyclone collector.
Application analysis of limestone crushing, sand making and grinding
After testing by several cases and relevant departments, as long as the process of limestone processing sand and gravel materials is reasonable, the finished products can basically meet the requirements stated in the "Standards for Sand and Stone Quality and Inspection Methods for Ordinary Concrete", that is, limestone is processed into sand and gravel materials. Can be used for concrete.

In the quality requirements, the sand for concrete is divided into three cases according to the concrete strength grade, namely ≥C60, C55~C30, ≤C25, which have great influence on the finished product fineness modulus, particle gradation, stone powder content, density, etc. There are different standards and data, and as long as the process flow is paid attention to, the finished products of limestone crushed stone and sand can be satisfied.
The ground limestone can be used to make glass, soda ash, caustic soda, etc., and limestone is used as a flux for ironmaking. In life, limestone is processed into relatively pure powdered calcium carbonate, which is used as filler for rubber, plastic, paper, toothpaste, cosmetics, etc. In agriculture, quicklime is used to prepare pesticides such as lime-sulfur mixture and Bordeaux mixture.