At present, the global demand for non-metallic ore powder is increasingly strong. In the past 10 years, the demand for heavy calcium alone has increased from 35 million tons to nearly 90 million tons, with an average annual growth rate of nearly 9.5%.
Heavy calcium carbonate, referred to as heavy calcium, is ground from natural carbonate minerals (such as calcite, marble, limestone). It is a commonly used powdered inorganic filler and can be widely used in papermaking, plastics, rubber, paint, coatings, adhesives and sealants industries.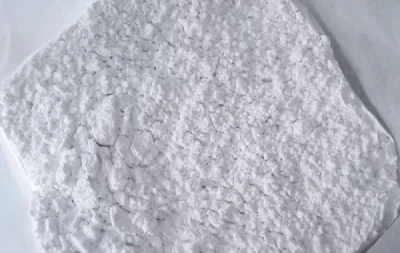 Comparison of ultrafine heavy calcium processing equipment
At present, the non-metallic ore dry ultrafine grinding process equipment mainly includes Raymond mill, stirring mill, vibration mill, ring roller mill, ball mill and ultrafine vertical mill.
Ball mill can process 40-200 mesh powder, the production capacity of a single machine is large, the performance is stable and reliable, but the energy consumption is slightly higher.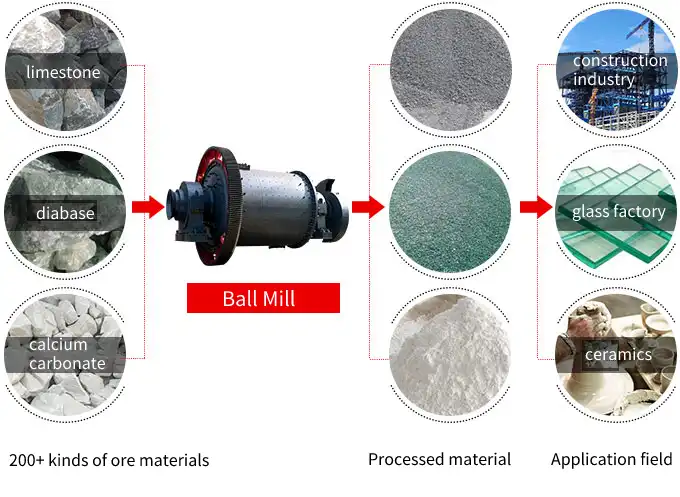 Raymond Mill mainly processes 200-400 mesh powder products and is the mainstream equipment for processing powder products below 325 mesh; equipped with a classifier, it can classify and process 800-mesh products, but the output is small.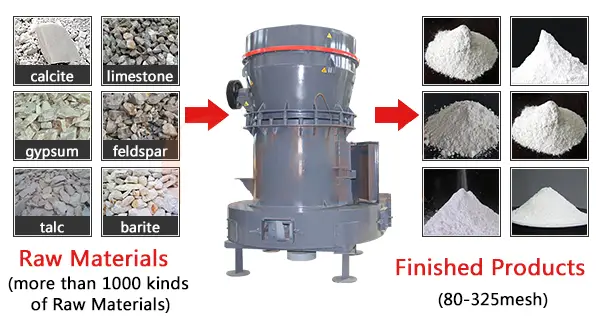 Stirring mill with submicron classifier can be used to process 1250-6000 mesh powder products, but the capacity is relatively small.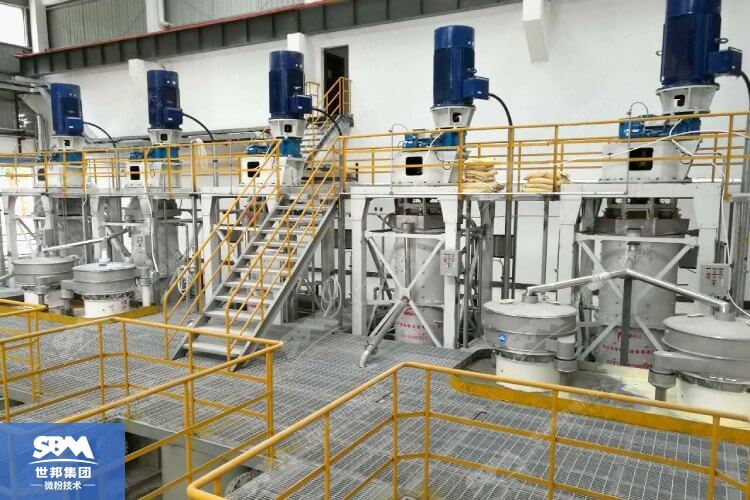 Vibrating mill and classifier can be used to process 600-2500 mesh powder products, but the capacity is relatively small, and the energy consumption is high. It is mainly used for processing materials with special hardness.
Ring roller mill (HGM superfine ring roller mill with classifier) is mainly used to process 325-2500 mesh powder products, which has the advantage of low energy consumption, but the production capacity of a single machine is not large enough.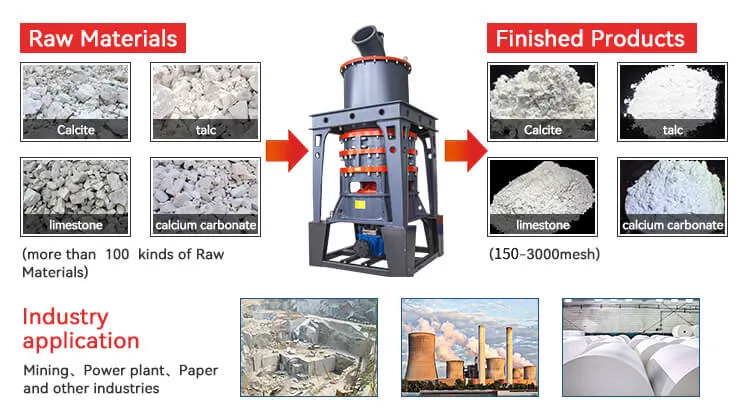 Vertical mill (CLUM superfine vertical mill with its own classifier) can process powder products of 150-3000 meshes, with large stand-alone capacity, reliable operation, large output, stable product quality, and low energy consumption (30% energy saving compared with ball mills- 40%) and other performance.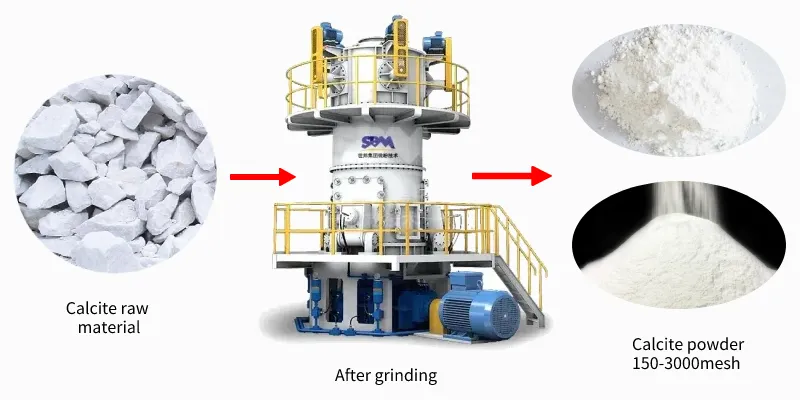 Application of ultra-fine vertical mill in the processing and production of ultra-fine heavy calcium
Considering the diversified needs of heavy calcium powder products, the "CLUM ultra-fine vertical mill + secondary (or tertiary)" classification process is often used in the design of vertical grinding powder engineering systems.
There are two reasons:
1. Large-scale energy-saving ultra-fine production using ultra-fine vertical mills.
2. The use of secondary classification is conducive to the improvement of product refinement.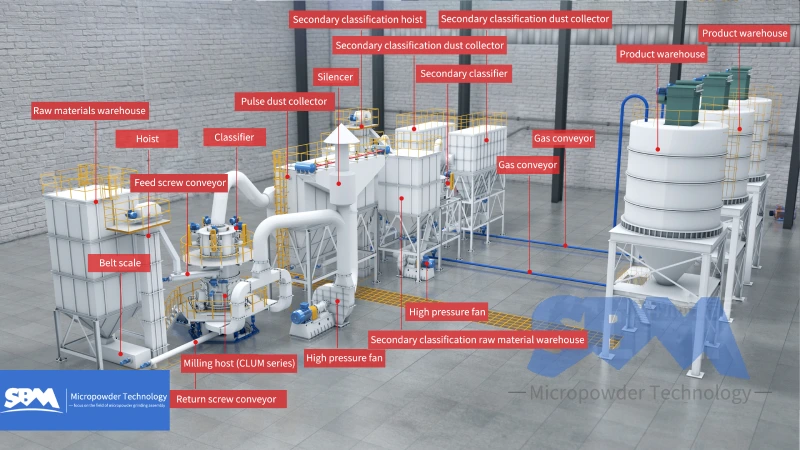 CLUM ultra-fine vertical mill is based on the vertical mill, introduces Taiwan and Germany ultra-fine vertical mill technology, designs and develops a new type that integrates grinding, grading, conveying, secondary powder selection, and finished product packaging. Ultrafine grinding equipment. It has the following added advantages:
● Multifunctional full hydraulic operating system.
● Involute type high efficiency crushing chamber.
● High precision spindle.
● High-strength counterattack frame.
● Heavy duty rotor.
Introduction to CLUM Superfine Vertical Mill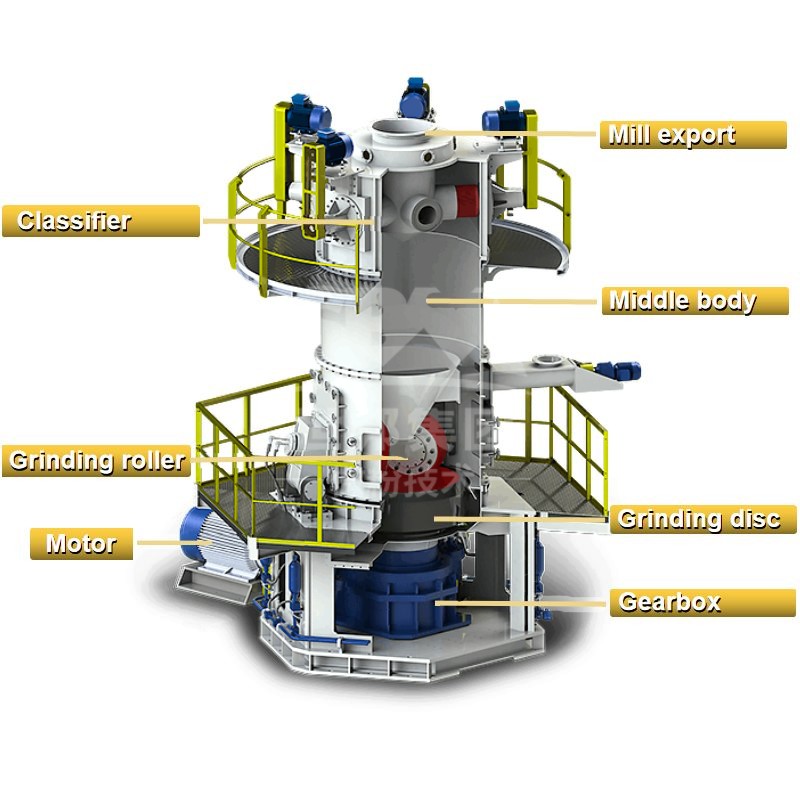 Production particle size range:
Without secondary classification, below 1250 mesh
After secondary classification 1250-3000 mesh
Production capacity: 0.2-45t/h
Finished product fineness: The finished powder fineness D97 can reach 3000 mesh, and the content of 2μm can reach 60%. The finished powder has high whiteness, narrow particle size distribution and good particle sphericity.
Grinding field: For various non-metallic mineral materials with Mohs hardness below 7 and humidity within 6%. The mill is widely used in electric power, metallurgy, cement, chemical industry, power plant desulfurization, non-metallic ore milling, food, medicine and other production fields.
Performance characteristics: Focus on the large-scale production of non-metallic mineral ultrafine powder processing, widely used in calcite, marble, limestone, dolomite, barite, talc, kaolin, dolomite, wollastonite, gypsum, feldspar, pyrophyllite Large-scale ultra-fine dry powder processing of non-metallic ores. It has the remarkable characteristics of high grinding and powder selection efficiency, convenient maintenance, low operating cost, high reliability, stable product quality, excellent finished product quality, and low comprehensive investment cost.
Working principle:
The technological process of the ultra-fine vertical mill equipment is scientific, mainly including several main steps such as crushing, grinding, grading and powder collection. The material is crushed into the feed particle size. Grinding roller. Under the action of the pressure of the grinding roller, the material is crushed by extrusion, grinding and shearing.
At the same time, the wind is sprayed upwards at high speed from the wind ring surrounding the grinding disc, and the ground materials are blown up by the high-speed airflow at the wind ring, and the coarser-grained materials are blown back to the grinding disc for re-grinding. The fine powder is brought into the grading machine by the wind for grading, and the qualified fine powder goes out of the mill along with the airflow and is collected by the dust collection equipment to become the product.
The vertical mill adopts a more advanced analysis machine, which can classify higher ultra-fine powder, so the processed materials can reach finer fineness.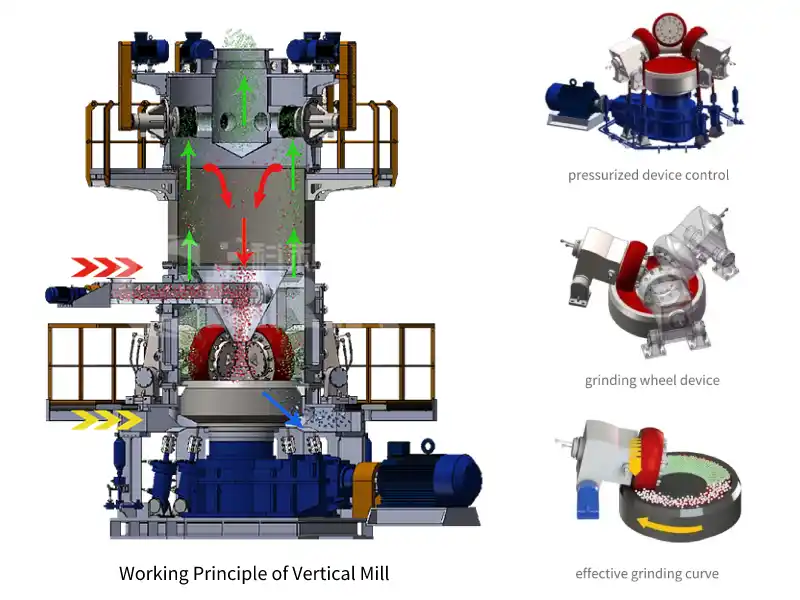 More environmentally friendly and energy-saving
The improved dust removal system is more environmentally friendly than the previous mill and has the advantages of energy saving and low energy consumption. The electrical system of the ultra-fine vertical mill adopts centralized control, advanced and reasonable selection, high degree of automation, and the vibrating feeder is small in size and weight Lightweight, uniform feeding, easy to save electricity, easy to operate and maintain, easy to use and maintain, the analyzer adopts an adjustable frequency control system, which reduces power consumption and maintenance costs.
Better sealing performance
The dustproof standard of the ultra-fine vertical mill has reached the national advanced standard. The grinding device also adopts the most advanced overlapping multi-stage sealing setting method, which greatly improves the sealing performance of the equipment. Good sealing performance allows the ultra-fine vertical mill to play a greater role in the grinding work.
Vertical mill heavy calcium production line customer site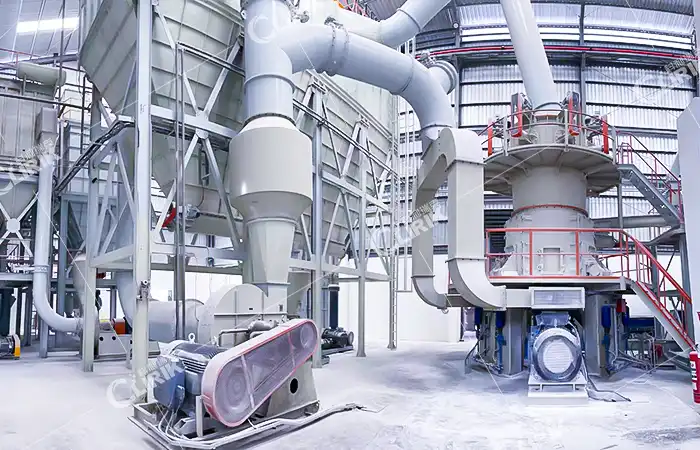 Production project of 6 tons of heavy calcium powder per hour in Myanmar
Production fineness: D97 10um (1250 mesh)
Yield: 5-6 tons
Powder use: putty powder, PVC, paint, plastic, paper, etc.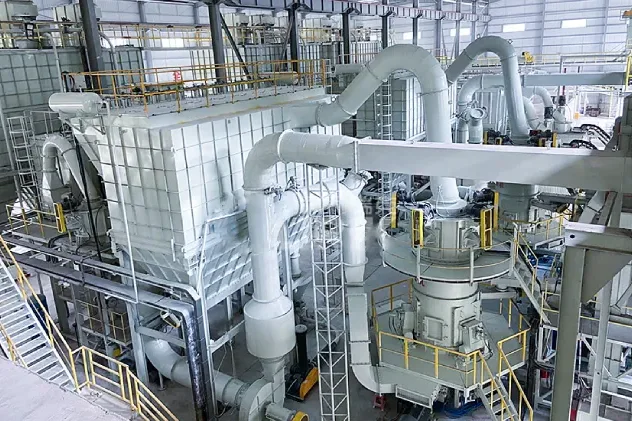 Nigeria's annual output of 300,000 tons of calcium carbonate ultra-fine grinding project
Processing raw materials: calcite raw materials
Finished fineness: 400 mesh, 800 mesh, 1250 mesh, 3000 mesh
Powder use: plastics, paint coatings, PVC, non-woven fabric industry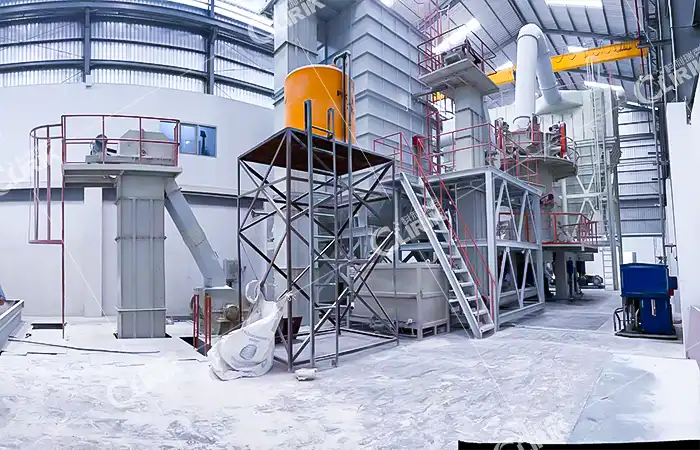 High-end calcium carbonate production line with an annual output of 150,000 tons in Pakistan
Processing raw material: calcite
Finished fineness: 1250-3000 mesh
Annual output: more than 150,000 tons
Powder use: papermaking, paint, PE, cosmetics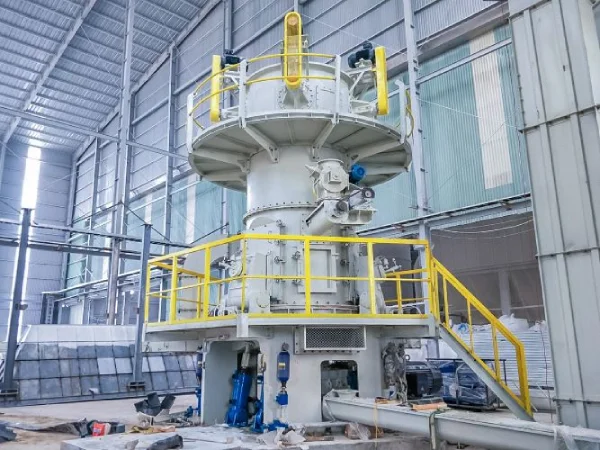 High-end calcium carbonate production line with an annual output of 300,000 tons in Anhui, China
Processing raw material: calcite
Finished fineness: 150-1250 mesh
Annual output: more than 300,000 tons
Finished product use: papermaking, coatings, building materials
In large-scale heavy calcium ultrafine powder grinding and processing projects, CLUM ultrafine vertical mill has unique advantages such as large output, high classification fineness, high purity of finished products, good spherical shape, and high degree of intelligent automation of the production line.
The CLUM series of ultra-fine vertical mills developed and produced by SBM micro-powder technology are very popular in the global market. If you are looking for a non-metallic ore ultra-fine grinding production line or are interested in our ultra-fine vertical mills, please feel free to contact us. You can send us an inquiry in the message box below or contact us on WhatsApp: +86 18917951321. We will reply you within 24 hours.