While waste tires are pyrolyzed to produce fuel oil, additional products such as carbon black and steel wire can also be obtained. If waste tires can be fully cracked, 30%-35% of carbon black can be extracted from one ton of waste tires. Although carbon black has a wide range of uses in a broad sense, the carbon black that has just been extracted is still granular, between 40 mesh and 80 mesh, and carbon black of this thickness cannot be used directly, and it needs to be further processed to expand use.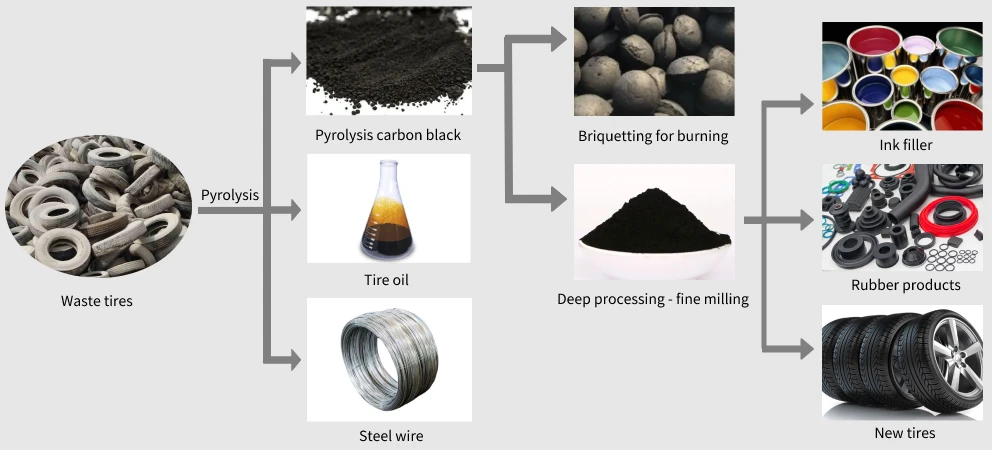 The cracked carbon black is called coarse carbon black. If you do not want to carry out further processing and refining, you can use a press to press the carbon black into carbon black balls. The calorific value of carbon black balls is about the same as that of ordinary briquettes and can be used as fuel.
If the deep-processed carbon black is distinguished by function, it is generally divided into carbon black for coloring, carbon black for reinforcement and carbon black for conductivity. There are different carbon black models, such as N330, N550, N660, etc.
● Carbon black for coloring
Generally, it is used in color masterbatch, pigment and paint industry, and plays an important role in coloring. Because there is a kind of high-pigment carbon black in carbon black with strong coloring ability, it is used in various plastic products, such as cable jackets, conveyor belts, rubber mats and various industrial rubber products.
● Carbon black for reinforcement
After modification and granulation, pyrolysis carbon black is used in the rubber manufacturing industry, mainly the tire industry. The main function of carbon black is as a rubber additive to supplement the strength of rubber tires and enhance the performance of tires. In addition, carbon black is also used as a reinforcing agent for rubber soles in shoe factories. The main function is to supplement strength, improve wear resistance, and fill and color.
● Conductive carbon black
Excellent carbon black also has good electrical conductivity and is generally used in the battery industry or cable industry.
Carbon black deep processing grinding equipment
For further processing of the coarse carbon black from tire pyrolysis, we can use the HGM series ultra-fine ring roller mill and CLUM series vertical roller mill independently developed and produced by our SBM micro-powder technology. Both mills can produce fine carbon black powder up to 3000 mesh.
HGM superfine ring roller mill
This ultra-fine pulverizer can process non-metallic ores with Mohs hardness less than 7 (dolomite, marble, talc, limestone, barite, etc.) and other non-flammable and explosive solid materials (shells, bamboo, coconut shells, glass, etc.), the fineness can be freely adjusted between 150-3000 mesh.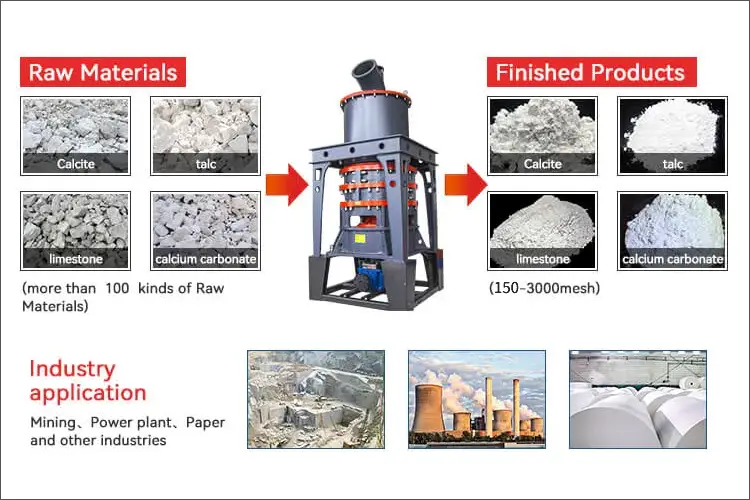 When working, the main shaft of the ultra-fine ring roller mill drives the turntables of each layer to rotate, and the turntable drives the three-layer (or four-layer) ring rollers to roll in the grinding ring roller table through the pins. The material is evenly sent to the middle of the upper turntable through the feeding port. The materials are scattered to the periphery of the circle under the action of centrifugal force and fall into the roller table of the grinding ring to be stamped, rolled and ground by the ring rollers to be pulverized.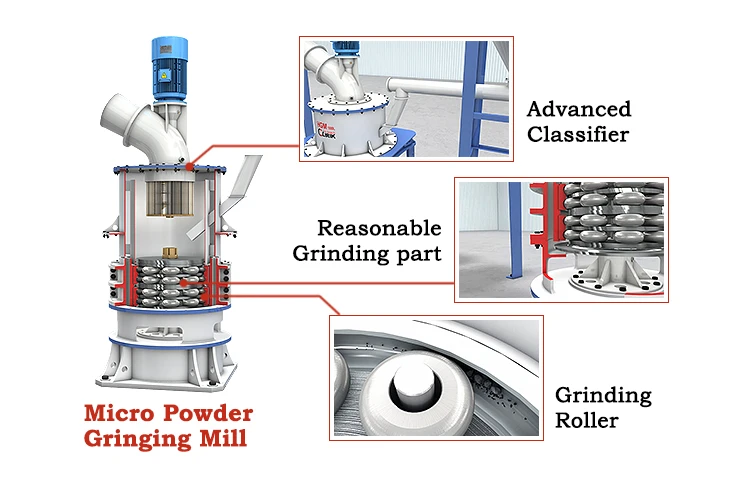 HGM ultra-fine ring roller mill has the advantages of high output, low energy consumption, high fineness, high safety and reliability, clean and environmental protection, safe operation and low operating cost.
CLUM ultrafine vertical mill
The vertical roller mill can process calcite, limestone, dolomite, wollastonite, gypsum, feldspar and other non-metallic ores, and the fineness can be freely adjusted between 150-3000 mesh. Because of its special grinding curve structure, the powder produced by grinding has high purity, good spherical shape and high specific surface area. Therefore, this ultra-fine vertical mill has become a medium and high-end product in the fields of plastic masterbatch, PVC materials, cables, non-woven fabrics, etc. special raw material processing equipment.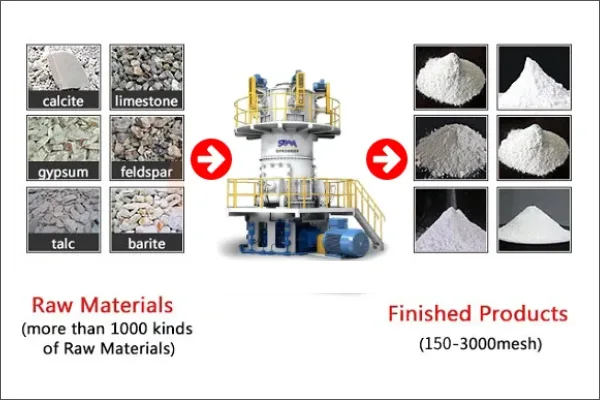 When working, the material falls into the center of the grinding disc and moves to the edge of the grinding disc under the centrifugal force. When passing through the grinding area between the grinding roller and the grinding disc, it is crushed by the pressure of the grinding roller and the shear force between the grinding roller and the grinding disc.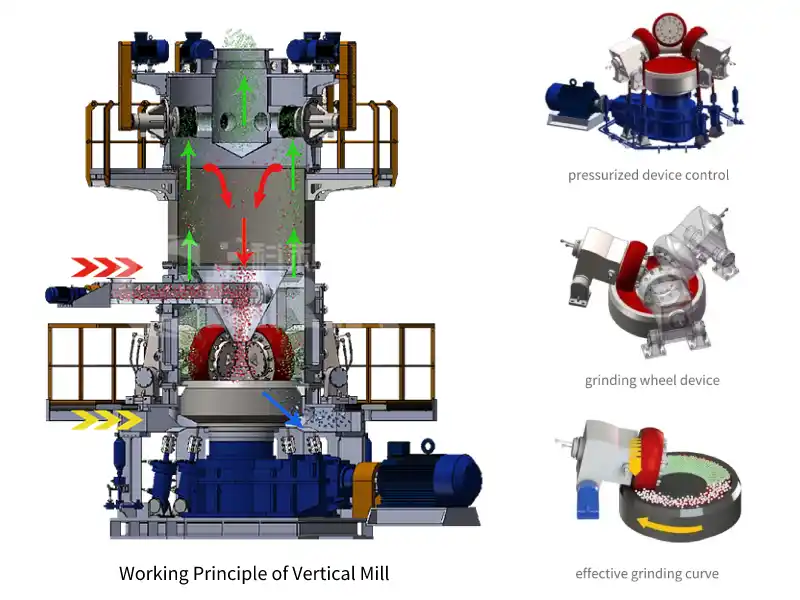 CLUM vertical roller mill integrates grinding, grading, (secondary grading system can be configured), powder collecting and conveying in one. It has the advantages of intelligent control system, stable and efficient operation, high grinding efficiency, low power consumption, long service life, low maintenance cost, and environmental protection.
How to choose
In addition to the above two star products, our company also has other industrial milling equipment that can be used for deep processing of tire pyrolysis carbon black. For example, our YGM series Raymond mill can process carbon black powder below 600 mesh. About how to choose a suitable mill? You can contact us directly, and our technicians will configure the most suitable production line for you according to your production needs and environment.
Shibang Technology Group Branch—Shanghai Micro Powder Technology
Main focus on R&D and production:
1. Superfine vertical mill
2. Three-ring micro powder mill
3. Secondary classification
4. Powder surface modification
5. Wet grinding etc.
Ultrafine grinding process and equipment