SBM gypsum industrial ultrafine powder mill machine is a kind of efficient and environmentally friendly milling equipment. It can grind gypsum ore into a fine powder and superfine powder, and the fineness can be automatically adjusted according to your needs. In addition to grinding gypsum ore, SBM industrial grinding mills can also grind another 100+ non-metallic minerals, such as dolomite, limestone, carbon black, mica, kaolin, and so on.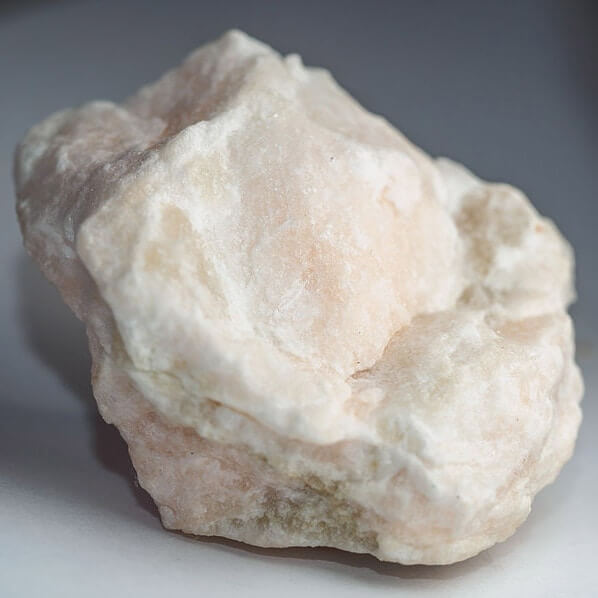 What is gypsum and its uses?
Gypsum is a monoclinic mineral, which mainly refers to two kinds of ore, raw gypsum and anhydrite.

The raw gypsum is calcium sulfate dihydrate, the color is white or gray, red, brown, with glass or silk luster, and the Mohs hardness is 2.

Anhydrite is anhydrous calcium sulfate, white, off-white in color, glassy luster, and Mohs hardness of 3 to 3.5.

The two types of gypsum are often produced together and can be transformed into each other under certain geological actions.

Gypsum is a widely used industrial material and construction material. It can be used as cement retarder, gypsum building products, model making, medical food additives, sulfuric acid production, paper filler, paint filler, etc.
Gypsum crushing and grinding process:
---
Green gypsum can be calcined and ground to obtain building gypsum (2CaSO4·H2O), also known as plaster of paris and plaster.

The crusher crushes the large-size natural gypsum ore into small particles less than 30mm and controls the feed amount through storage and a vibrating feeder. Then the crushed gypsum is transported to the mill for grinding. Finally, it is sieved to the required fineness by the classifier.

The qualified raw powder for grinding is transported to the boiling furnace for calcination, and the qualified gypsum powder after calcination is sent to the clinker bin or product workshop for use.
Recommendations for Gypsum Industrial Ultrafine Powder Mill Machine:
The Mohs hardness of gypsum is 2-3.5, and it can be ground with an SBM industrial grinding mill (gypsum industrial ultrafine powder mill machine). SBM is a professional manufacturer of mining ore grinding machinery and equipment. Its products cover many fields such as crushing, sand-washing, and sand-making, and grinding. The mills of SBM ultrafine powder tech mainly includes HGM series ultra-fine mills and CLUM series ultrafine vertical mills. If you produce gypsum powder below 2500 mesh, you can use HGM or CLUM series ultrafine mills; if you produce 3000 mesh gypsum powder, you can use CLUM series micro powder mills.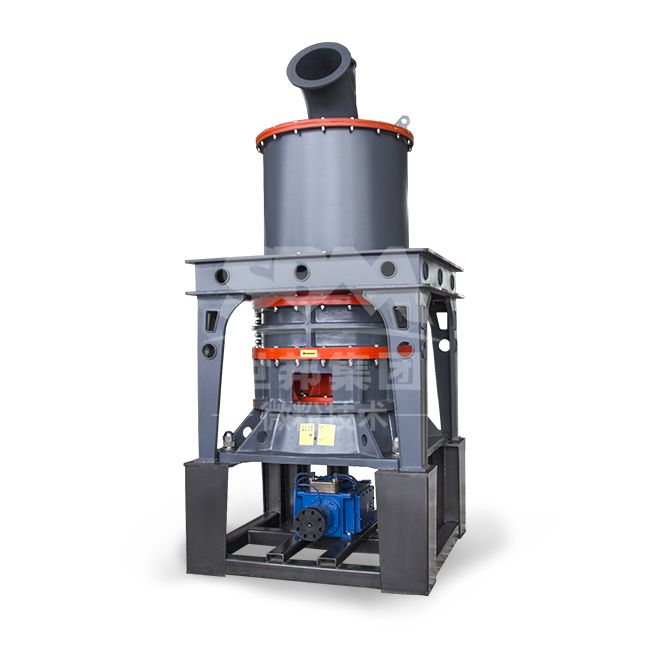 HGM micro powder grinding mill
Finished product fineness: 200-2500mesh

Output: 0.2-45t/h

Application: Suitable for grinding non-metallic ores with Mohs hardness less than 6, such as gypsum, mica, marble, dolomite, limestone, bentonite, etc.

Features: The equipment occupies a small area, is easy to operate, and easy to maintain. High grinding efficiency, energy-saving, and environmental protection. Low investment, long service life, and cost-saving.
---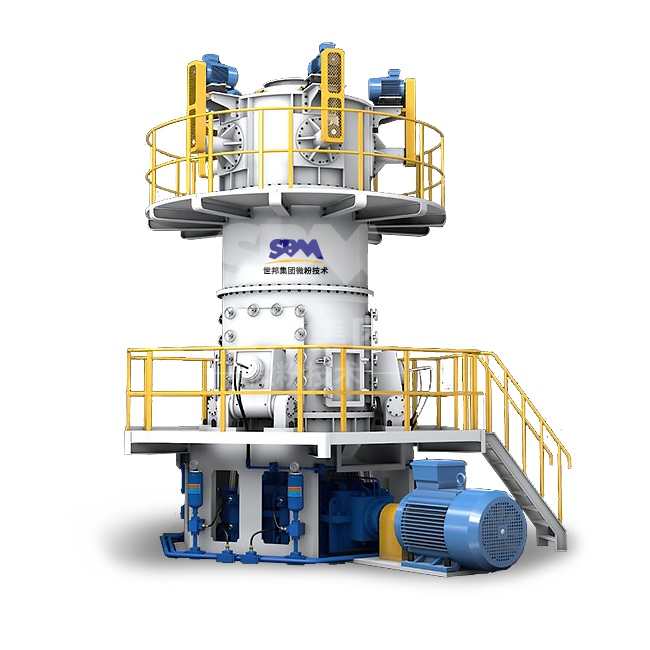 CLUM ultrafine vertical roller mill
Finished product fineness: 325-3000mesh

Output: 0.2-45t/h

Application range: suitable for grinding non-metallic ores with Mohs hardness less than 6, such as gypsum, kaolin, carbon black, vermiculite, basalt, calcium carbonate, etc.

Features: It has a certain drying capacity and can be equipped with a secondary powder selection system. The content of fine powder is higher than that of the HGM series, and the shape of the finished powder is better.

It is suitable for large-scale production in the high-end powder industry, and the finished product can be used as a filler for high-end coatings, papermaking, etc.
Application of gypsum powder:
Gypsum stone ore can be crushed and ground by a gypsum industrial ultrafine powder mill machine to obtain gypsum powder. The crushed gypsum is processed differently according to different qualities and uses. High-quality, impurity-free gypsum powder can be used directly without heating and dehydration. It is "green gypsum", which is mainly used in food, food, and chemical industries. Most of the other gypsum powder needs to be heated to remove the water molecules contained in the gypsum, which is called "Gypsum of Paris", which is mainly used in building materials, decoration, chemical industries, and other industries.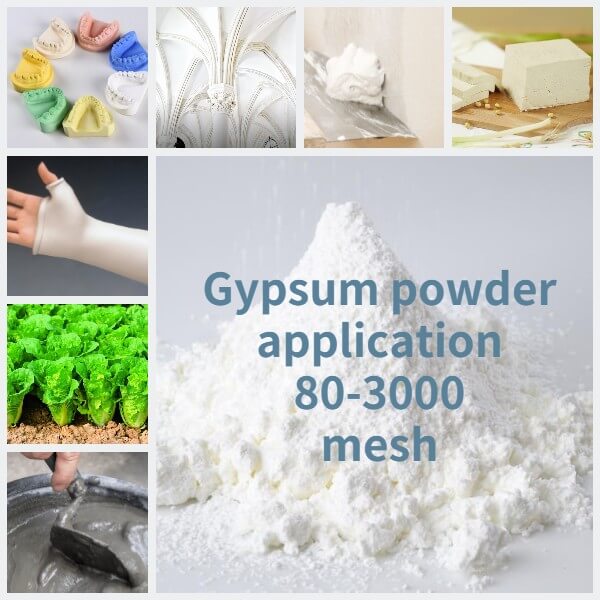 1. Used as traditional Chinese medicine, pungent, sweet, cold to the lung and stomach meridian, clearing heat and purging fire, eliminating irritability, quenching thirst, astringent, and muscle growth.

2. Used as agricultural fertilizer, it can improve alkaline soil, used in general neutral or acid soil, can improve the soil structure, and supply calcium and sulfur components.

3. As an industrial material, it is used for model making, sulfuric acid production, paper filler, paint, and chalk for blackboards.
4. As a medical material: used for medical food additives and fracture fixation.
5. As a building material: used as a cement retarder, etc.
6. As a food additive: used in the production of bean curd, tofu, etc.
7. Used as a plaster base material for painting.
Gypsum industrial ultrafine powder mill machine cases:
Gypsum Industrial Ultrafine Mill
-customer case in Bangladesh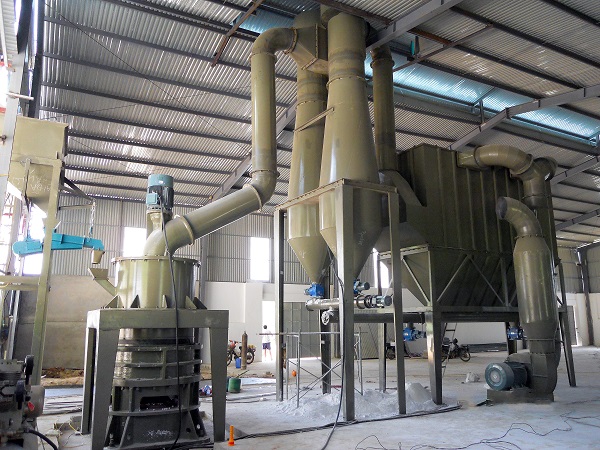 Fineness: 1250mesh
Capacity: 14t/h
Gypsum Micro Powder Mill
-customer case in Vietnam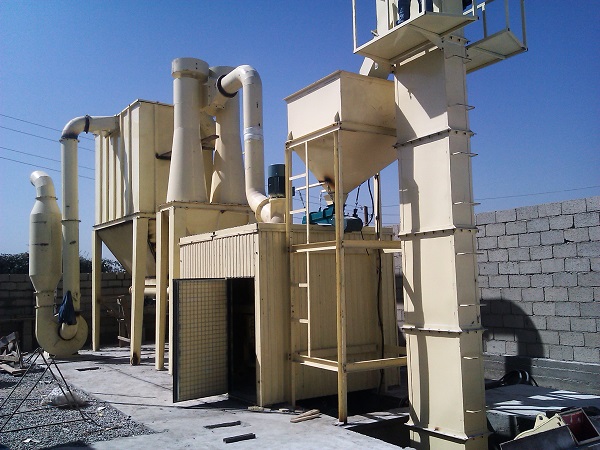 Fineness: 1600mesh;
Capacity: 12t/h
Why choose SBM industrial mill?
About Us:
SBM Ultrafine Powder Technology is specialized in the R&D and the production of ultrafine grinding machines for mine ore. Its main industrial ultrafine pulverizer is mainly used to grind non-metallic ores with a fineness of up to 3000 mesh. It is widely used in mining, chemical, construction, and other industries and is very popular.
SBM Micro powder Technology not only has a mature R&D and production team, but also a complete service team. From pre-sales to after-sales, from brand to quality, you are absolutely trustworthy cooperating manufacturers.
Our Factory: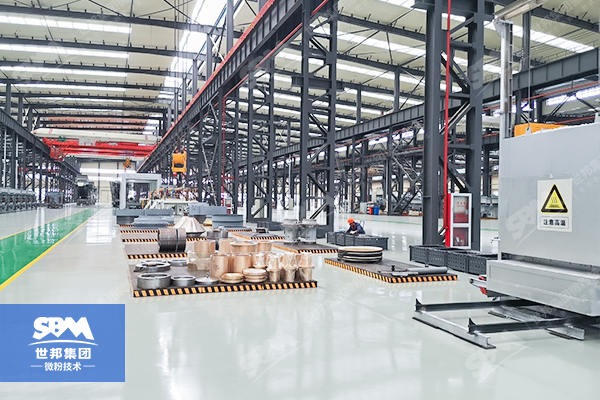 Our Service:
Pre-sale
Help customers to select equipment
Free arrangement of engineers to the site for actual survey and plan design
On sale
Strictly implement the quality standards, and guarantee the quality of the ex-factory products
Free logistics and transportation information, more choices for logistics and transportation
Strictly implement the standard process of preparation and delivery, timely and accurate stock preparation, and rapid delivery
After-sale
Free arrangements for engineers to guide the basic production of equipment
Provide free technical guidance for equipment installation and commissioning
The free on-site one-to-one operation, repair, maintenance, and other training
Professional after-sales service team, 24 hours response to customer needs
Payment methods we can accept:
Accepted Delivery Terms: FOB, CFR, CIF, EXW, CPT, DDU, Express Delivery
Accepted Payment Currency: USD
Accepted Payment Type: T/T, L/C, Western Union
FAQ:
1. How to make gypsum powder?
The production method of building gypsum powder—usually using the "crushing, screening and calcining kiln" one-step method, which is to dry the raw gypsum, dehydrate, crush, calcinate, sort (remove impurities), and complete the modification at one time to produce gypsum powder.
2. Why gypsum is added to soil?
To repair the soil, gypsum is an important amendment for acid soil and alkaline soil.
The main component of gypsum is calcium sulfate, which can interact with sodium carbonate and sodium bicarbonate in the soil solution to produce sodium sulfate that is easily soluble in water. The salt can be washed by irrigation and washed away with water to eliminate the alkalinity of the soil Sex, to achieve the purpose of improving the soil.
3. Which gypsum industrial ultrafine powder mill machine is batter for grinding gypsum powder?
There are many types of industrial mills. Although they can be used to grind gypsum powder, the functions of different machines are different. Which mill is better? This needs to be determined according to the actual production situation, and the selected mill must be able to meet the fineness requirements of the finished powder. It is also necessary to consider the output, the service life of the mill, the floor space that the plant can accommodate, the initial investment and labor costs, and so on. All things considered, the right one is the best.
If you need an ultra-fine powder mill, you are welcome to contact us at any time. Our professionals can make the best plan for you free of charge according to your needs. You can buy the most cost-effective powder mill from us, and get a perfect after-sales service guarantee.