CLUM ultrafine vertical mill and HGM micro powder mill are both new-type mining industrial grinding equipment independently developed and produced by SBM Micropowder Technology Company. They can all be used to grind non-metallic ores with a Mohs hardness of less than 7, as well as glass, bamboo, coconut shells, shells and other materials. So what's the difference between them? How should we choose the right ultrafine grinding mill?
CLUM Ultrafine Vertical Mill
CLUM ultrafine vertical mill is a new type of ultra-fine grinding equipment that integrates grinding, grading, powder selection, powder collection and transportation. It is a medium and high-end special raw material processing equipment for plastic master batch, PVC, cable, non-woven and other professional fields.
Equipment composition
CLUM ultrafine vertical mill is mainly composed of motor, reducer, machine body, grinding roller device, grinding disc device, pressure device, powder separator, lubrication station, hydraulic station and so on.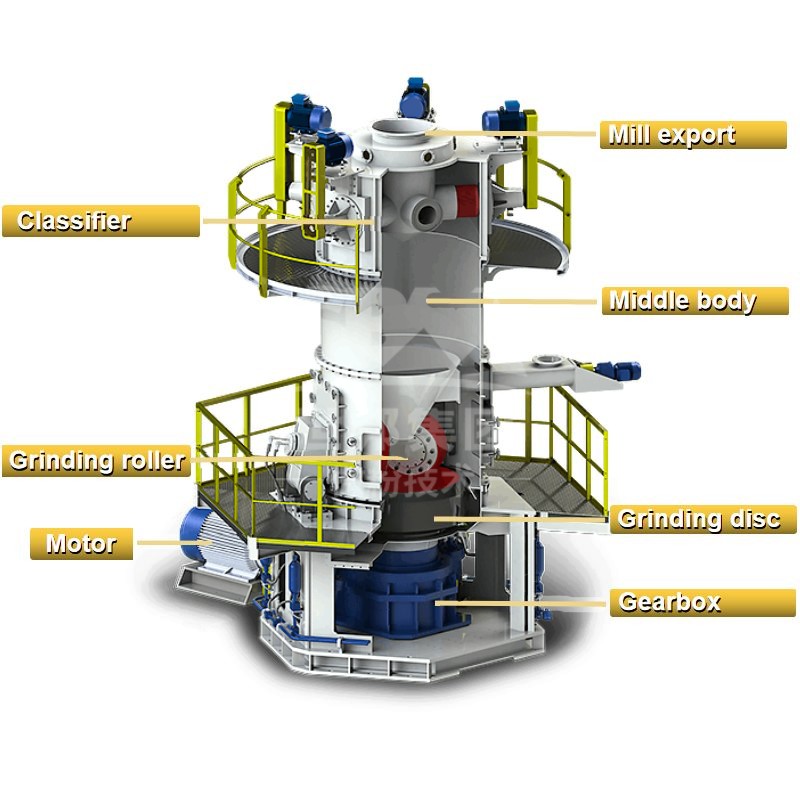 Advantage of CLUM ultrafine vertical mill
① The finished product has a wide range of particle sizes, and the content of 2um can reach 70%. The particle size distribution of the finished powder is narrow, the content of 2um is adjustable, the particle shape is good, and the added value of the finished product is high.
② High grinding efficiency and low power consumption.
③ PLC intelligent control system, stable operation and simple operation.
④ Special wear-resistant material, long service life and low maintenance cost.
⑤ Sealed production line, pulse dust collector, no dust pollution.
HGM micro powder mill
HGM micro powder mill is an industrial grinding equipment specialized in processing and manufacturing fine powder and ultra-fine powder. The product fineness can be adjusted between 300-2500 mesh according to the needs, and the product fineness can reach D97≤5um at one time.
Equipment composition
HGM micro powder mill system is mainly composed of main engine, powder separator, diffused double cyclone powder collector, pulse bag filter, high pressure fan, motor, pipeline and muffler. The optional equipment for the production line includes hammer crusher, hoist, feeder, and electric control cabinet.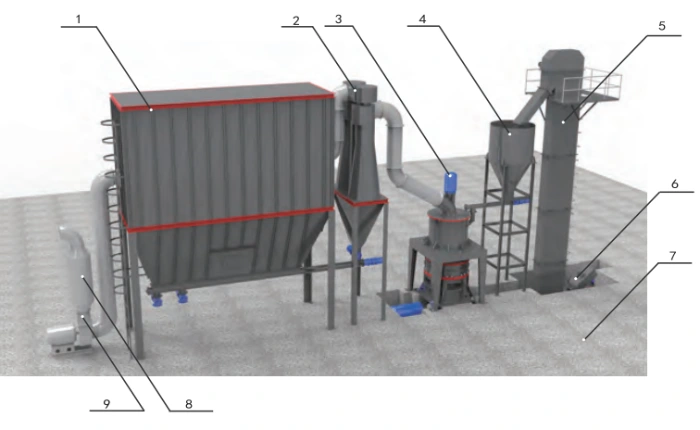 1. pulsed jet collector
2. cyclone powder collector
3. HGM main mill
4. storage hopper
5. bucket elevator
6. hammer crusher
7. foundation
8. silencer
9. fan
1. electric motor of classifier
2. upper part of classifier
3. lower part of classifier
4. support
5. electric motor of main engine
6. main engine speed reducer
7. bottom body (engine base)
8. middle body
Advantage of HGM micro powder mill
① Small footprint, high output and low energy consumption.
② The product has high fineness and wide adjustable range.
③ High safety and reliability, there are no loose parts such as rolling bearings and screws in the grinding chamber.
④ Apply pulse dust collectors and silencers, clean and environmentally friendly.
CLUM vertical mill VS HGM micro powder mill
CLUM ultrafine vertical mill
Equipment performance
★ There is no contact between the grinding roller and the grinding disc, the vibration is small, and the operation is stable
★ High energy consumption and large production capacity
★ Produce finished products of different specifications, which can realize fast switching
★ Product professionalism
★ Big upfront investment
Product performance
◆ 2um content 30%-70%, D97=4-45um
◆ The fineness of powder can reach 8.5um at one time, and the specific surface area is high
◆ Secondary powder selection with higher fine powder content
◆ The powder has high whiteness, high purity, good spherical shape, high-end powder, no iron impurities
HGM micro powder mill
Equipment performance
★ Produce 44-5um powder with stable operation
★ Simple operation and easy maintenance
★ The wearing parts are made of special alloy steel, which has a long service life
★ Lower output than CLUM vertical mill
★ The noise is larger than that of CLUM ultrafine vertical mill, and a soundproof room is required
Product performance
◆ 2um content more than 20%
◆ Maximum fineness 5-10um
◆ Middle and high-end finished powder