The fluorite fine powder grinding mill is an industrial ore milling equipment independently developed and produced by SBM. The equipment includes two series of HGM ultra fine grinding mill and CLUM vertical roller mill, both of which can grind non-metallic ore powder of 150-3000 mesh.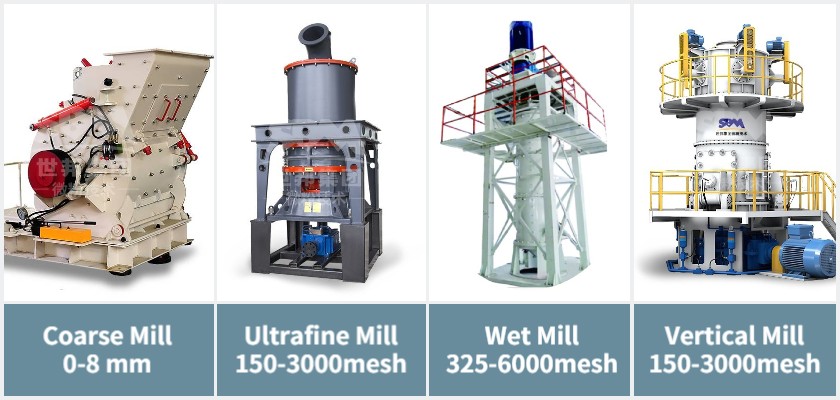 The fluorite fine powder grinding mill is stable, energy-saving, environmentally friendly, intelligent, and efficient, and is the first choice for processing fluorite. In addition, it can also be used to process other non-metallic minerals, such as dolomite, carbon black, mica, calcite, calcium carbonate, etc.
About fluorite:
Fluorite is a common mineral in nature. Its crystals are glassy, ​​bright and changeable in color, brittle, and have a Mohs hardness of 4.
In industry, fluorite is the main source of fluorine, which can be used to extract and prepare fluorine and its various compounds. The fluorite specimens with bright colors and beautiful crystalline forms can be used for collection, decoration, and carving crafts.
The crushing and grinding process of fluorite:
Fluorite ore is generally processed by processes such as crushing, grinding, grading, beneficiation and purification, calcination, and drying.

Fluorite powder can be used in the metallurgical industry, glass production, enamel, etc. Fluorite powder is transformed from fluorite, which can effectively remove impurities in the process of steelmaking, and can also play a role in the production of glass and enamel.
So what is the crushing and grinding process of fluorite?
Crushing stage: Large pieces of material are crushed by the crusher to the fineness (15mm-50mm) that can enter the mill.
Grinding stage: Small pieces of material that meet the conditions for entering the mill are uniformly and quantitatively fed into the grinding chamber of the mill through the conveying and feeding system, and pulverized in the grinding cavity.
Classification stage: The ground material is classified by the separator along with the system airflow, and the unqualified powder is classified by the separator and then returned to the main grinding cavity for re-grinding.
Powder collection stage: The powder that meets the fineness enters the powder collection system through the pipeline with the airflow, and the gas and powder are separated.
Introduction of Fluorite Powder Grinding Mill Equipment:
The equipment configuration of the complete fluorite powder production line is complicated, and the equipment selection can be planned and adjusted according to the actual production needs of customers, and the production line has a high degree of automation. The milling link in the production line is extremely important. Only by selecting the right equipment can we produce fluorite powder that meets the requirements, and can maximize efficiency and reduce energy consumption, so as to obtain ideal profits.

For the production of coarse powder (under 600 mesh), you can choose a coarse powder mill or Raymond mill; for the production of fine powder above 1000 mesh, you can choose an ultra fine grinding mill, vertical roller mill, wet mill, etc.
Jaw crusher >>
Jaw crushers are widely used as crushing equipment in the fluorite grinding production line. It is mainly used for the primary crushing operation of the raw material fluorite so that the crushed fluorite meets the particle size requirements required by the next construction. The equipment has the characteristics of a small footprint, simple operation, convenient maintenance, large processing capacity, energy-saving, and consumption reduction.
Fluorite Fine Powder Grinding Mill >>
The application of fluorite powder in various fields has different fineness requirements. Common ones are 100 mesh, 200 mesh, 325 mesh, 600 mesh, 800 mesh, 1250 mesh, and above. According to different needs, the most suitable grinding mill machine can be configured to achieve the best benefits.
>> 150-3000 mesh powder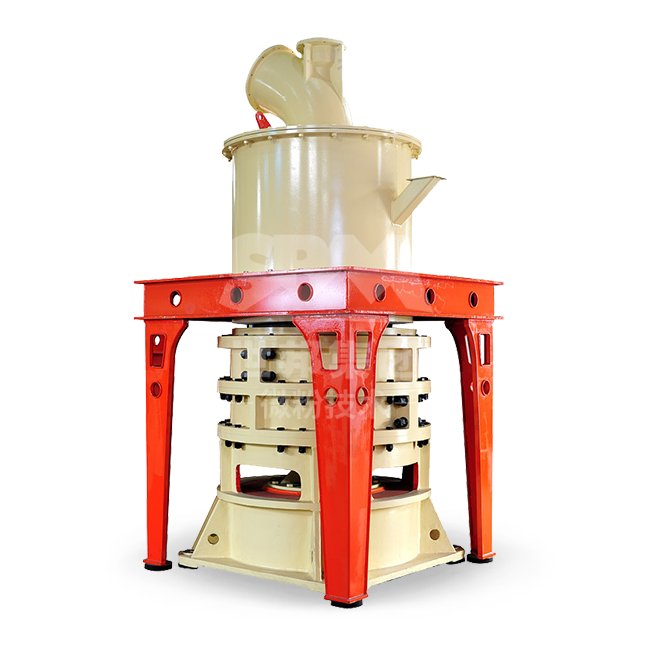 HGM ultra fine grinding mill
Product features: ultrafine powder, wide application, the good environmental protection effect

Input size: 0-20mm

The fineness of the product: 150-3000mesh

Capacity: 0.5-25TPH

Materials: limestone, calcite, dolomite, petroleum coal, gypsum, barite, marble, talc, coal powder, etc.
HGM superfine powder grinding mill
The newly designed grinding roller grinding ring grinding curve improves the grinding efficiency. The production capacity is 40% higher than that of jet mills and stirring mills, and the energy consumption is only 30% of that of jet mills.

Equipped with multi-head cage type powder concentrator. The fineness of the product can be adjusted arbitrarily between 150-3000 mesh, and the one-time screening rate can reach d97≤5μm.

The lubrication device is installed outside the main shaft, which can realize external non-stop lubrication and continuous production for 24 hours.

HGM fine powder grinding mill is equipped with a high-efficiency pulse dust collector, so there will be no dust pollution during the operation of the entire crushing system. Equipped with silencer and anechoic room to reduce noise.
---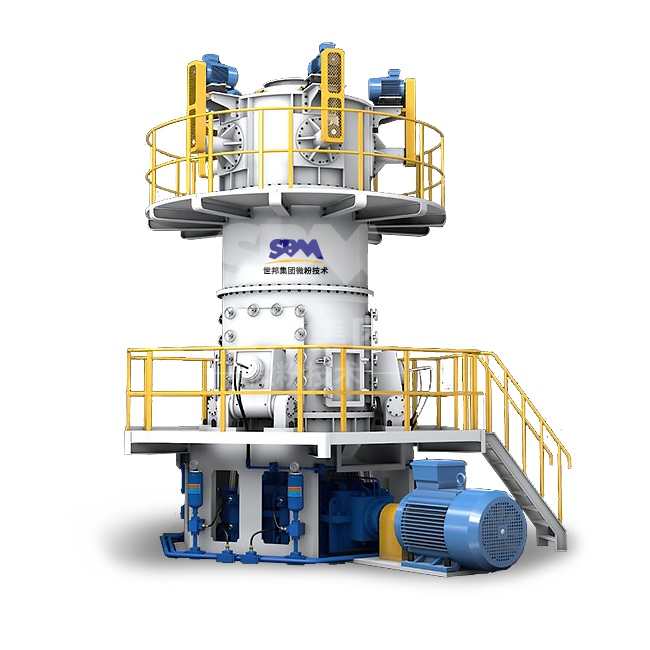 CLUM ultrafine vertical roller mill
Product features: higher capacity, better powder quality, better overall performance

Input size: 0-10mm

Capacity: 5-18TPH

The fineness of the product: 150-3000mesh

Materials: limestone, calcite, dolomite, petroleum coal, gypsum, barite, marble, talc, coal powder, etc.
CLUM ultrafine vertical roller mill
SBM specially designed a unique roller shell and liner grinding curve, which can greatly improve the working efficiency of the mill and improve the whiteness and cleanliness of the finished product.

Using a PLC control system and multi-head powder selection technology, it can precisely control the working parameters of the equipment such as grinding pressure and speed. Compared with ordinary mills, the energy consumption of this mill can be reduced by 30%-50%.
The contact point between the roller shell and the grinding disc liner adopts electronic limit technology and mechanical limit protection technology, which can avoid the destructive impact caused by machine vibration and ensure the stability of operation.

Through the reversible structure and hydraulic adjustment system, the operator can easily and quickly move the grinding roller out of the machine body, inspect and replace the roller shell and liner, and perform other maintenance operations to reduce downtime losses.
>> 325-6000 mesh powder
Ultra Fine Wet Stirring Mill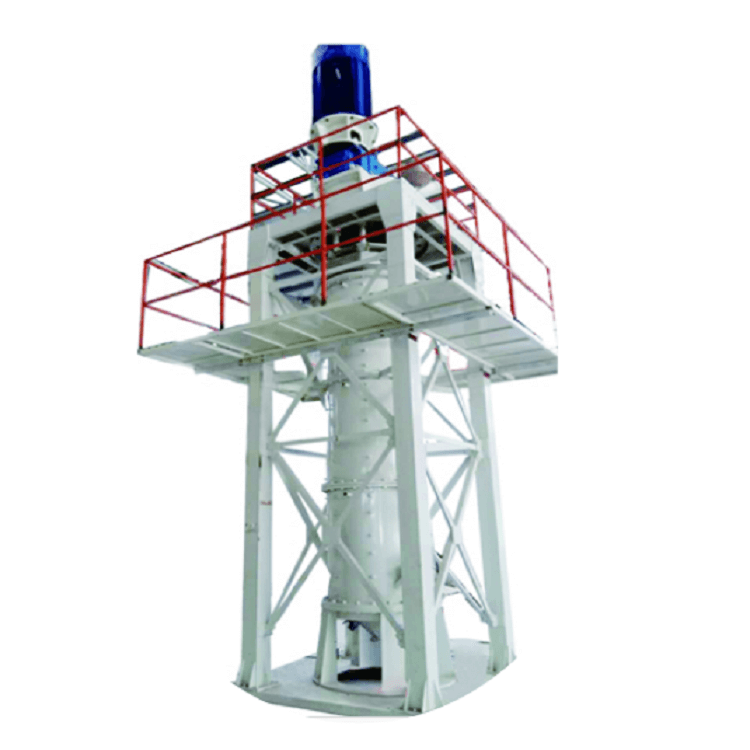 Ultrafine powders, reach 2 microns with a content of 90% for milling one time.
Has a large output, high efficiency, low energy consumption, environmental protection, and other features.
Vertical-shaped star wheel reducer higher transmission efficiency, run more smoothly.
Low consumption of grinding media, non-polluting. The temperature is low for finished products, good liquidity.
Compact structure, suitable height, easy operation and maintenance, stable production, automatic controlling is optional.
>> 0-8 mm powder
Coarse Powder Grinding Mill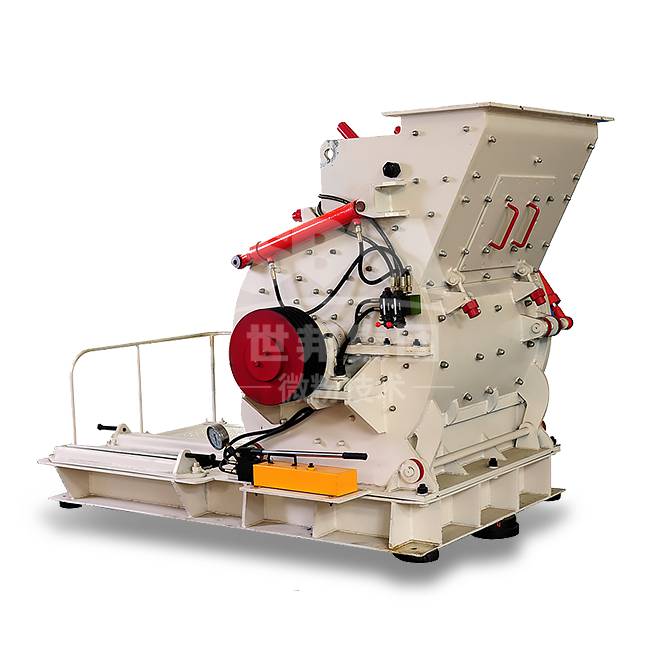 Coarse powder grinding mill is engaging in crushing various rocks and stones with comprehensive strength not higher than 320 MPA into coarse powder and small particles.
High capacity and low power consumption.
Uniform particle size with high crushing and crushing ratio.
Simple structure.
Low investment, easy operation.
Why choose SBM industrial grinding mills?
SBM provides non-metallic ore grinding/crushing and screening solutions.

The common choice of 1000+ customers, tailor-made solutions for you.

More than 30 years of R&D and manufacturing experience, covering 120+ countries and regions, witnessing high quality together.

Systematic and standardized process, from service to preparation and delivery, safer and more efficient.

Digital processing, higher precision
Dozens of CNC machine tools. The steel plate cutting, bending, planing, milling, painting, and other processes are all controlled by CNC. The machining accuracy is high, especially in the core parts.

Sufficient supply of spare parts, worry-free operation
SBM's business covers production and sales and is responsible for every machine it produces. We can provide customers with technical services related to products and original spare parts to ensure worry-free operation.
Our factory:
Payment methods:
Accepted Delivery Terms: FOB, CFR, CIF, EXW, CPT, DDU, Express Delivery
Accepted Payment Currency: USD
Accepted Payment Type: T/T, L/C, Western Union
FAQ:
1. What can fluorite be used for?
Half of the world's fluorspar production is used to produce hydrofluoric acid, and then to develop cryolite for the aluminum smelting industry. Fluorite is used as the coolant (freon) in the refrigerator.
Another important use of fluorite is to produce hydrofluoric acid. Hydrofluoric acid is produced by the reaction of acid-grade fluorite (fluorite concentrate) with sulfuric acid in a heating furnace or tank. It is divided into anhydrous hydrofluoric acid and hydrofluoric acid. They are both colorless liquids. , Volatile, strong irritating smell and strong corrosiveness.
In the aluminum industry, hydrofluoric acid is used to produce aluminum fluoride, artificial cryolite, sodium fluoride, and magnesium fluoride. In the aviation and aerospace industries, hydrofluoric acid is mainly used to produce jet liquid propellant and missile jet fuel propellants.
Hydrofluoric acid is the basic raw material of organic fluorine chemicals. It interacts with chloroform and carbon tetrachloride to produce fluorinated chlorinated hydrocarbons and fluorocarbons with low toxicity and high chemical stability. It is used as a refrigerant and air Sol accelerator, solvent polymer intermediate, and fluorocarbon resin, and elastomer.
Hydrofluoric acid reacts with carbon tetrachloride to produce freon (usually denoted by F). In addition to being a refrigerant, Freon is also widely used in sprays, fire extinguishing agents, fluoroplastics, etc.
In medicine, fluorine organic compounds can also produce fluorine-containing anti-cancer drugs, fluorine-containing cortisone, fluorine-containing carbon artificial blood, artificial heart, and bone. In the inorganic fluorination industry, pesticides, preservatives, protective agents, additives, fluxes, and antioxidants can be produced.
Fluorite is also widely used in glass, ceramics, cement, and other building materials industries, and its consumption ranks second in my country. In the glass industry, fluorite is added as a flux and sunscreen, which can promote the melting of glass raw materials.
Fluorite is added as a mineralizer in cement production. Fluorite can lower the sintering temperature of the charge and reduce fuel consumption. At the same time, it can increase the liquid viscosity of the clinker during sintering and promote the formation of tricalcium silicate.
In the ceramic industry, fluorite is mainly used as enamel, it can play a role in color and flux in the production process of enamel. For example, after adding fluorite to red enamel, the color can be bright and bright. The amount of fluorite added in ceramic production enamel is generally about 10% to 20%. Also involved in the manufacture of enamel products.
Fluorite is also used in the enamel industry and cast stone production, and its addition amounts are 3%-10% and 3% respectively.
2. Is fluorite dust toxic?
The fluorite is the principal source of fluorine and used as flux in open-hearth steel furnace. The elemental fluorine above 25 ppm is highly toxic and causes significant irritation and damage to gastric-intestinal system, eyes, respiratory tract, lungs, liver, and kidneys.
Not only fluorite powder, but also dust has an impact on human health. However, our ore crushing and grinding production line is carried out in a fully enclosed negative pressure state, and there is no dust overflow. In addition, it can also be specially equipped with a dust collector.